Is a beige suit appropriate for a wedding?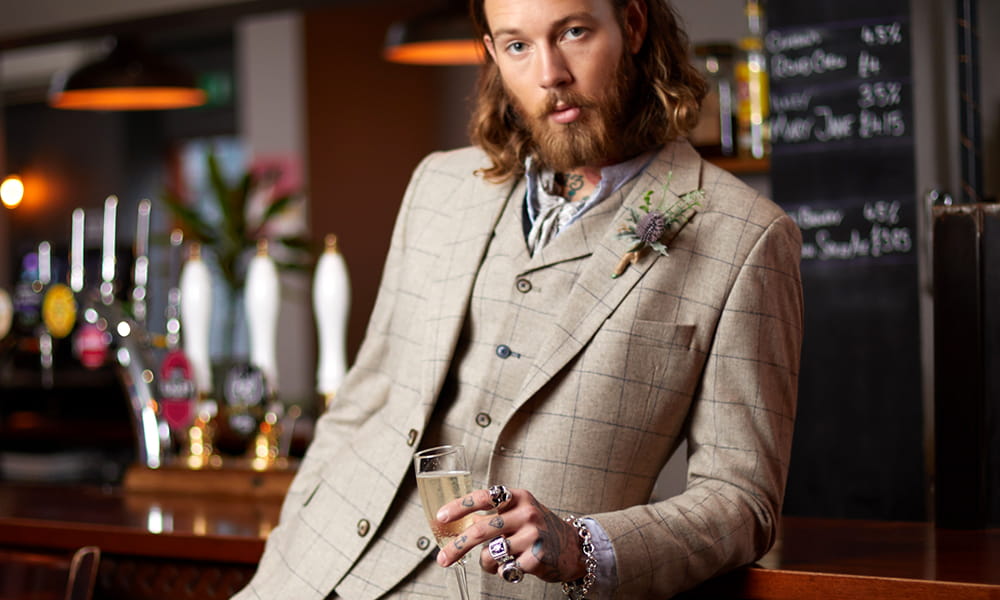 Pulling together an outfit for your next wedding appointment can sometimes be stressful and many of us are guilty of putting the decision off until a few short weeks before the big day.

Wedding days are wonderful occasions to be a part of, but there's lots to think about when you're suiting up, such as the colour, fabric, fit and overall formality.

And while elements like formality are particularly important to get right, in this post we'll be exploring colours - and specifically whether or not a beige suit is appropriate for a wedding.


From classic to contemporary

The classic wedding blue suit remains a popular staple of ceremonies and receptions, often paired with a yellow or pink tie, or a black or darker blue for a more contemporary look.

Tweed and check are also becoming increasingly popular choices for weddings and both patterns can help you craft a style that's classic.

But tradition in men's suiting is less prevalent than it once was where marriage was concerned, especially if you're just a regular old guest.

The groom often asks his best men and close relatives to follow a broad theme, which may be in keeping with the setting, or even just to best complement the bridesmaids' dresses.

But if you're outside of that circle then there's a little more freedom to express yourself and that just might include adding a splash of beige to your outfit, whether that's in the jacket and trouser or in a complete suit.


Why beige?

Beige is a great choice of colour for weddings held in the summer months, and it can be paired effortlessly with a crisp white shirt and brown shoe.

For a warmer environment, consider ditching the tie and, if formality dictates, you can always add a contrast pocket square for an extra layer of sophistication.

If your wedding appointment is in a colder month then it's easy to build a three-piece beige suit.

Pair a beige jacket and trouser with a waistcoat in blue or brown to create a classic autumnal look that you can finish off with a contrast tie and pocket square.


Footwear

The tie provides the perfect opportunity for you to create the right colour palette for a range of wedding settings and themes.

For summer weddings, a gold or yellow tie can help you achieve the quintessential wedding look, while pinks and shades of red are also traditional options.

If you're seeking to create a more contemporary outfit, consider a black tie.

Paired with a black shoe, a black tie can help you craft a sharp, modern look especially if your suit is tailored or slim fit.

For winter weddings or country settings, a maroon or darker green tie can help you build a more autumnal look, while a burnt orange with matching pocket square looks great all year round.


Other accessories

Beige is also a popular colour for linen suits, which are perfect for beach weddings in warmer climes abroad, although it's important to think about your footwear.

Keeping cool and comfortable is certainly important and perforated leather can help you match comfort with formality, while a loafer also provides a little breathability.

You may also consider a deck shoe, pump or trainer, but it's important that there's no clear clash with the rest of your outfit.

Comfort is certainly a factor, but it shouldn't be your only consideration.

But regardless of whether you're at the beach, in the country or in the city, your choice of footwear for a beige suit is important.

A classic dark brown shoe is the natural choice here, though you may also experiment with lighter hues, while black is best avoided all together.




So, while there are certainly a number of factors to consider, a beige suit is in fact a great option for your next wedding date and more versatile than you might think!


Back to Blog