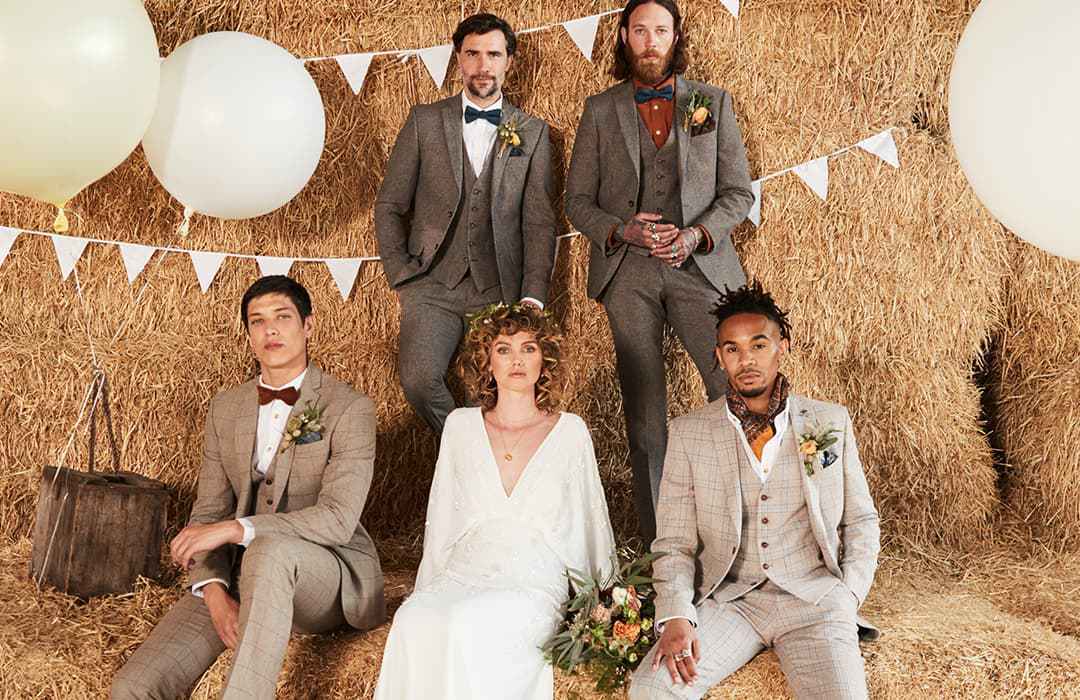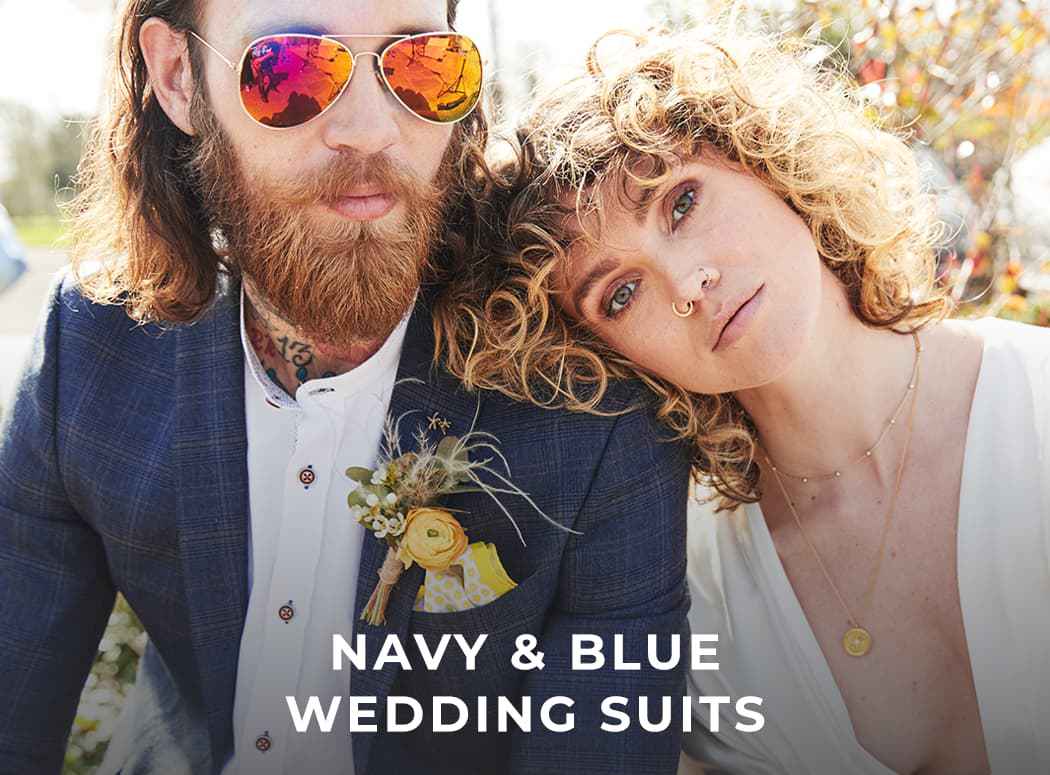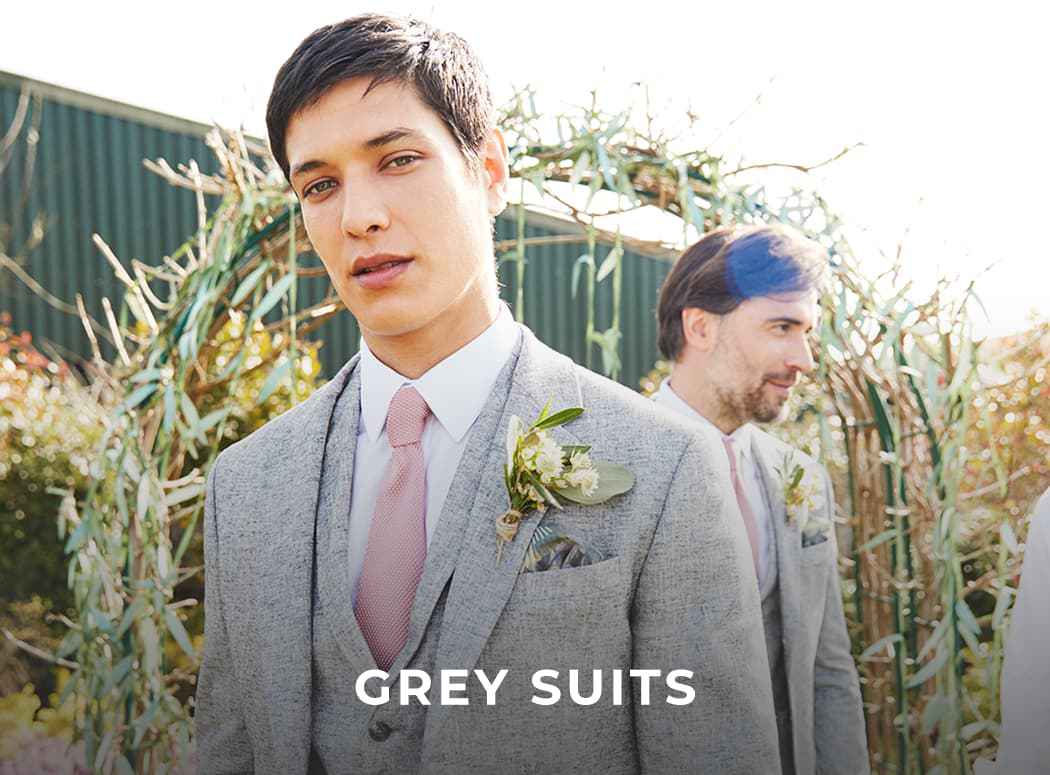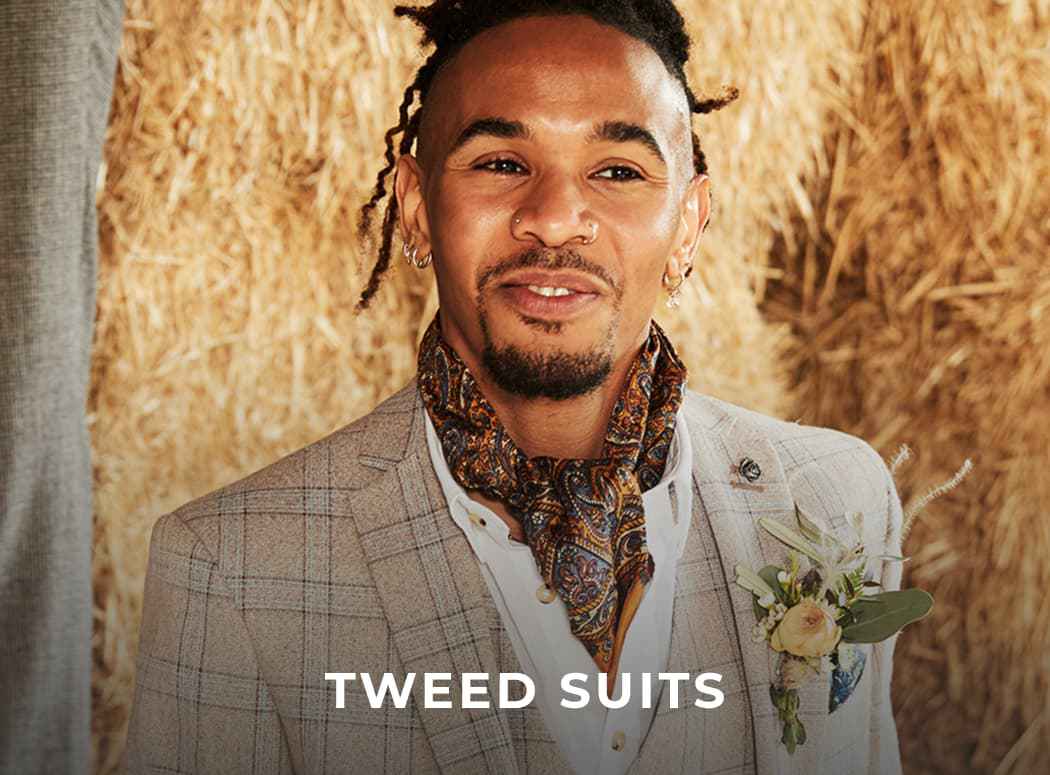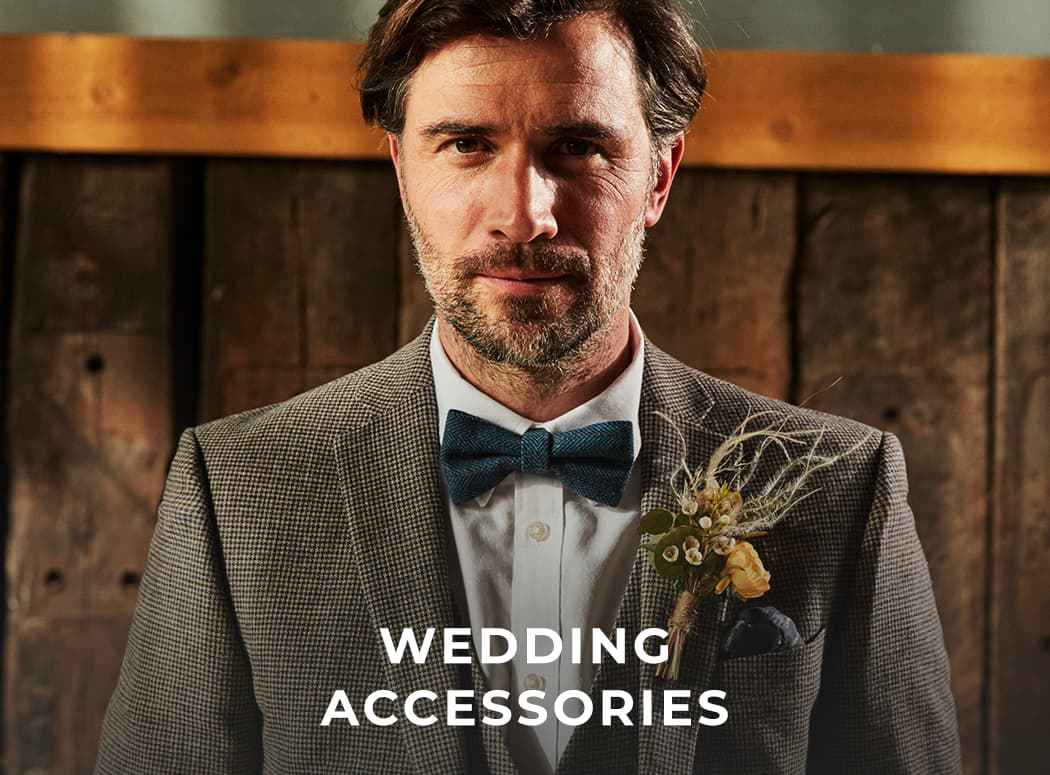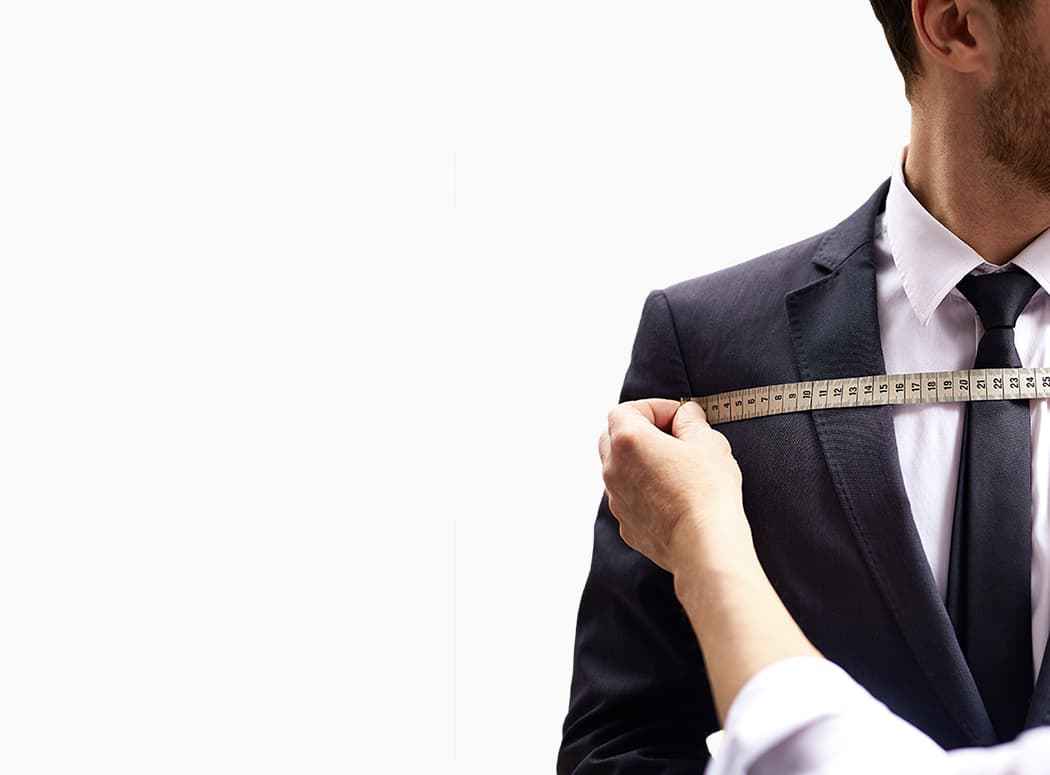 Book an in-store appointment
Need a more hands-on approach? Visit one of our stores to get bespoke inspiration and advice.
Book An In-Store Appointment
Want to have a more hands-on look at Suit Direct's suiting options? Come to a store near you to get inspiration, advice and fitting for your wedding suit.
Store Finder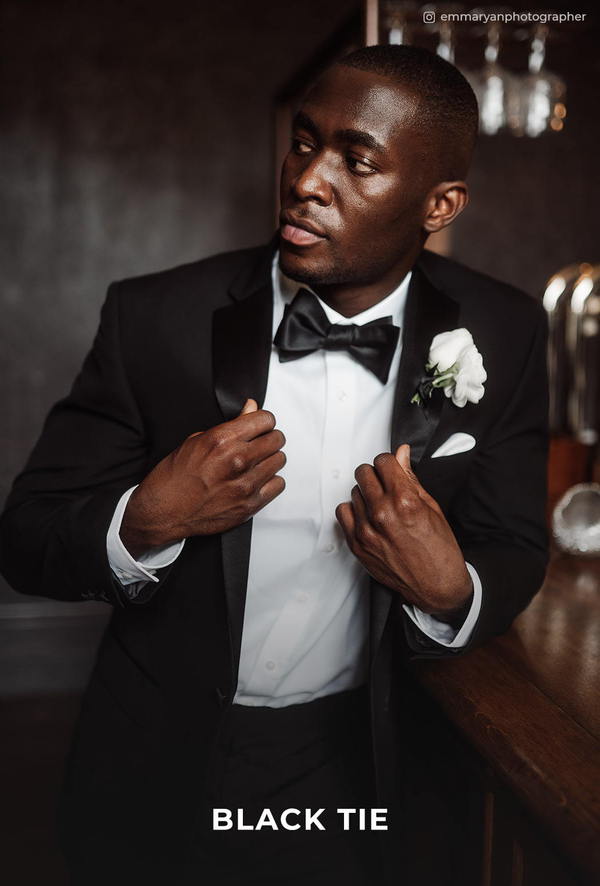 The Ultimate Wedding Suit:
FOUR COLOURS, THREE FITS
Tick yet another task off your wedding's to-do list by choosing the perfect suit at Suit Direct. Ideal for the entire wedding party, choose from four versatile shades, to slim, regular and tailored fits for comfort, style and breathability. Plus, with our extended range of sizes up to 56R, there's something for everyone. Why not mix and match your waistcoat too for a vibrant splash of colour?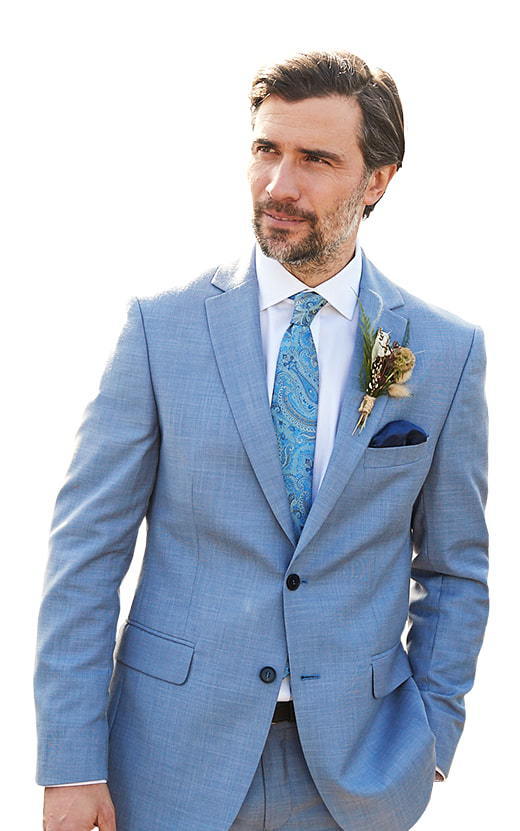 Wedding Inspiration
Whatever your preference or style, Suit Direct's wedding page is here for all your outfit needs for the big day. We cater for everyone with our huge range of suits, shirts and accessories, so you're bound to find the perfect piece for you to help celebrate the big day.
Wedding Dress Codes
Wedding dress codes come summer needn't be a difficult code to crack. Be inspired by our top six styles for the warmer months now. Formal wedding coming up? Opt for summer smart three piece suits in classic colours and prints. Maybe the dress code is a little more laidback. Opt for breathable, two-piece linen suits!
Cocktail attire? Right this way, bridge the gap between day and night dressing with a cool floral shirt and tailored suit. Beach wedding? Leave the suit jacket at home and opt for trousers with a smart shirt. If you're after black-tie attire - the most formal of all - your only choice is a slick tuxedo with black dress shoes and accessories.
Shop Suits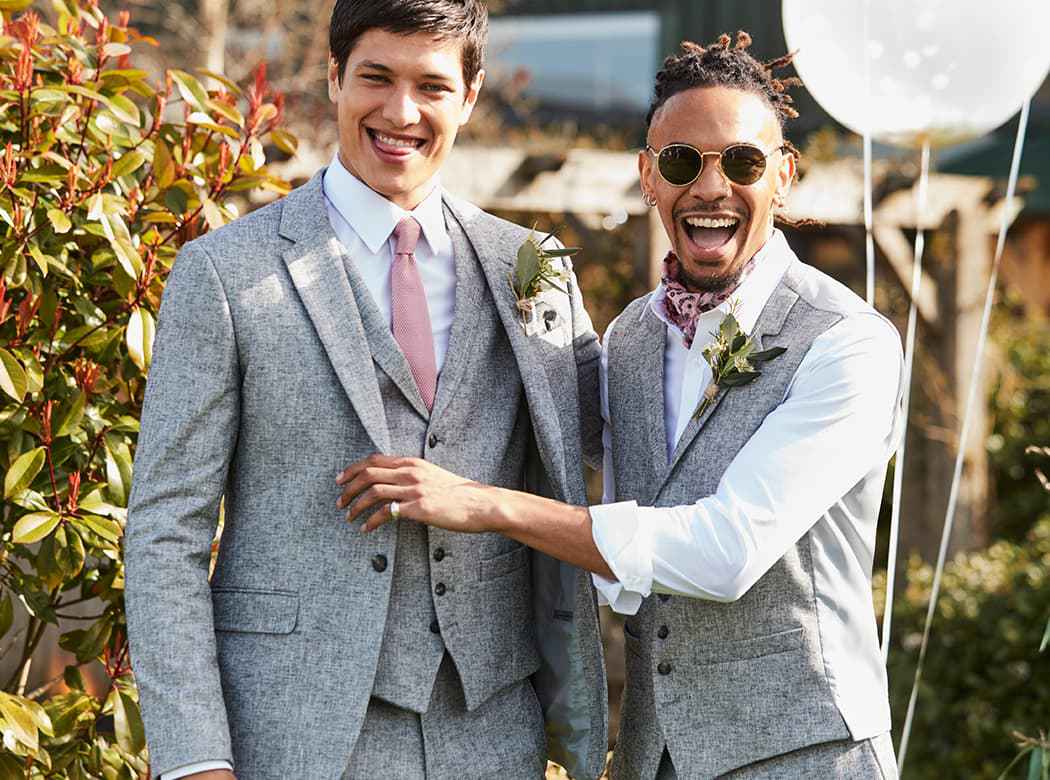 The Modern Three-Piece Suit
A suit that works overtime? You bet. It's a statement, it's comfortable but, above all else, incredibly versatile. Say hello to the three-piece suit, your wedding style saviour. After a dinner suit? Think tailored styles in neutral tones, paired with bowties and understated accessories. Go traditional with the clasic double-breasted suit, a style icon of its own accord.
Shop Three-Piece Suits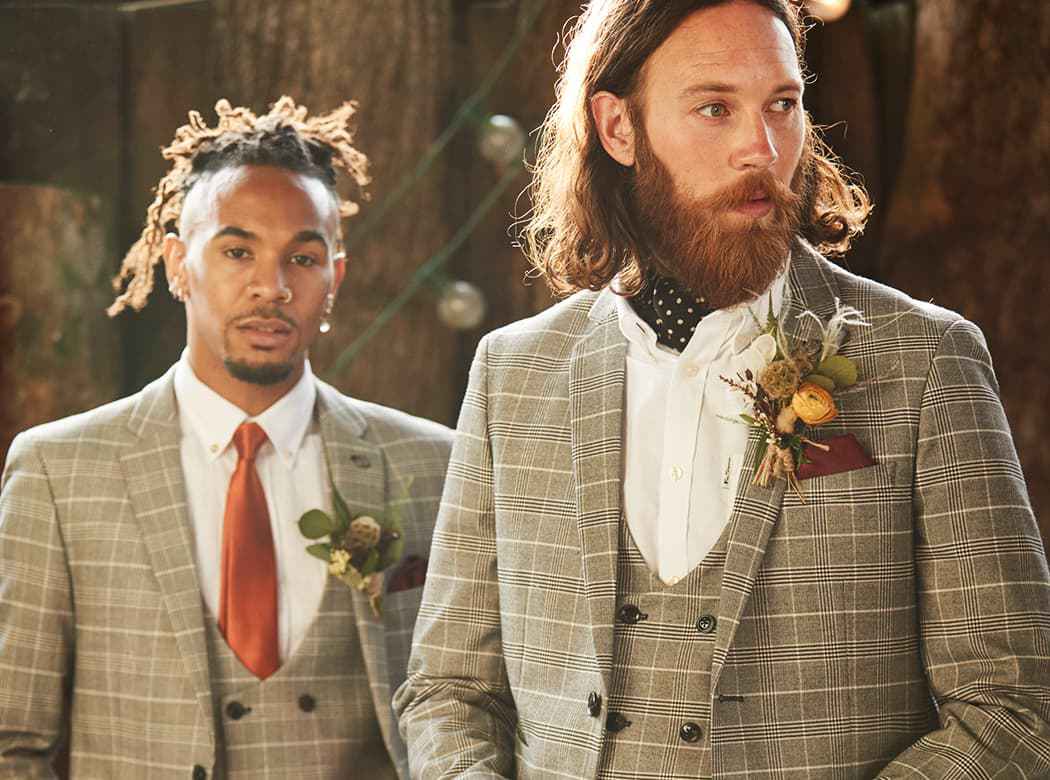 The Linen Suit
Linen suits? Summer's best friend, no less. They're comfortable, versatile and, more than anything, super breathable - perfect for the warmer months. Whatever the dress code at your own wedding or a friend's, linen should be the material of choice come summer.
Opt for subtle splashes of navy or light blue, maybe contemporary greys or classic tartan. Clash a light suit with an eccentric floral shirt and jazz it up with a bright tie and accessories... The choice is yours but whatever you buy, make it linen this season.
Shop Linen Suits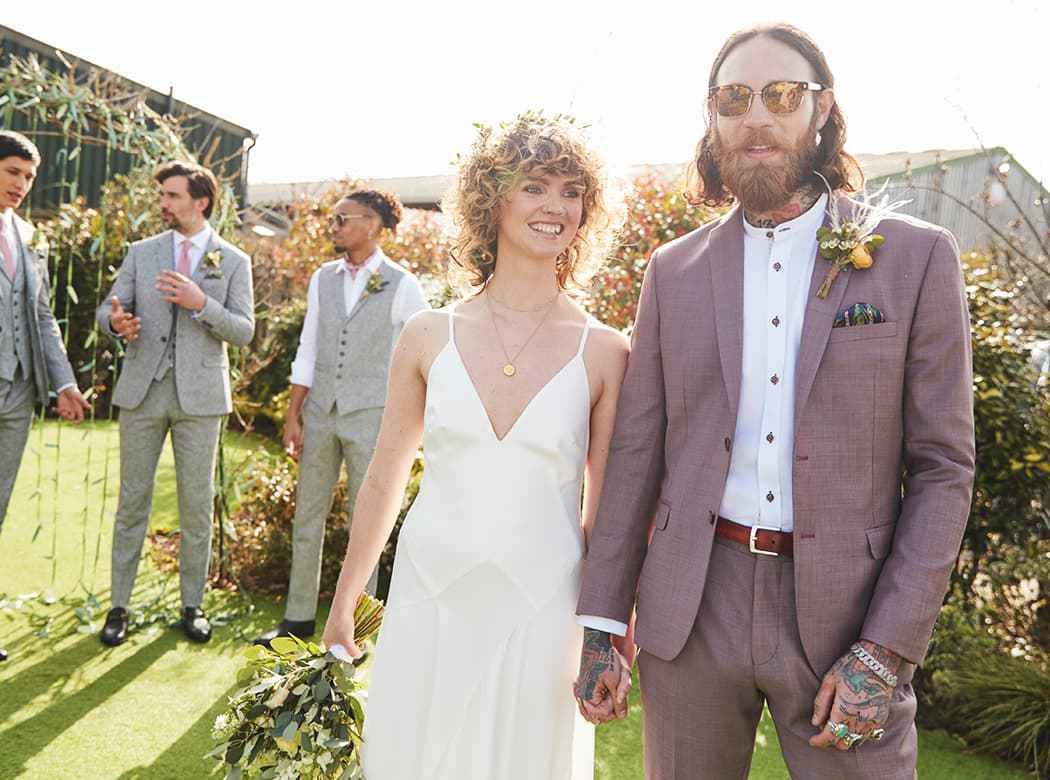 The Country Wedding
Wedding shoes can make or break your outfit, so it's important to get the footwear right, first time. What's more, if the wedding is in the country, you're going to need shoes that are easily cleaned and can handle a bit of mud (sorry to say!).
Lucky for you, we've got just the ticket. Factor in rain, mud, grass - whatever the countryside's weather throws at you - and avoid fabrics like canvas and suede. They're a huge no-go and suckers for stains. Instead, opt for robust materials like leather. Overall, brogues (like a pair of Marc Darcy Larkins) or patent dress shoes shoes (we'd recommend Scott & Taylors) should be your shoes of choice for a wedding tucked away in the country.
Shop Wedding Shoes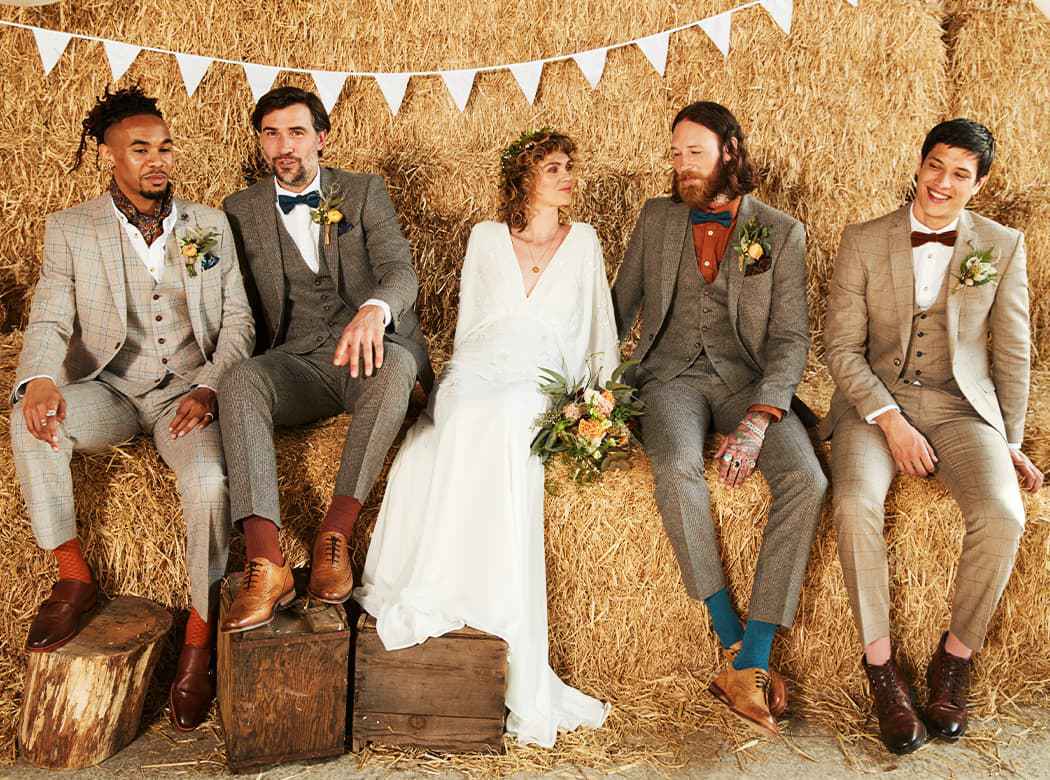 Outfit Ideas
A wedding's theme can rewrite how you dress for the occasion, but factor in the season too. Right now, we've got summer on the brain (naturally), so we're thinking of the perfect outfit inspiration for a ceremony in the sun.
Opt for blue suits in breathable linen or cotton teamed with minimal accessories. Pair with minimalistic dress shirts in pastel colours, patterened ties and patent leather brogues to finish. If you're after evening reception inspiration, try suits in eccentric splashes of florals, checks or paisleys for a smart, cool look without the major price tag.
Shop Wedding Suits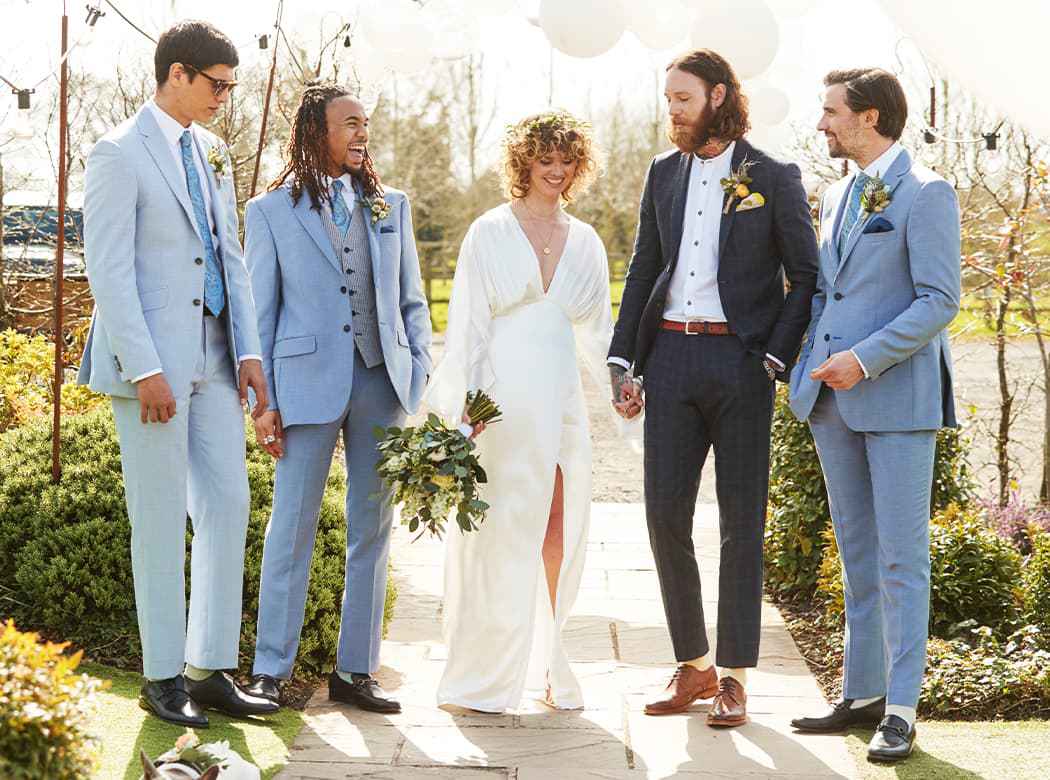 More Wedding Categories
Be inspired and have a look through Suit Direct's range of wedding-related pieces; we're positive you'll find something you love.
Suit Direct's Guide To Wedding Attire
A wedding's theme or the season it falls under can rewrite how you dress for the occasion. Are the couple getting married during the summer? Opt for a sky-blue suit from Ben Sherman or Scott by The Label, in breathable cotton teamed with minimal accessories. For autumn and winter weddings, think classic tweed in wool-blends from Gibson London, paired with patterned ties and block colour shirts.
For black-tie events, minimal dressing is best with simple charcoal suits from Alexandre of England, paired with smart, patent leather brogues and a simple black bowtie. Attending the evening reception? Mix and match your prints - floral, checks, paisley - with vibrant splashes of colour for a look that doesn't take itself too seriously.