Style Guide: Autumn Wedding Suits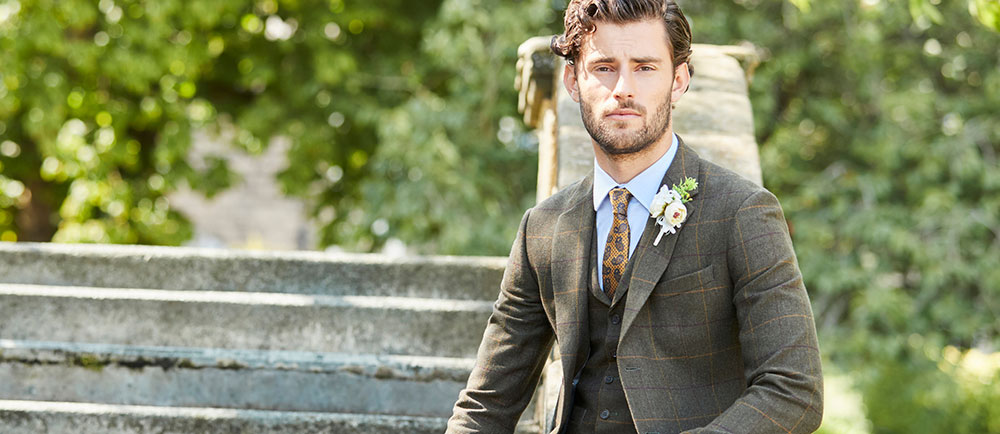 When dressing for a wedding, there are many factors that can make or break an outfit. Your wedding suit should represent the significance of the occasion – and when it's taking place.
As the weather cools and the trees turn brilliant shades of orange, red and brown, there's no better time to dip into a warmer, more vibrant colour palette to match the romantic tones of the season, and better contrast against those darkening skies.
Heavier tweeds and durable wools are must haves for the perfect autumn wedding guest outfit. Take on a more rural country theme, with rugged fabrics, green suits and brown suits to make the ideal autumn wedding.
A Need for Tweed
Tweed wedding suits are an enduring choice for any wardrobe. Inspired by heritage, wool rich fabrics, a tweed suit can be a men's checked suit or a herringbone suit and boasts a range of potential colour schemes.
A tweed wedding suit is equally suited for the groom or best man, but we love to see the father of the bride in a traditional, authoritative suit that really provides sophistication. Whether it's a two piece tweed suit or a three piece tweed suit, a checked tweed wedding outfit is a perfect option for an Autumn or winter wedding outfit.
Shop Men's Tweed Wedding Suits
Flecks and Checks
A checked wedding suit or gingham suit is essential for adding texture to the occasion; but men's patterned suits don't end there. We've a wide range of men's flecked suits and textured fabrics that are ideal for a wedding suit.
Shop Men's Checked Suits
Gibson London Suits boast a unique a range of textured men's suit jackets, trousers and waistcoasts in a range of colour schemes, patterns and textures. Dogtooths, ginghams and checks will create a wedding guest outfit that's bound to turn heads.
Shop Gibson London Suits
Marc Darcy Suits are some of the most popular men's wedding suits in the UK, and are essential to get that celeb look in statement checks and patterns. Inspired by the Quintessentially British gentleman.
Shop Marc Darcy Suits
Reds, Greens and Browns
There's no better time to ditch the more traditional grey and navy and go for a richer, warmer colour scheme for your suit. Try a burgundy red suit, or a warm brown men's suit. Our brown suits range in everything from light tans to mochas – creating ideal autumn wedding suit styles for the man seeking something a little bit different.
Shop Men's Brown Suits
--
Ultimately, there's no limit to sprucing up your wedding suit for Autumn. The cooling season is ideal for accessorising in new coloured suits, tweed suits and checked suits. The ideal men's autumn wedding suits are ready and waiting.
What to wear to a winter wedding – Suit Direct has the ideal autumn wedding suits for men.