Style Guide: Partywear Season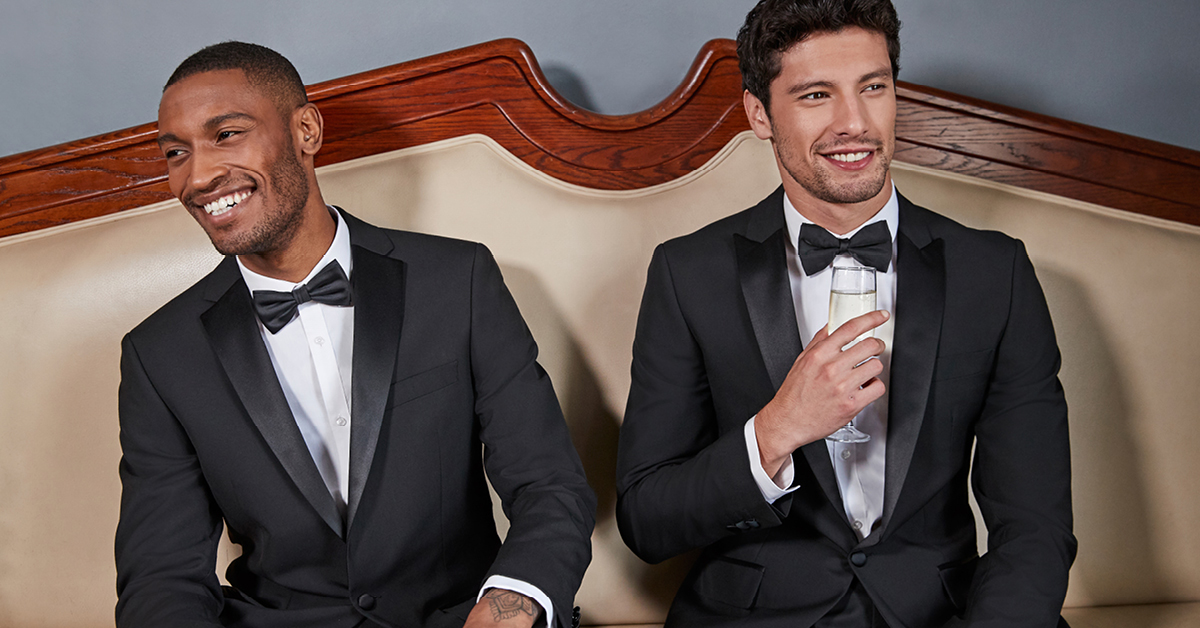 Partywear season is rolling on, and as those Christmas Parties, award ceremonies and many more line up in the calendar, there's no better time to suit up for those special occasions. We're extremely proud of our partywear for men at Suit Direct HQ, and have a fantastic range in all manner of fits and styles to create that perfect statement suit.
Partywear is an essential component of the dapper gentleman's wardrobe these days; you're bound to be invited to some kind of formal event this winter season, and, more often or not, the dress code is essential – sometimes even demanding pin-point accuracy.
Let's dive into our collection of men's party wear – and find that perfect men's party suit before the big event.
What Suit to Wear for a Party?
The Black Tie wardrobe
It may seem a bit Mafioso, but the black tie suit is here to stay. Black tie tuxedos have endured for well over a century as a must have for the man trying to impress. Don your dresswear and you're bound to look the part. We've got a huge range of tuxedos with Suit Direct, but This Limehaus Satin Shawl Lapel Dinner Suit is one of our favourites – with satin lapels, a slim fit and lightweight comfort for a superb price.
Go Vibrant, Go Velvet
There's no doubt about it – velvet suiting has returned with a vengeance over the past couple of years. This luxurious, soft touch fabric used to be delegated purely to the realms of retro – it's now more accessible, and more on point for your wardrobe, than ever before.
We love to assemble a wide range of colour schemes for the ideal men's velvet blazer – but our top pick for 2019 is this Green Velvet Slim Fit Blazer from Jeff Banks Stvdio. This trendy jacket is slimmer than usual so you might want to size up for comfort (especially if you've an appointment on the dance floor!)
Moving away from Black Tie and into more versatile styles, we've plenty of brand new men's suits to fit those special events.
Choose your Check
Our range of checked suits never loses its popularity! Checked suits are a trend that just keeps going. They're always fashionable, always smart and always a must have for that Best of British look.
Marc Darcy, one of the UK's most popular suit brands, boasts a superb selection of checked suits - this time, we're shining our spotlight on the Jenson Navy & Gold Checked 3 Piece Suit. with a flattering tailored fit by a brand with authentic expertise, combined with a double breasted waistcoat for the ultimate statement.
The Classic
Bright patterns and unique fabrics may be great for the more attention-grabbing party goer, but there's still no beating the classics for practicality and versatility. This Textured Navy Blue Three Piece Suit can be worn over and over again for plenty of occasions or events – while never running out of style points.
Racing Green have been dressing men well since 1990, and continue to provide top notch suiting for the authentic British gent. Reliable, versatile and as ready for the party as they are for the office.
The Classic
On the opposite end of the suiting spectrum, you have statements. Not just checks, but out-there, attention-grabbing prints and fabrics that don't just attract the eye – but demand it. Always a favourite with our younger customers, these men's blazers defy the pedestrian look; for them, the sky is the limit.
Jeff Banks Stvdio has put this firmly in mind with their Blue Floral Jacquard Jacket - note the smooth, satin fabric and elaborate floral design. It's an instant winner!
Browse Men's Partywear now with Suit Direct and pick out your perfect look this winter.