Groom's Speech Templates and Examples to Help You Make the Right Impression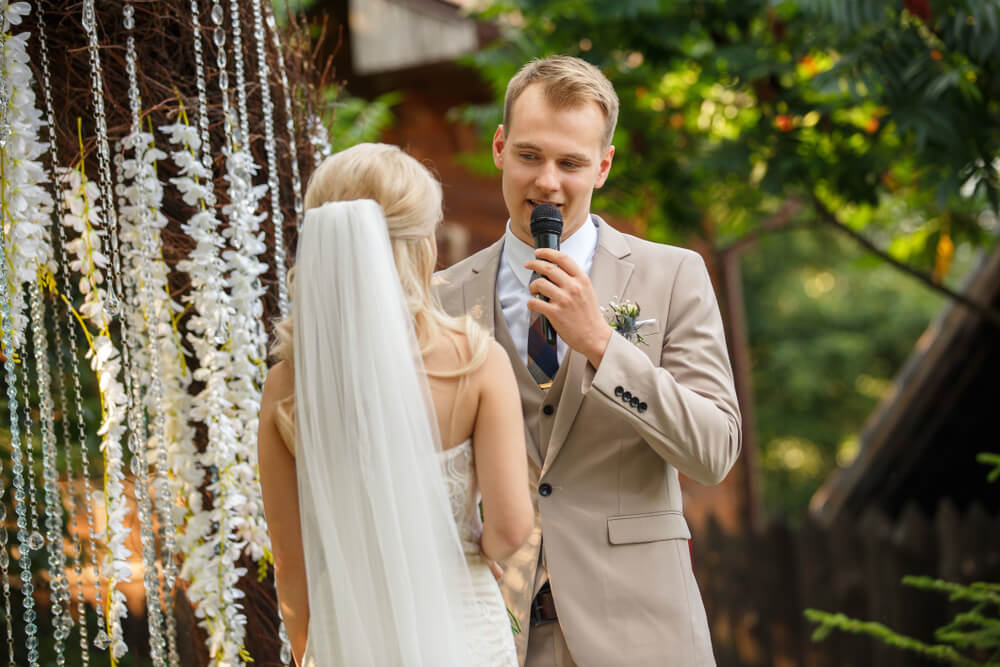 Alongside saying 'I do', delivering the groom's speech can be one of the most nerve-racking experiences on your big day.
For many grooms, choosing between a tweed suit or a traditional wedding suit can be enough to occupy the mind, but it's important to spend a little time thinking about what you'll say.
And while some may be used to speaking in front of an audience, such as at work, to most of us the idea of addressing a large crowd can be daunting.
There's lots to remember, including making sure you thank all the right people, while working out the correct length and the kind of material to use can also be tricky.
But delivering a great groom's speech need not be an unpleasant experience.
With the right preparation, strategy and delivery, you can make it one of the highlights of the day.
Here's our guide to combating nervousness and making the right impression when delivering your groom's speech.
Groom speech structure
By breaking your groom's speech into sections, you can make the process of planning what you're going to say far easier.
Speak to your partner or wedding planner to get an idea of timings so you can establish how long you need to make your speech.
This doesn't mean you have to fill all of the time, but getting an idea of the maximum number of minutes your speech should take is a very useful first step to take.
From there, you can begin to plan each section, including the thank you messages, and any stories or anecdotes you'd like to include.
One good way to structure your speech is start and finish with your thank you messages.
This will help you settle in to your rhythm at the start and ensure there's a great excuse for one final toast for your big finish.
You should also ensure that you build in time for gift-giving.
Traditionally, gifts are purchased for parents of the bride and groom, but you may also give presents to other people who have perhaps helped plan the day or travelled a long distance to be here.
Groom speech jokes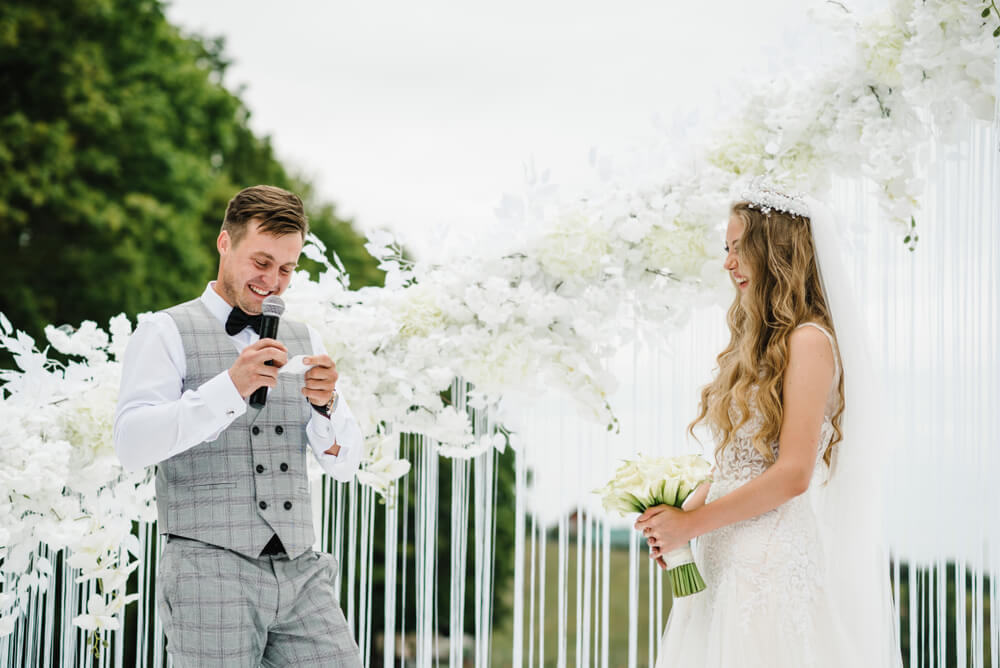 There is no expectation for the groom to turn their speech into one big stand-up comedy routine - and it's important that there are moments in your speech that are sincere and heart-felt.
But your speech is a chance to entertain your guests, so consider dropping in a few jokes, especially at the start, as this will help break the ice with your audience.
If you are planning on including a few gags, then it's very important to consider who'll be listening.
If there are children in the audience then it's probably best to keep the jokes family-friendly, although you may choose to speak to parents ahead of time if you're planning on including a little adult humour.
And whilst it's great to share stories of how you met, or tales from the stag do, make sure there's content in your speech that everybody can relate to.
Some of the worst groom's speeches are those that are filled with inside jokes that only a small number of people can understand and appreciate, so consider keeping your humour universal and share stories that most people can relate to.
Groom speech one liners
If humour is going to be a big part of your speech, then you may consider dropping in a couple of one-liners.
And while you can get your audience chuckling with surprising anecdotes from years gone by, a well-delivered one liner can be even more impactful.
Your best man and the father of the bride are likely to have a little fun at your expense when they deliver their speech - and it's fine for you to return the favour!
Let them know beforehand if there's a joke in the speech about them, so that they can be ready for it, but you don't have to tell them what it is.
Every wedding party is different, and some are less easily offended than others, but think carefully first about any one liners you're planning to avoid the risking of upsetting anybody.
It's important to know the difference between playful banter and hurtful remarks, and if you're ever unsure about how a joke might land, check with that person's partner or a mutual friend to get their opinion.
Poking fun is fine but remember - the best humour doesn't need a victim.
Groom speech tips and ideas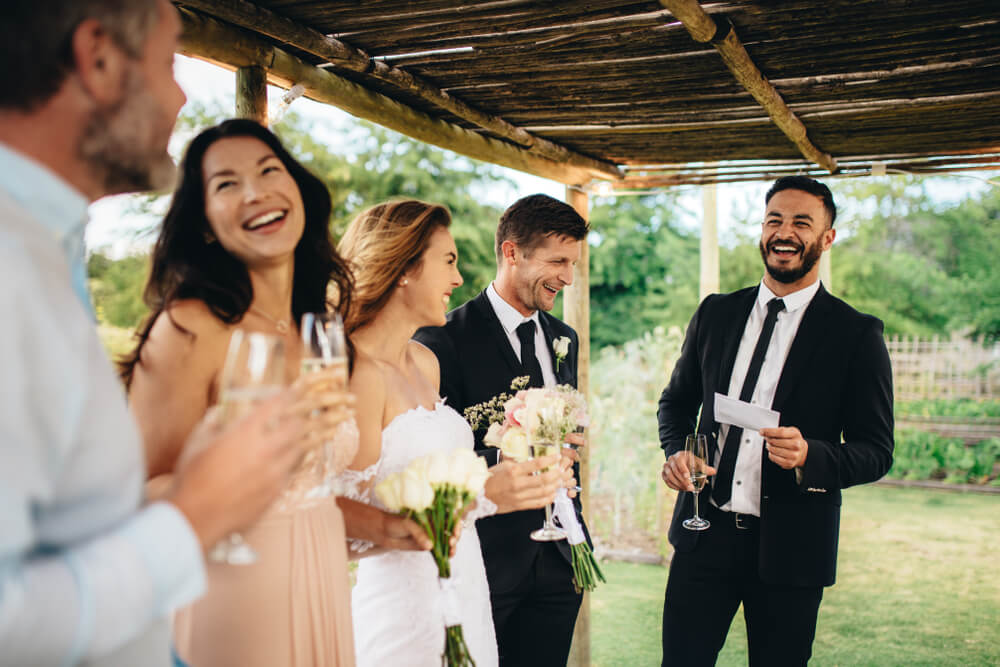 One of the key elements behind a successful groom's speech is preparation.
To many, the idea of winging it may seem appealing, especially if you have other aspects of wedding to contend with, but it's important not to go up there empty-handed.
You may choose to use a phone or tablet, print out some bullet points, or go totally old school and jot done some ideas on a notepad.
And even if you feel confident in the days leading up to the wedding, stage fright can strike at any time, so it's always useful to have something to hand as back-up, even if you don't end up referring to it.
You may also find that the best ideas pop into your head at the least convenient moments, and you may not always to find the right words when you're sat at a laptop or with a pen in hand.
To combat this, we recommend taking a quick note on your phone whenever an idea springs to mind.
Store those notes in a discreet but memorable place so that you can refer back to them when you are ready to start your preparations.
Over time, you may build up a mini-library of content that makes the process of drafting your speech a breeze.
Father of the groom speech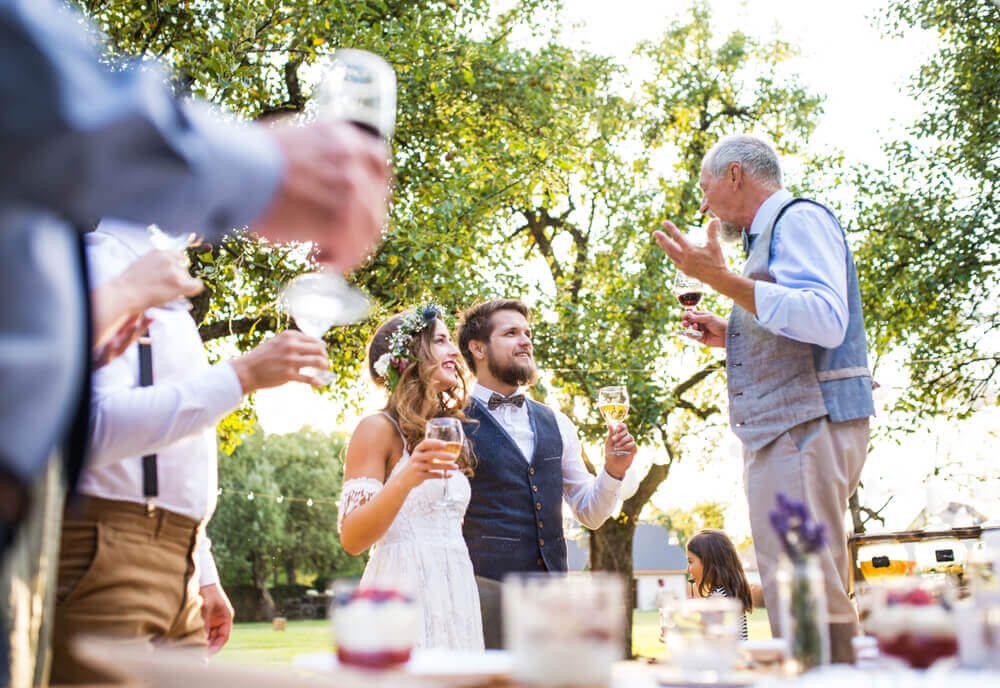 Traditionally, the groom's speech is followed by the father of the bride and then the best man, though there are no hard and fast rules about who should and who doesn't – it's your day, after all!
You may choose to elect another person in attendance, whether a part of the family or not, to say a few words on the day, and that may include the father of the groom.
Ideas for what to include in the father of the groom's speech could include the story of meeting the groom's partner for the first time and the memorable moments they have shared with the happy couple since then.
It's also fine for the father of the groom to poke a little fun at their son but try to steer away from making things too embarrassing – that's the job of the best man!
How to write a groom's speech
As you can see, there are several to go about pulling together a great speech for the big day.
It is important to be prepared, but you should try to keep your eyes on the audience, not on the page in front of you, so try to find time to rehearse at least a couple of times in advance.
One good tip is to write out what you'd like to say and then gradually trim it down so you're just left with a few jumping-off points.
By starting with the full script your brain should be able to fill in the gaps when lines are removed.
But the most important thing of all is to relax.
You may feel a little nervous beforehand, and that's totally natural, but it's important to remember that your guests are there to share in your special day, so it's unlikely you'll have to contend with hecklers!
So, focus on enjoying the experience and making the most of the spotlight being on you and your partner.
Example groom's speech jokes and groom's speech templates
Of course, the best groom's speeches are from the heart and inspired by the people around them, not least their partner, but it's fine to draw inspiration from elsewhere to help get you started.
Here are three of our favourite groom's speech jokes:
"I'm a bit nervous, this is the first time I've had to make a Groom's speech"
"When I proposed, I got down on one knee – then the other - and asked [bride's father] to pay for the wedding. He said 'yes' and the rest is history"
"When thanking the best man: "Thanks for what you said and, more importantly, for what you didn't say"
Here are two templates that may help you plan the structure of your groom's speech:
Formal
Thank the bride's father for the toast and for giving you his daughter's hand in marriage.
Thank the bride's parents for their contribution towards the wedding and for welcoming you into their family.
Talk about the happiness of the day and how lucky are to have such a lovely bride.
Praise your in-laws on having brought up their daughter so well and express your own positive feelings towards them.
Say something complimentary and affectionate about your own parents.
Thank the guests for their attendance, well wishes and gifts.
Thank the best man, ushers, the minister and any helpers.
Close by proposing a toast to the health and happiness of all of your guests.
Informal
Light-heartedly break the ice and set the tone for your speech.
Welcome your guests and thank them for choosing to share this day with you.
Express your gratitude to the bride's parents for their generosity in helping pay for and organise the wedding, as well as for the kindness, friendship and support they have shown you and your partner.
Compliment them on raising such a wonderful person and thank them for allowing you to marry her. You may choose this stage of your speech to talk about the moment you asked for their permission.
Add a few nice words about your own parents and pay tribute to your friends and other family members.
Express your love for your bride and talk about your happy future together, while offering some entertaining thoughts on your expectations for life as a married man.
Thank your best man for his services, provide an insight into your friendship, highlighting any humorous moments.
Thank the ushers and anyone else involved for their role in the planning and organisation of the event and stag do, where applicable.
Conclude with some complimentary words about the bridesmaids, and your partner, and propose a toast in their honour.