Suited for success: how to dress to increase your productivity
In many industries, it's more common nowadays to see your CEO wearing a hoodie and jeans as opposed to a suit. Likewise, while no one would bat an eyelid if you turned up to the office in trainers, they might think you're sneaking off for an interview in your lunchbreak if you donned a suit.
Is this shift away from traditional office wear a widespread phenomenon, or are we wrong to assume this is how everyone feels about suiting in the 21st century? To see if we can revitalise the power that The Suit holds, we've polled 1,000 professionals to reveal just how impactful wearing one at work can be.
Almost seven in 10 people feel more authoritative when wearing a suit
Just over half of the UK professionals we surveyed said that they wear a suit almost every time they're in the office, and for 59% of those people, they feel more productive because of it (with those aged 18-24 feeling the most productive).
Not only that, but four in five survey respondents said they felt more professional in a suit, and almost 70% felt more authoritative. So, if you've got a big pitch or an important meeting coming up, wearing your favourite suit might just help you to get in the right frame of mind.
One in five professionals admitted to not feeling confident with the clothes they wear to work, when ultimately, feeling confident is key to a successful workday. For some, wearing comfortable clothing can help them feel more creative and able to make decisions, whereas for others, power dressing helps them to feel the part.
A quarter of people said that they wear the same shirt for more than three days in a row – if this is you, get yourself over to our men's formal shirts, and pick out something new!
Whether you prefer to wear a smart suit, jeans and trainers, or something in between, it's about choosing clothing you feel confident in – 32% of our respondents said they felt stylish at the office, and almost 50% said they felt they could express their personal style at work.
If we look at these stats from a gender perspective, men mostly prefer wearing a suit or smart attire over women (42.4% compared to 36.7%), but almost one in five men said they don't feel confident with their outfit choices.
Men are also twice as likely as women to wear an item of clothing for more than five days, and over a third have admitted to wearing the same underwear for more than two days in a row!
Dr Kathryn Brownbridge, Senior Lecturer in Fashion Design at Manchester Met University commented on the research saying: "My own research shows that some men are impacted by body-related issues and feel critical about their own bodies which can impact their confidence at work.
Men that are uncomfortable about their bodies will be looking for clothing that can flatter, disguise, and accentuate certain areas. If they find a suit that does that, they may find themselves feeling more confident."
Catriona Morrison, Dean of Science at The University of Law, shed some light on why people feel more productive depending on how they dress:
"The way we dress indicates something about our identity and how we feel. Regardless of work context, the clothes, or uniforms that we wear can indicate something about our professional identity, and the values we hold and promote as a professional.
A key factor that affects our well-being at work, and thus our productivity, is our 'fit' with the workplace environment. Demonstrating this might be about adopting the clothes or uniforms expected in our professions of choice or whether we feel respected and valued by our colleagues, which can be related.
When we feel more comfortable in the workplace, the downstream effects on productivity cannot be overestimated. For many, a distinction between home and work life starts at the end of each working day with the shedding of our work clothes. This symbolic shift to our personal identity through the clothes that we don can also help to support our wellbeing by recharging when we are away from work."
Click here to view the full results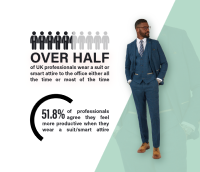 Power dressing for men: how to dress for success
Maybe you're new to the suit-wearing game, or you want to up your sense of style for 2023 but you're just not sure where to start. Well, you've come to the right place. Let this be the year to see if wearing a suit leaves you feeling more productive, authoritative, and decisive.
So, what does 'power dressing' actually mean? Essentially, it's dressing in a way that communicates your power or authority within a business. It's not about flaunting your wealth, but showing off your expertise – and a suit can help to get you in the right frame of mind.
So, if you've already selected an option from our range of men's suits, read on to discover how you can pull together your look and dress for success with some simple finishing touches.
1. Add in pops of colour
From a statement sock to a bold tie, there are so many ways to incorporate a pop of colour into your outfit.
Skip the bland black or tan socks in favour of bold red, blue, or green, which colleagues will only see as your suit trousers lift slightly when you sit down. Bonus points if you match your tie to your socks.
2. Personalise your look with monograms
Custom made suits can be extremely expensive, so simply choose an off-the-rack style instead, and head to the tailors.
To make your suit feel personalised to you – and to take your power dressing to the next level – add a monogram. Add a subtle initial or motif on the cuff of your sleeve, the pocket of your suit jacket, or even your pocket square – just make sure you place your monogram in a discreet place for understated luxury.
3. Finish your look with a timepiece
The devil really is in the details, and nothing completes a suit quite like a well-chosen watch. Not only does it show you mean business, it'll tie your outfit together, and make sure you get to meetings on time! Whether your brand of choice is Jaeger-LeCoultre, Tag Heuer, or Patek Philippe, if you want to perfect the art of power dressing, then a watch is an essential.
So, if you want to start 2023 feeling professional, authoritative and productive, browse our range of men's business suits, or head over to our blog for plenty of style inspiration.