Dapper suits you: double your Instagram likes by wearing a suit
Age-old thoughts have always been that women prefer a man in a suit, and that a well-tailored suit shows power and prestige, but is this still true? And does this translate to social media?
We took to Instagram to see if men's suits are just as popular now as they were in the past. By pulling data on the most followed male celebrities, and analysing photos of them donned in their most stylish suits, we discovered whether they got more engagements.
Wearing a suit increases your engagement rates by 91%
On average, when we compared a range of celebrities' engagement rates to the likes they got when they posted a photo of them in a suit, we saw a huge increase of 91%.
Cristiano Ronaldo – the most followed person on Instagram – saw a 155% increase in likes and comments, with an average post of him in a suit gaining almost 11 million engagements, as opposed to his usual total of 4.3 million.
Lionel Messi, with his 371.6 million followers saw his suit posts see a huge 245% increase in engagements, which is second only behind Justin Timberlake, who saw the biggest increase, at 288%.
We then compared three recent suit photos with three recent casualwear photos of Instagram's most followed influencers, with suits winning again, with an average engagement increase of 57%.
If we break this down by individuals again, Cristiano Ronaldo saw a 48% increase in engagements, and Lionel Messi a 42% increase.
The only celebrities to see a decrease when they were dashingly dressed up were Dwayne Johnson, Marcelo Vieira, and Zac Efron – proving once and for all, that dapper is a good look.
Click here to view the full results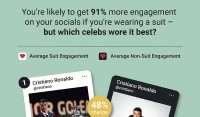 Top tips for choosing the right suit
Whether you're attending a wedding or a graduation, or you just want to find yourself a fresh new suit that you can wear for a range of occasions over the years, you might be wondering where to begin your search.
Because buying a suit is such an investment, it requires time to find the perfect one. So, read on for our top tips on how to pick a suit.
1. Determine your budget
Suits can range in price, so it's best to work out your budget as a starting point. Do you want your new suit just for a special occasion, or for day-to-day office wear? You might want to think about cost-per-wear, too, – how much would you be willing to spend vs how often you'll wear your new suit.
Setting a budget means you can go into the selection process with a clear idea of what you're looking for and avoid getting overwhelmed by the huge number of styles, fabrics and fits out there.
2. Choose the right fabric
Suits come in a range of fabric options, each with their own textures and functionality. Pure wool suits come in a range of textures including classic tweed, and modern wool blends combine the best of wool's temperature-regulating properties with other durable fibres. Look out for stain and crease-resistant treatments, too – perfect for travelling.
If you're buying a suit for a summer wedding or holiday, then lightweight cotton or linen suit could be the perfect choice.
You'll also have different colours to consider. You can't go wrong with a classic black suit, which is endlessly smart and versatile, but consider modern navy and shades of grey as great alternatives.
3. Find your fit
Suits come in a variety of fits to suit all body types, including standard or 'regular' fit, slim fit, tailored and big and tall sizes. Standard fits offer a comfortable, roomier suit, but a slim fit is ideal for smaller frames to create a svelte silhouette.
Get the perfect fit by knowing your exact suiting sizes. Measuring up for a suit can take a little bit of effort, but it's worthwhile to ensure you look sleek – both on socials and in real life.
When choosing a suit, you need to make sure it fits your body properly. Check to see that the jacket body length reaches your knuckles with your arms down and that the shoulders sit right, without being too loose or too tight. When you close the buttons on your jacket, check if the fabric is stretching – if it is, it's too tight.
The experts at Suit Direct added: "There are endless possibilities when it comes to picking the perfect formalwear. The rules and styles are always changing and the choosing a suit is more about personality than anything.
"Be sure to consider what it is that suits you and your style over particular fashion trends - the suit your wear says a lot about who you are both on socials and in real life."
4. Pick your buttons
The next thing to choose is whether you want one, two, or three buttons on your suit jacket. Two buttons tend to be the most popular choice, and are ideal if you have a shorter torso, as it can help to elongate you.
However, if you're blessed with the gift of height, then you might prefer to opt for a jacket with three buttons, which can look more formal.
5. Choose your accompanying shirt
Now you've chosen your suit, it's time to find a formal shirt to pair it with. You'll want to consider both colour and fit – nothing is more timeless than a classic white shirt, but you could opt for either blue, lavender, pale pink, or even black.
When you try your shirt on, make sure the neck is fitted but not too tight, that the buttons don't strain, and that the cuffs sit at your wrist.
Dedicated to dressing men well, browse our range of men's suits, and don't forget to upload a photo to Instagram the next time you're suited and booted, so you can watch those likes come rolling in.
Methodology
There were two data sets that were analysed for this campaign, the first looked at 3 Instagram posts in a suit vs in casual wear and the second data set looked at the posts in a suit vs the celebrities' average engagement overall.
Using the approved source, a list of the top 20 male celebrities based on Instagram followers was collated. From here a combination of the tool linkfluence and Instagram were used to compare the engagement rates for 3 posts wearing suits and 3 posts in casual attire, between Nov 2020 and Nov 2022. The posts selected were the most recent posted images of them in a suit and in casual/normal clothing i.e not in football kit, superhero attire, topless etc.
Where 3 posts for each were unable to be sourced, as many equal posts as possible were used to calculate an average engagement.
From here the % difference in engagement was then calculated between the posts wearing a suit vs not for each influencer and an average % in engagement rate determined.
For the second data set, using the approved source, a combination of the tool linkfluence and Instagram were used to compare the engagement rates for 3 of the most recent posts wearing suits against their overall average Instagram engagement (taken from Hype Auditor).
The % difference was then calculated between the posts wearing a suit and the average Instagram engagement. From here the average % increase was determined.
Some celebrities with higher followings may have been excluded from the list due to being unable to collect engagement rates for them wearing suits.