What To Wear To Graduation: A Guide For Graduates And Guests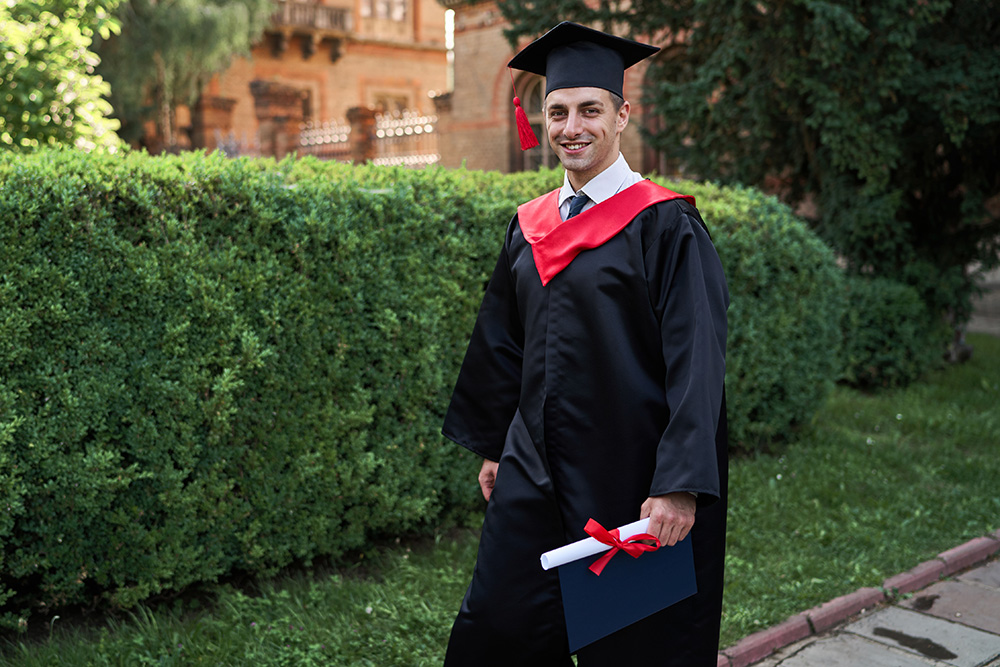 Congratulations! All your hard work has paid off, and it's time to think about the upcoming graduation ceremony. Read on for our guide on how to look the part on the big day – whether you're the diligent graduate or a proud guest.
What to wear to your graduation ceremony – for men
A dark suit with a formal shirt is the order of the day – sleek and practical, but still leaves room to put your own spin on the dress code with your pick of the fabric, colour and cut. Graduate in style with our tips and advice below.
Suits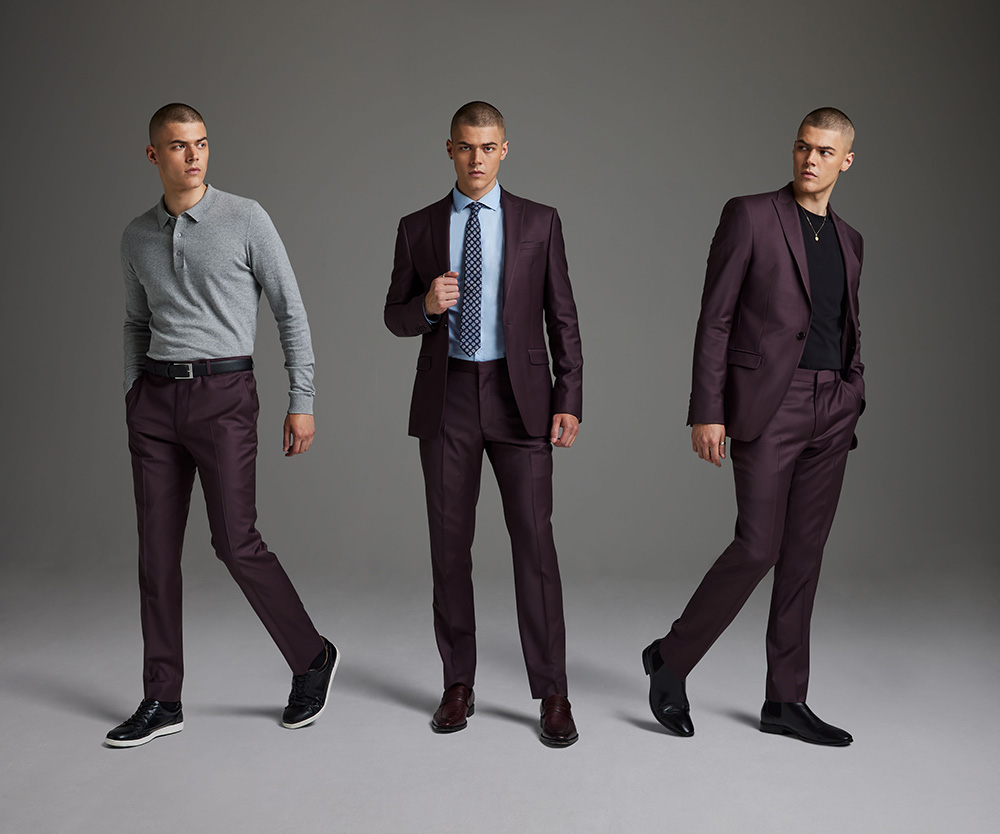 Time to invest in your suit. Not only is this a big day with photos you'll want to look back on, it's the perfect opportunity to pick up a suit that you can wear to future interviews, jobs and other special occasions. A slim fit suit is the favoured choice for most graduates; this silhouette works perfectly under the swathes of graduation robes.
While a three-piece is probably too formal for this occasion, something like this Limehaus slim fit navy suit offers a truly timeless look.
After something a tad unconventional? This slim fit, double breasted suit by Selected Homme puts a contemporary spin on classic double-breasted tailoring.
Marc Darcy is the expert in heritage-inspired style for the modern man, and this grey slim fit checked Jenson suit would look just as great at your next formal occasion as it would under your graduation robes.
Shirts
A plain, smart shirt will always look exceptional under a graduation robe. Depending on your suit colour, you can opt for white, pale blue or light pink for timeless style. Choose a shirt with double cuffs so you can finish off your look with elegant cufflinks.
A buttoned shirt means you can securely attach your graduation hood. This white double cuff shirt by Limehaus features a subtle jacquard texture and is an ideal match for any suit.
It's worth bearing in mind that if your graduation is in summer, you may choose to go sans-jacket and cool off by layering your robes directly over your shirt – so choose a well-fitting, quality shirt like this Racing Green slim fit shirt in classic pale blue.
Accessories
A tie is a non-negotiable on graduation day – it (literally) ties your whole look together and gives you a slick, polished appearance. You may want to find out beforehand which colours will be on your academic hood, and select a tie that matches or compliments those colours. Keep your look youthful by choosing a slim blade, like this blue floral option from Limehaus, or which comes in 100% silk for a touch of luxury.< p>

Don't underestimate the importance of shoes! Your smart tailoring can quickly look unkempt if it's paired with a pair of dilapidated shoes. Opt for comfort and practicality in these timeless black leather brogues from Racing Green. Alternatively, give a subtle nod to rebellious Mod styling in a pair of Ben Sherman's Derby shoes, or turn to Marc Darcy for tan-coloured brogues with a certain vintage appeal.



How to style your graduation robes for men
Most of us only go through one graduation ceremony in our lifetime, so knowing how to wear your graduation robes properly can be difficult. Generally, there are three elements that come together to form your academic dress: the robe, the hood, and the mortarboard.



How To Wear Your Graduation Robes
Decide whether you're going to layer your robes over your suit jacket, or directly over your shirt – on warmer days we'd advise this! Pull on the robes with the opening to the front, as if you were pulling on a coat. If there's a fastening on the robes, secure it, then turn to your colourful graduation hood.



How To Wear Your Graduation Hood
The graduation hood is constructed in a 'loop' that you pull over your head and layer on top of your robes, and it represents your university or college's symbolic colours. To know which way around to place it, look for the label or loop sewn underneath the pointed edge and place this to the front, then move your tie to the side and loop the loop around one of your shirt buttons. Once secured, place your tie back so it sits on top of the hood, and you might want to secure it with a tie clip to keep things neat and secure.



How To Wear Your Graduation Cap
If you're pre-ordering your mortarboard it's key to take your measurements beforehand – choose a cap that will fit snugly with no room to wobble around! When wearing it, look for the elastic edge and wear this side at the back of your head. Finally, the tassel should fall neatly to one side – often this is the left, but it's sometimes determined by your university.

Congratulations! You've picked out the ultimate graduation look and styled your robes to perfection – all that's left to do is enjoy your day!



What to wear to a graduation ceremony as a guest – for men
Attending your friend or family member's graduation celebration offers the chance to get spruced up and celebrate all of their achievements. While the graduate's dress code might be quite clear, it can be tricky to know how to look the part if you're a guest at someone else's graduation. Not a problem, though – Suit Direct has everything you need!



Dress Code
A graduation ceremony is undoubtedly a formal occasion, but it's important to strike the right balance. We say a two-piece suit is essential, while a waistcoat might be a tad too elaborate, but a pocket square or cufflinks on a double-cuff shirt can add some flair and personality to your look.

As a guest, you've got more freedom in the colour, fabric and style of your suit than the graduating student has – so why not switch things up!? A tie is an option but not a necessity, so you could swap it for a patterned shirt like this head-turning Limehaus floral, or this vivid paisley shirt from the Occasions range, and leave the top button open (ideal if you're attending a summer ceremony!).



Choose Comfort
As someone's graduation guest, you'll spend much of the day standing around in wait, and sitting for a long time during the ceremony, so don't discount the importance of comfort when choosing your suit! The best way to guarantee a good fit is by getting your measurements spot on, so why not book a free in-store appointment with our team? They'll get you measured up and talk you through our extensive range, helping you pick out the best suit to see you through this event, and all that come after it.



Don't Forget About The Details
Chances are you'll be on photo duty, so make sure your phone is accessible but neatly stored away – your inside jacket pocket is ideal. Don't forget about your keys, cash and cards too – keep notes and cards organised in a non-bulky card holder.