Best Outfit Ideas for Awards Ceremonies
Getting an award for any achievement is a big deal and as a result, your outfit should reflect this. But what exactly should you wear to pick up your award? Black tie is the chosen dress code for events and ceremonies that start after 6pm and traditional black tie involves a black suit and a black bow tie, but these days the dress code rules are a little more relaxed leaving you more room to experiment with colours and textures. Need black tie and statement tuxedo ideas? From slim fit mens tuxedos to mens dinner suits, we've got you covered.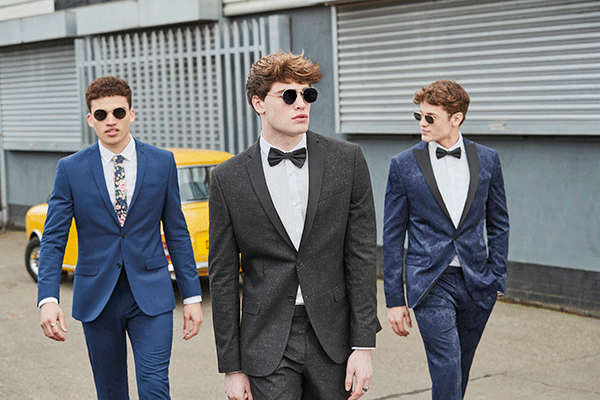 Black Tie Basics
If you are going for a classic black tie ensemble, you will need a high quality white tux shirt, a smart men's dinner jacket with a satin lapel, tuxedo pants and a black bow tie. Complete the look with cufflinks, smart patent leather formal shoes and a dress watch.
If you want to add an extra touch of style to your ensemble, one way to make an impact is with unique fabrics and it doesn't get more decadent than velvet. Our navy, burgundy or olive velvet slim fit tuxedos are the perfect options if you want to stand out from the crowd.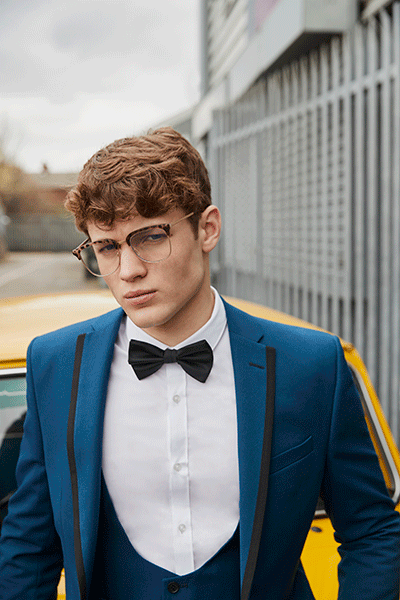 Make it Colourful
An award ceremony is the perfect time to step away from the classic navy and black shades so why not experiment with a bolder colour? Our teal coloured men's dinner jackets are a showstopper.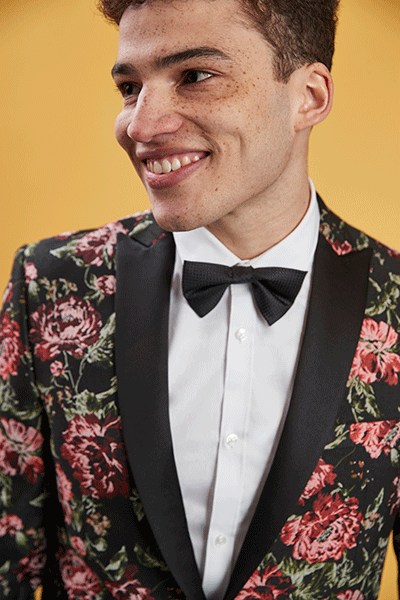 Consider Florals
If you want to be the best dressed man at any award ceremony, step out of your comfort zone and consider formal floral prints. A tuxedo jacket that boasts a contrasting floral print is the ideal way to add a touch of vintage charm to your look. Why not opt for a floral print in a navy cue?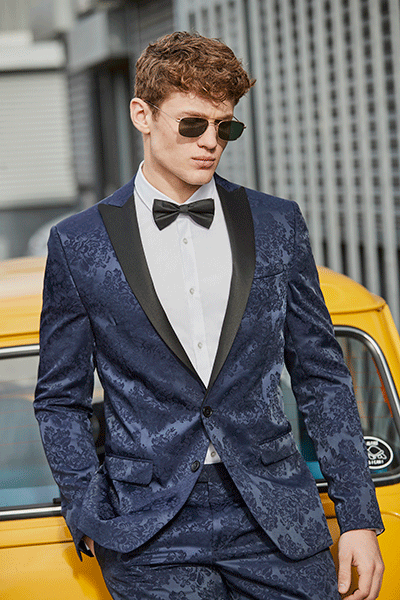 Jacquard Prints
Want to steal the spotlight? Look no further than a slim fit suit that boasts a subtle print. This is a superb way to add originality to your overall look while still being classic and timeless. This print is a winner for those who want to channel a contemporary aesthetic without straying too far from the rules.
A charismatic award ceremony look should be unmistakably stylish and sophisticated and thanks to our top quality and affordable mens dinner suits and tuxedos, you can look the part without spending a fortune.