Blue suit, brown shoes: Still the perfect combination?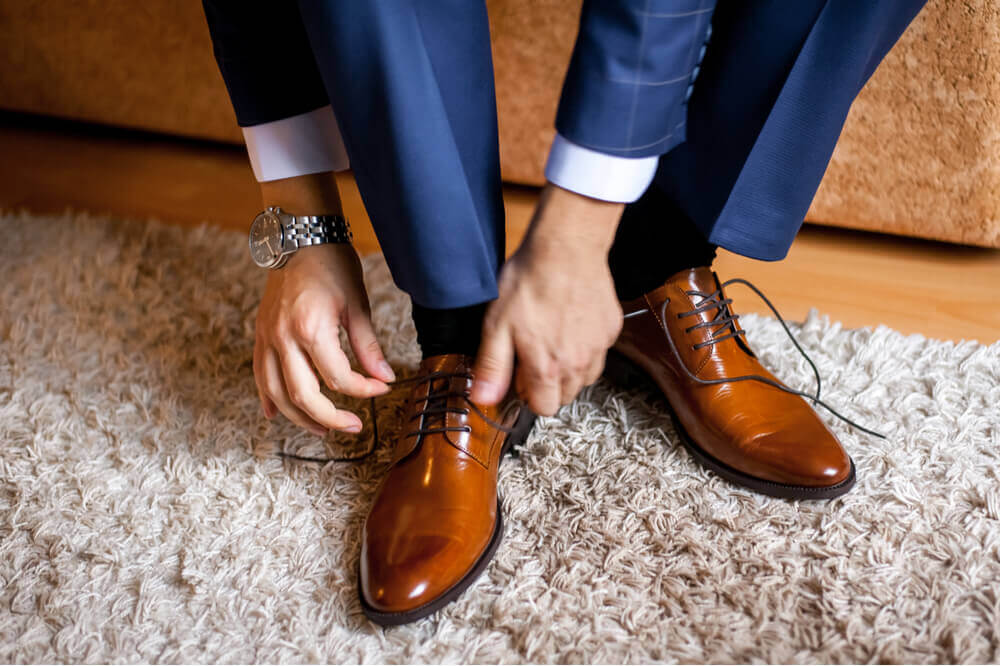 When crafting an outfit for your next formal occasion, whether that be a wedding, party, dinner or ball, everything from head to toe must be considered.
And while much attention is placed on balancing the right colour tie with your jacket, waistcoat, suit trouser and shirt, it's just as vital that the shoe fits.
One seemingly timeless staple of men's formalwear is the pairing of a blue suit with a brown shoe, but is this always the right option? And is this classic combination still relevant in 2020?
Trends in men's formalwear rarely stand still and, though some looks have succeeded in standing the test of time, others haven't kept the pace.
And as men increasingly experiment with daring new looks, is there still a place for the classic blue and brown?
Blue suit, tan shoes
The classic look of a blue suit and tan shoe is popular with men eager to break away from a blue suit-black shoe look that is sometimes perceived as being overly formal.
Conversely, some believe that the tan or brown shoe isn't appropriate for a smart office setting.
And perception is key in this debate because, as is the case in many areas of men's suiting, the matter is largely subjective.
For example, the economic advisor to President Donald Trump has reportedly told White House staff and colleagues not to wear brown shoes with blue suits.
This perhaps adds weight to the argument that a brown shoe is not a suitable option for a formal work setting - though many disagree.
A tan shoe with a blue suit, or even with a beige or grey trouser can add contrast to an outfit that is a hit at weddings and social gatherings, while also remaining generally acceptable in most workplace settings.
But throughout everything, it's important to remember that not all brown shoes are the same.
A darker brown shined shoe means there'll be no sacrifice of formality, while a lighter hue or less traditional style is better added to a more casual outfit.
And if the occasion does not dictate high formality, then you may even consider a loafer or ankle boot, matched with your belt.
Blue suit, black shoes
For the most formal of settings, the blue suit and black shoe is the favoured contemporary alternative to the brown or tan shoe.
It's important to remember that the colour of your suit can dictate the formality of your outfit, and that lighter or more vibrant hues of blue create a more casual feel.
However, if your blue suit is darker, such as a navy, then a black shoe can help complete a sharp formal look that is suitable for the office or a formal social occasion.
Adding a black shoe to a blue suit instantly elevates its formality, though a darker brown shoe can also help you achieve a similar effect.
Adding a men's overcoat in black can provide further balance and complete a look that suits colder months in the city.
Blue suit, blue shoes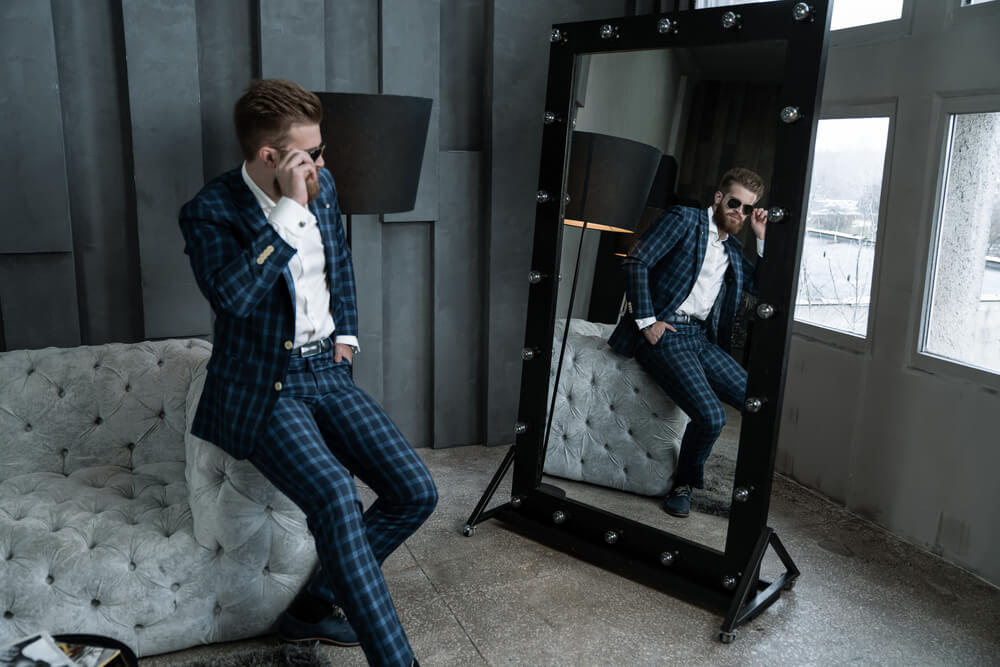 One of the biggest recent trends in men's suiting is mixing and matching, whether that be a check waistcoat under a wedding blue jacket or a beige trouser paired with a darker coat.
But one of the bolder recent styles is very much in the opposite direction.
If you are considering pairing a blue shoe with a blue suit then ensure the shoes are sufficiently formal - and avoid elements like contrast stitching and lacing.
A dark navy shoe in particular can perfectly complement a blue suit and help you create a distinct look for a range of formal occasions.
And while a blue shoe with a black suit is certainly a 'no go' – at least for now! – a growing number of men are creating a bolder statement by adding blue to blue.
What colour tie?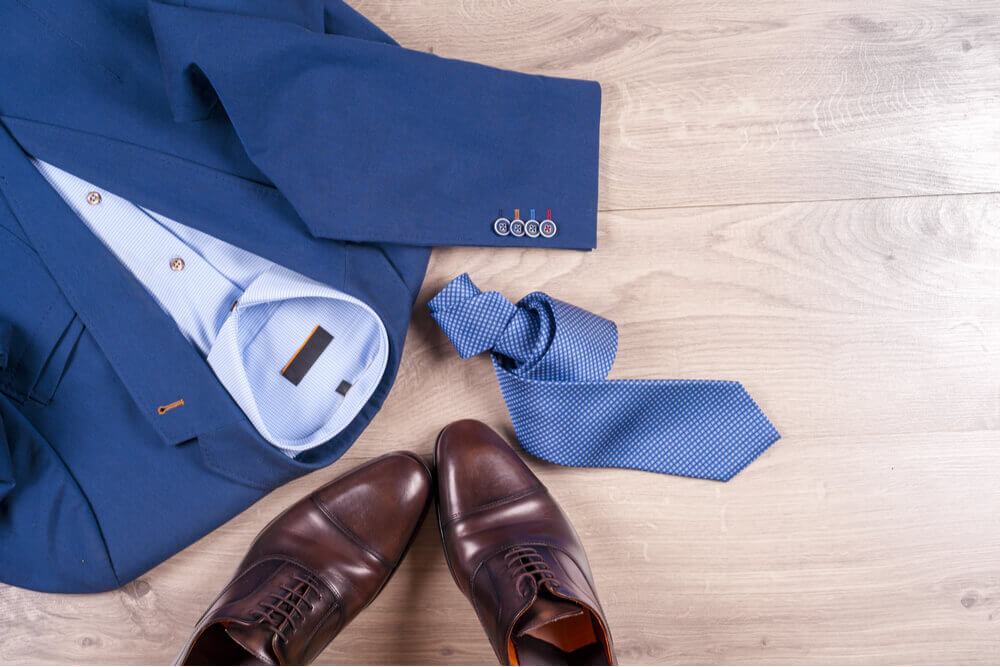 The humble necktie often holds the key for completing a look or adding an essential splash of colour to a formal outfit.
Your choice of tie when wearing a blue suit is equally important and should be informed by the colour shoe you have chosen.
For a suit in wedding blue, paired with a brown shoe, there are a range of tie colours that can help you perfect a mood.
To turn up the formality, consider a darker blue tie and white buttonhole, or plump for a pale blue tie to create a warm, summer vibe.
A tie in chocolate or brown, paired with a white pocket square can create a formal, wintry look, while a yellow tie in lemon or a paler shade can help you achieve a traditional wedding feel.
If you have chosen a black shoe then a black tie will help strengthen that selection and help you deliver a timeless and understated formal outfit for the office - or swap in a skinny tie to add a playful edge that would suit social gatherings.
For a darker blue suit or a light check, a lighter blue tie can add depth to your look and create a style that would suit a wedding.
And then you may of course choose to lose the tie all together.
A crisp button-down shirt with and white pocket square will help avoid clashes and give you a look that's contemporary and versatile.
Changing trends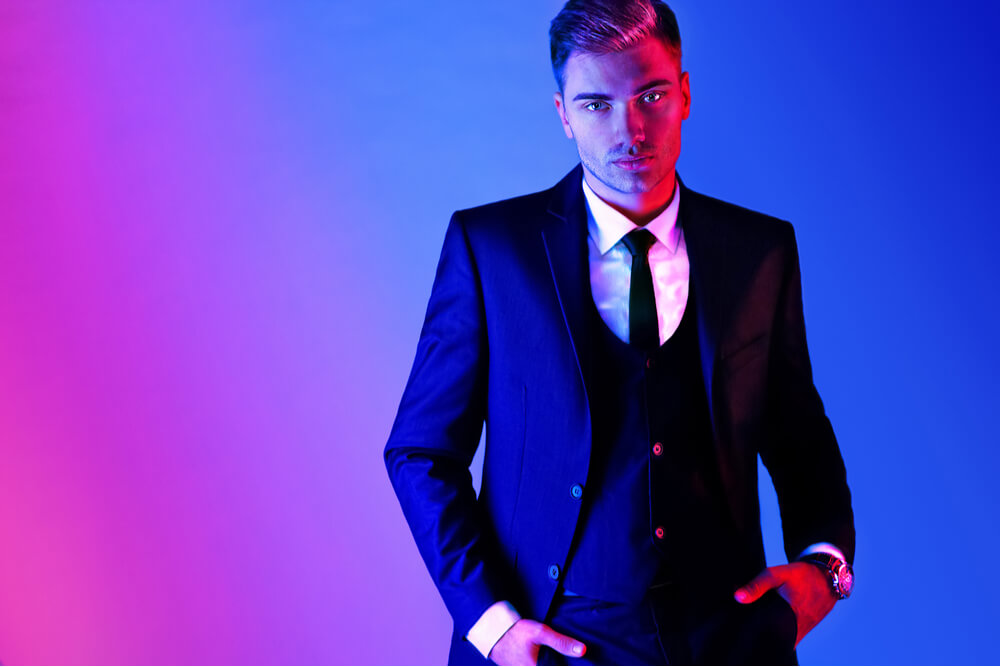 Men's suiting rarely stands still and its direction is often difficult to predict.
It's for this reason that the brown or tan shoe remains a popular staple, as it provides versatility that suits a range of formal appointments, if worn correctly.
Consider the range of ties and accessories you have at your disposal when thinking about the colour shoe to add to your suit and understand the role that they can play in perfecting your overall outfit.
To an extent, there are no right or wrong answers here and inspiration is everywhere you look.
However, while men's suiting continues to evolve at an exciting pace, it seems there remains a place for the classic blue suit and brown shoe.