Elevate Your Office Wardrobe – Dress for a Promotion in 2021!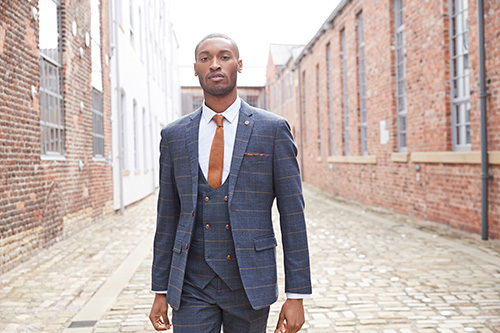 2020 is a start of a new decade, and with it comes a whole range of new opportunities. If you're an ambitious man seeking a promotion, we've got your back – it all starts with dressing to impress.
The business suit has hit its stride over the past few years, and is no longer an icon of uptight, drab colour schemes. The business suit is now a step beyond the ordinary if worn correctly, with a huge range of styles, patterns and fabrics.
It's now easier to wear, easier to accessorise and easier to look like an individual while impressing your colleagues – and catching the eye of your manager.
The Suit Direct range of two piece and three piece suits boasts a wide range of fabrics, designs and fits, from top UK brands. Try a stylish checked or tartan suit for a classy, English gentry theme, or a more traditional navy blue colour scheme to capture that classic office wardrobe.
Accessorising is essential to keep a unique look with personality. It's how to stand out from the crowd without breaking the budget, and it can be rotated constantly – think ties, cufflinks and more.
Our range of ties is one of the biggest we think you'll have ever seen – with a huge selection of colours, shapes, fabrics and patterns. Gibson London provide a range of men's square ended ties, inspired by retro styles, while Jeff Banks has a huge plethora of patterns and premium fabrics, often with stain resistant finishing.
If you really want to step beyond, you might want to try a double cuffed shirt with a pair of cufflinks. Our cufflinks have it all – from unusual, quirky themes, specific shapes like bicycles and aeroplanes, or understated, modernist themes.
If you're in a more relaxed office environment, you may prefer to go for a more colourful or personal shirt instead – that's no problem with Suit Direct's huge range of casual shirts. An Oxford shirt with a button down collar is ideal for a touch of more casual styling without losing your smart edge – and this is Ben Sherman's specialty. Shop Ben Sherman shirts now, and you'll be keeping up to office standards while maintaining a bright, stylish wardrobe in a range of patterns – from florals, to geos, to checks.
The secret to impressing in the office is the same as impressing for an interview; a sharp dressed man that maintains style, confidence and professionalism is an unbeatable statement for the office, that's sure to catch the eye of higher ups and turn heads on the commute. If you want 2020 to the decade of new careers and opportunity, you should start as you mean to go on – suited up in your best.
Work out what to wear to the office with Suit Direct menswear.
Back to Style Bureau