How and When to Wear a Tux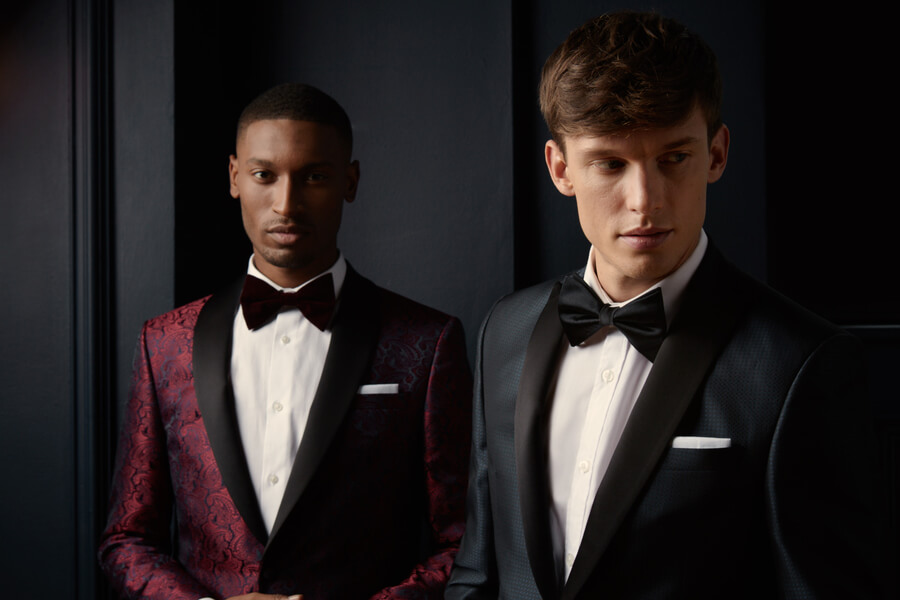 As one of the most formal of all looks for men, having a go-to tuxedo is essential, and knowing when and how to wear it well is an important life skill.
Whether it's a black-tie dinner, a formal dance or a suave Christmas party, when you really want to dress to impress, then look no further than the trusty tuxedo. From stylish weddings to more sombre occasions, a well-fitting suit is a wardrobe essential for many different parts of your life and something you should know how and when to wear well. Here at Suit Direct, we have a few top tips to help you on the quest to find the perfect dinner suit:
Keep It Classy
While some men prefer colourful suits and patterned shirts when they dress formally, when it comes to wearing a tux, keeping it simple and classy is the only way to really rock it. Buying dinner suits is easy if you stick to the basics and keep it simple with a white tuxedo shirt, black bow tie, black jacket and trousers. Cheap suits can look just as good as the more expensive ones and it's much easier to ensure a less expensive black suit looks smart than a cheaper colourful material.
Make it your own
Wearing a tux can be quite prescriptive, but you can very easily make it your own. Bow-tie or tie is one of the first questions? Generally, a black bow-tie is the most common way to accessorise a tux, but always be sure to ensure your bow-tie is properly tied, or buy a pre-tied version if you're less confident. Wearing a tie with a tux has become more common recently, but there are rules to follow. When wearing a tie, be sure to tuck it into your waistcoat or cummerbund, if you chose to wear one.
Nail the Shoes
Opt for a high-shine leather dress shoes or glossy patent suit shoes if you prefer to make more of a statement - these are the only real options when wearing a tux. Be careful about what statement you make because a loafer or brogue style shoe can look too informal. Getting the shoes right is crucial to making sure your look is finished off in style. Be sure to try your smart shoes on with your trousers beforehand to make sure the hem of the trouser rests nicely on top of the shoe. Too high and they'll look too cropped, too long and you'll look untidy.
Now you're equipped with our guide to wearing a tux, you'll definitely make an entrance at your next formal occasion.