What to wear this festive season
With Christmas parties, work drinks, New Year's celebrations and more, the festive season puts a lot of demand on your wardrobe. Tuxedos, dinner suits, dinner jackets, dress shirts – there are so many options to consider, and it's important to hit the right tone for the right occasion to avoid feeling self-conscious and out of place.
The trick is being able to move easily from your regular office or daytime look to evening drinks, or creating an effortlessly classy level of formality for a Christmas ball or party. Just follow our guide for what to wear this festive season, and you'll always feel like a million dollars.
Work Christmas Parties
Getting the look right in front of your boss is essential, as well as ensuring you're not going to be the butt of your colleagues' jokes for the next 12 months. The main thing to dictate your chosen look should be the location and the dress-code of the party.
In the office
If your party is taking place in your actual office (that's a shame), the approach you should take is smart casual. A tuxedo is just going to look over-the-top in your average open-plan office Christmas party, so opt for something comfortable yet sleek, like the t-shirt and suit look or even jeans and a shirt and smart shoes.
If you do go for the t-shirt and suit look, stick to a plain colour, and preferably something dark. If it's a direct shift from work day to party time, use your work suit as the base and coordinate your colours accordingly.
If your office has a casual dress policy, go for chinos and a relaxed casual shirt with casual shoes, rather than staying in a slouchy t-shirt or jumper. You could also throw a blazer or jacket over a plain t-shirt or shirt to add an extra touch of style.
At a venue
If your office has splashed out on a venue for your Christmas party event, chances are it's going to have a more formal dress code (but always double check). The classic tuxedo is the obvious choice, but you can also go for a slightly toned-down version with a black or dark tie if you don't want to wear a dinner jacket. The upturned collar is also somewhat old-fashioned these days, so go with a standard collar shirt even with a bow tie and dinner jacket.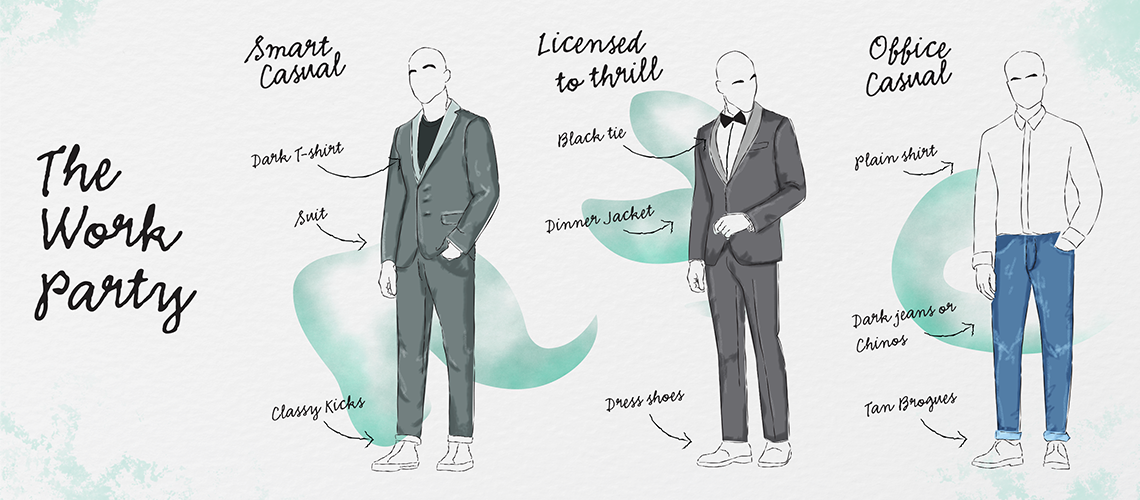 What to wear to a work Christmas party
• Suit and a dark t-shirt for smart-casual office parties
• Black tie with dinner jacket for formal Christmas parties at a classy venue
• Dark jeans or chinos with a shirt for in-office casual parties
Festive Drinks
If you're popping round for semi-formal Christmas drinks or going out after work you'll want to find the perfect effortlessly smart look. It might be tempting to throw on your loudest Christmas jumper but if that's really not the vibe of your hosts or the venue, you're going to stick out like Rudolf's red nose.
If you're heading out after work, you can dress down your office suit to something more smart casual by swapping your shirt for a plain t-shirt, or lose the suit jacket in favour of a bomber or leather jacket stylishly accessorised with a matching scarf.
Otherwise, a smart jumper with a shirt is always good option if you don't need to dress down a suit. The ever-reliable men's chinos or dark jeans will complete your look for comfort and appropriate levels of smartness.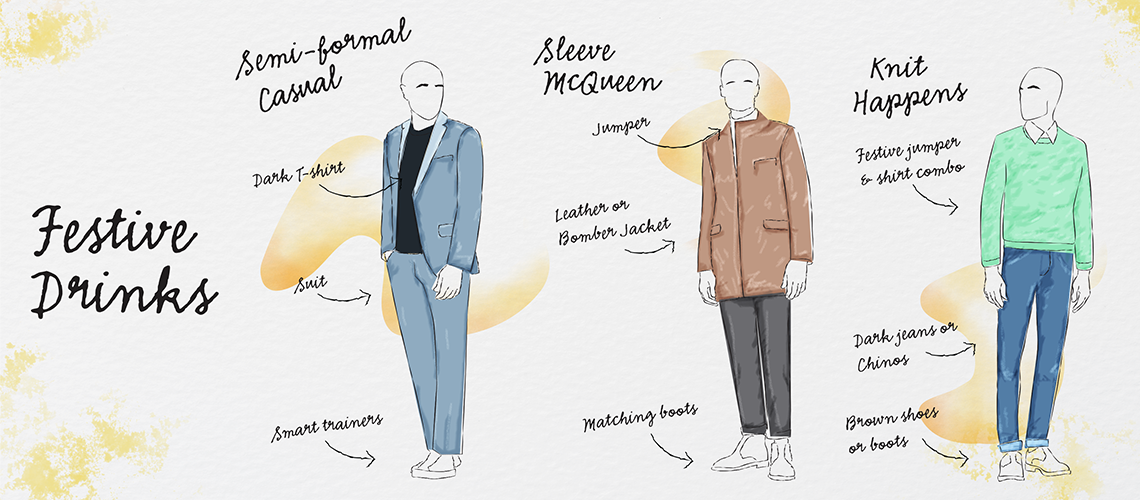 How to dress smart yet relaxed over the festive period
• Dress down a suit with a plain t-shirt
• Swap your suit jacket for a casual bomber or leather jacket
• Go for a jumper and shirt combo with dark jeans and chinos
New Year's Eve parties
The inevitable New Year's Eve party can be a minefield for choosing an outfit, and it's very easy to miss the mark. If you want to look smart on New Year's Eve for a slightly dressier event, channel your inner Great Gatsby and don a bow-tie and dinner jacket. You have license to go a little more out of the norm for New Year's so feel free to go for patterns, velvet, and colours. Just keep it grounded with a black bow tie.
For colder weather, you'll also need to throw on an overcoat on top of your tux, so make sure it matches. Stick to navy or black to keep it classic and understated until you want to have your dramatic reveal moment.
If it's a more casual event, dress up a standard jeans and t-shirt look with a plain long-sleeve t-shirt and a stylish jacket or overcoat, and opt for smarter shoes to elevate the whole look (but don't wear black shoes with lighter jeans or chinos). If a t-shirt and chinos as the basis of your look, you can afford to bring in some fun and colour with shoes or a jacket, so don't be afraid to experiment.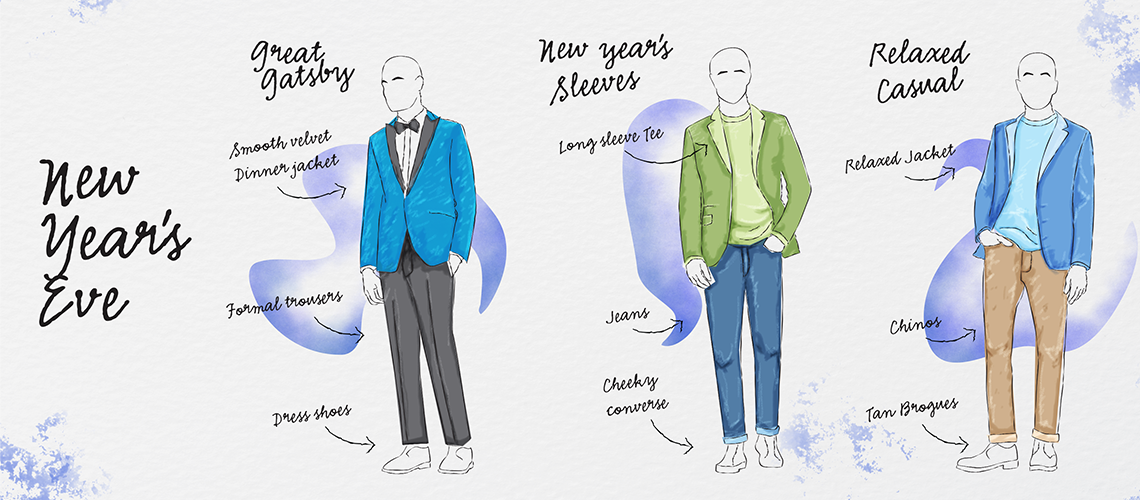 How to dress smart this New Year's Eve
• Channel the Great Gatsby with a velvet dinner jacket for a glitzy formal party
• Choose a long-sleeve t-shirt and jeans with a jacket for a smart-casual look
• Pair a plain t-shirt and chino look with statement shoes and a relaxed jacket