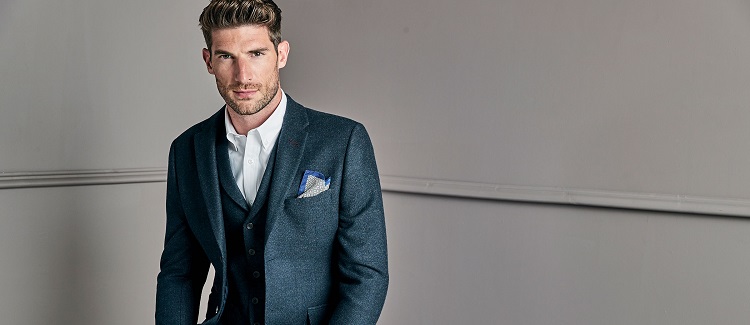 Looking good in a suit is a goal that every man should aspire towards. From the sleek style of men like David Beckham and Idris Elba, to cool guys like Alex Turner and Mark Ronson, we all know that pulling off a suit increases your style cred like nothing else. Luckily for you, by following our suit fit guide, looking good in a suit will become an achievable goal in no time as here at Suit Direct we know the secret – it all depends on nailing the perfect fit!
So, How Should a Suit Fit?
A suit should look effortless, sleek and sharp. Whether you're the type of guy that likes to wear a skinny fit suit, slim fit suit or something in a more classic style, once you've found the cut for you in our suit styles selection, then you need to ensure it fits perfectly and you can move around in it with ease. The key things to look out for are:
The Shoulders
The way that the jacket fits across the shoulders is paramount to achieving your desired look. Too tight across the shoulders and you'll look all hunched up and feel uncomfortable, too wide and it will gape at the lapels looking untidy and sag on the arms. Get a friend or partner to measure your shoulders and try on a few different style jackets, bear in mind that it should feel snug but comfortable enough to move around in without being baggy.
The Shirt
Once the jacket is buttoned, you shouldn't see too much of the shirt, but a well-fitting shirt is crucial to attaining the overall look. The top button fasted on the jacket should look fitted, but not tight or constricting across the chest. Ensure that you have the right neck size shirt, it should again be snug but breathable. Be sure to check that the shirt is long enough to tuck in without too much excess material hanging over. The arm length should slip perfectly beneath the jacket without too much cuff on display until you move around.
The Trousers
Getting the perfect fitting suit trousers is the easy part. Firstly, you need to find the right length, the hem should sit just above your shoe without a gap unless you're wearing a loafer. Try on your usual waist size and size up or down if necessary. You shouldn't need a belt if you've found the perfect fitting trouser, only for accessorising purposes. If the trousers are too wide in the leg, a slimmer cut may be more suited for your body shape, so try on a slim fit suit or skinny fit for size.
By following our suit fit guide, you'll be looking confident, cool and razor sharp in your perfect fitting suit next time you have a special occasion to attend. Take a look at our extensive suit selection on site to find the ideal combination for you today.