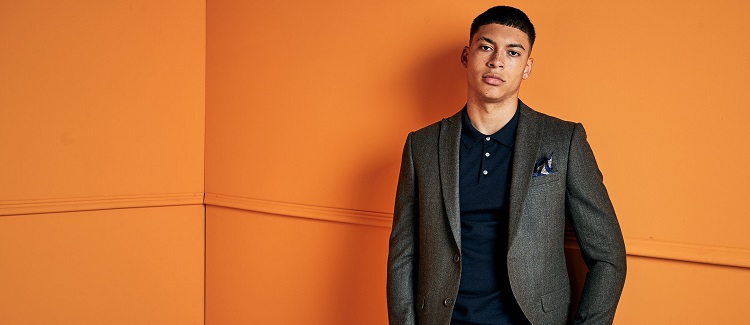 Making a suit look like something you just threw on and managed to look amazing in is something only celebs and A-listers tend to do successfully. From the cool looks David Gandy, Skepta and Chris Hemsworth roll up to the premiers in you'd think you'd have to be spending the big bucks to make a suit look effortlessly stylish. But, luckily for you, by following these handy tips and tricks, you'll be able to nail the effortlessly cool style too.
Here's the top ways to instantly dress down a suit and nail that chic, smart, casual suit look you've been looking for:
Open Up that Collar
There's nothing like opening up that neck a little by losing your tie and undoing a few buttons. The one thing that tends to make a new suit feel really formal is how restricting they can feel, once you shed the tie, you'll look and feel a lot more relaxed and it'll transform your overall vibe from stuffy to relaxed and chic in an instant
Focus on the footwear
Focusing on your footwear is key when it comes to successfully dressing down your formalwear. Brown shoes instantly look much less formal than their black counterparts, with a stylish loafer or a brogue offering a trendy and much less formal edge. If you're feeling really daring why not go for a David Beckham inspired suit and sneakers look?
Stray Away from Shirts
From stripes to paisley prints and bold colours, a really simple way to make your suit look much more casual is by breaking away from the classic crisp white shirt look. If you're feeling like trying out an especially modern look, you can always go for a plain white t-shirt under the blazer, or even go for a crew neck for an ultra-fashionable vibe.
Mix and Match
How about chequered trousers and a black blazer, a pink blazer and navy trousers, maybe? Mixing it up is one of the best and easiest ways to instantly ditch that overly formal suit vibe. Ideal for parties and after work events, paring a mismatched blazer with trousers gives an informal, fashionable suit vibe that's got stylish written all over it. Don't go for clashing prints, unless you're wanting to make a really bold style statement.
For a look that takes you from the office, to the bar, knowing how to dress down a suit is a skill to be armed with. And by following these tips you'll sure to be rocking yours effortlessly next time you put on your glad rags.
Before ordering your suit elements, why not take a look at our new fit guide (link to fit guide when live), designed to help you pick the right suit to match your size and style!