The Ultimate Guide to Men's Suits in 2021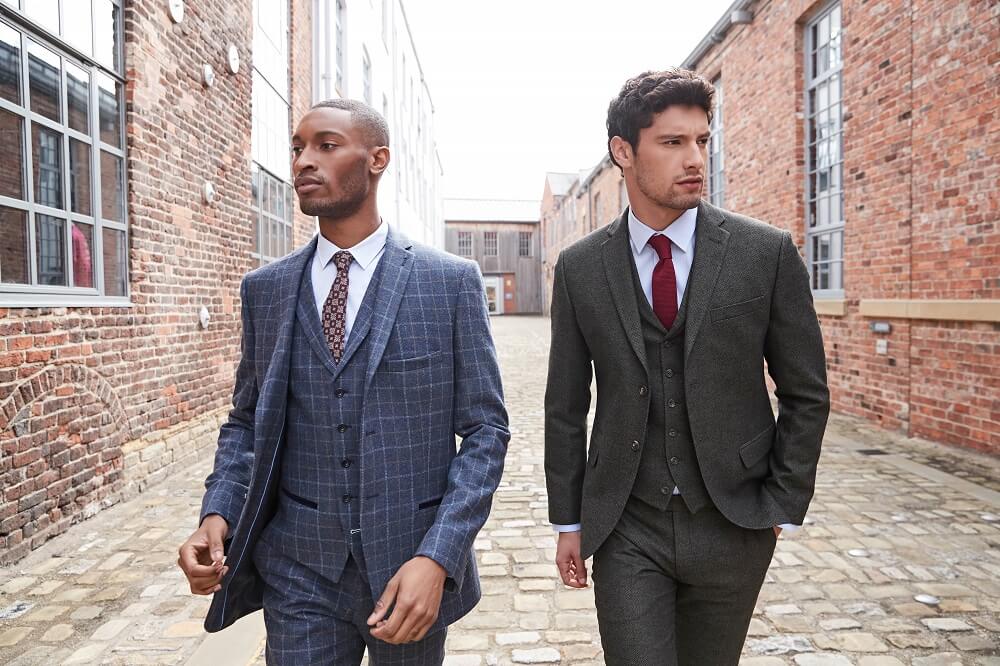 Ready to make an investment in adding to your suiting wardrobe, but need a little advice before you make a purchase?
You've come to the right place.
Our in-depth guide will help you make the right choices, ask the right questions and ensure you are on trend, whatever the occasion.
Where's the best place to buy men's suits?
It seems more places than ever stock men's suits these days and one of the biggest decisions you'll need to make is whether you buy online or offline.
There are advantages to both.
You can browse for a suit online from the comfort of your own home, or from wherever you may be on your smartphone.
Shopping in store doesn't provide this convenience although it does allow you to get 'hands on' with the product and a feel for the material.
But if you value convenience over getting close-up then shopping online may be the better option.
What kinds of suits will be on trend in 2021?
While it's fair to say there are some suits that never really go out of style, men's suiting sees trends come and go just the same as other items of men's clothing.
The heritage tweed suit is already a popular staple for many and its appeal is predicted to broaden even further in the months ahead.
For a louder look, the bold check is expected to be sought after, alongside black colour outfits that combine shades like burgundy, teal and rust.
Meanwhile, in the summer, a linen suit in cool grey is expected to be the go-to look.
How do you properly wear a suit?
It's certainly true that it's not just what you wear – it's how you wear it.
And first and foremost, it's important to find the right shoulder fit.
Often considered the hardest area of a suit to tailor, you should ensure that any suit you try on fits around the shoulders first before examining other areas.
While waist and length can quite easily be adjusted, it's much more difficult to fix up a suit that's too baggy or tight up top.
One other important tip is to guard against sleeves hanging too long.
You'll know your jacket sleeve length is right if it exposes your shirt sleeve cuffs by about half an inch.
Consider a tailored suit for the most formal of occasions, like a wedding or ball, but don't shy away from a more relaxed fit if the vibe is a little more laid-back.
How do you measure for a suit?
It takes time to measure properly for a suit and rushing the process could leave you with a fit that doesn't justify your investment.
Most shops will offer this service, but it's also possible to get your own idea of how you measure up. This is particularly important if you're shopping for tuxedos or dinner suits.
Wrap a tape measure around the broadest part of your chest and under your arms while keep the tape totally level, and be sure to allow for give of at least an inch.
The length of a jacket is measured from where your collar will sit at the back down to the hemline of the jacket, but make sure your arms are hanging comfortably.
To measure sleeves, run the tape from the tip of your shoulder seam to where your wrist and hand and connect.
Inside legs are measured from the highest point of your crotch to your ankle, while waistlines should be measured just below the belly-button.
What is the best suit material?
The material a suit is made from is often just as important as the colour or pattern.
Purchasing the right material can not only ensure you get great mileage from your suit but also contribute to the look you create.
Often used in tweed, a good quality wool suit is breathable and durable, while at the other end of the spectrum is linen.
If properly cared for, a linen suit can last several summers.
If you're looking for something a little more low-maintenance then polyester may be an option you consider, as it doesn't require dry cleaning.
For a skinny or slim fit, you should look out for elastane in your suit as it assists stretch and comfort.
The best suit brands 2021
The brand you select should be partially informed by the look you're trying to achieve.
There's no shortage of options in this area, and each brand offers something slightly different, but here are a few recommendations to consider.
Alexandre of England is a worthy option for a classic, sophisticated look and their suits often feature a wool blend that combines quality with versatility.
For something a little more bold, edgy and modern, consider Antique Rogue or Ben Sherman, or for a more classic look you may try Gibson or Jeff Banks.
Whichever brand you select, you should take time to familiarise yourself with their range and decide whether or not what they offer matches with the look you're trying to create.
What's the best suit for your next occasion?
The best suits are often the ones that you can wear for more than one kind of occasion.
Whether it's your next work's party, a day at the races or your next wedding, a well-fitting and high-quality suit can help you create an impression.
For your next party occasion, whether with work colleagues at Christmas, or just friends and family, consider a black trouser with a green velvet jacket.
Button your shirt to the top and consider adding a bow tie, should the formality of the occasion dictate.
3 piece suits are a classic option for a wedding; consider a deep blue with a tie in salmon or gold, or a light check that fuses browns and maroons to create a more autumnal look.
If you have your heart set on a pattern or texture, consider tweed or a check, as these are the most versatile.
What are the best accessories to wear with a suit?
The accessories available to you stretch far further than the classic necktie and handkerchief.
A tie clip or pin can add sophistication to a suit and help convey a little glamour at your next ball or dinner date.
Consider a flat-cap or braces to add character to a heritage outfit at your next wedding date or day at the races, while a pocket watch and chain can also be teamed with waistcoats.
How much you accessorise depends on the occasion, but staples like cufflinks and brooches can help add luxurious detail to any look.
What colour shirt goes well with your suit?
Sometimes it's tough to beat a crisp, white shirt to wear under a suit, but other options are out there if you're feeling a little more bold.
Try a shirt in a light blue, pink or pistachio under a grey suit, or a grey or patterned shirt under a black suit.
You can also experiment with a striped shirt, which tends to sit well with a jacket in navy blue.
How do you know what colour tie works best with your suit?
A general rule of thumb when picking a tie to go with your suit is to ensure that it is darker in colour than your shirt.
You should also try to avoid a tie that features the same pattern as your shirt or jacket; instead find something that contrasts.
To keep your look co-ordinated, aim to match the width of your tie to the width of your lapel.
In terms of colour, pair a red, gold or silver tie with a blue suit for a classic look or go more autumnal with a burgundy or burnt orange under a navy jacket.
Craft your own style!
We hope these tips prove useful as part of your next suiting investment, or just help inspire you to craft new look from existing items in your wardrobe.
Getting the right material, fit and colour, and matching with the right accessories, can help you make a great impression in any formal setting.
So, don't be afraid to express yourself, go with a classic - or try something completely different!
Check out our Men's Suits Sale.