Style Guide: Statement Jackets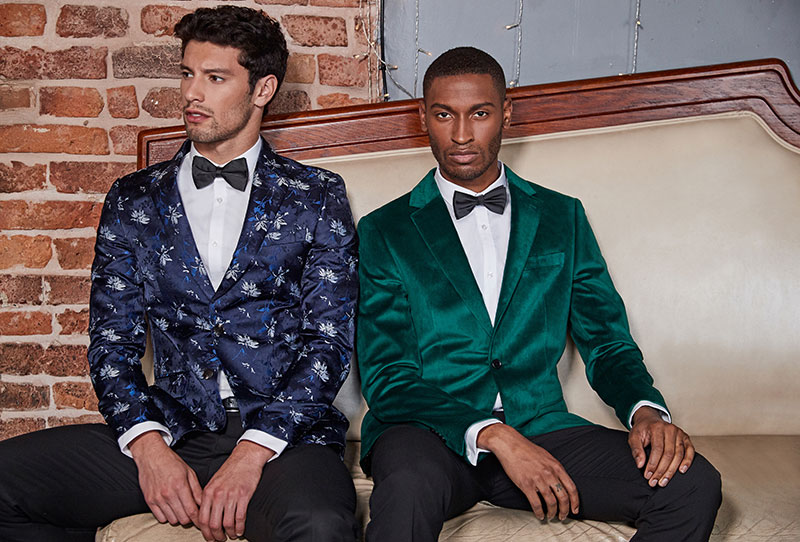 Party season is in full flow and there's no better time to step out of the ordinary with a dinner jacket that's designed to turn heads and make a statement.
Our statement party suits are a striking range of colourful, elaborate fabrics – with bright velvets, floral fabrics and signature satin lapels that combine the classic tuxedo format with something a little bit different – and a little bit more festive.
Whether it's a night out on the town or an office party, our statement dinner jackets will elevate your wardrobe beyond the ordinary – into a colourful, unique outfit that defies the mundane.
Festival Florals
The floral dinner jacket defies expectation, every time. The natural world is full of colour, texture and vibrant styles; so it's little wonder that our floral suits and dinner jackets take the inspiration seriously.
For a statement wallpaper print – a kitschy, retro style that goes beyond the curve – we've got just the thing. This black floral jacquard jacket is a real winner, with a multi layered print and a black base fabric, completed with peak satin lapels and a slim fit.
A more understated option, in traditional navy blue – some may say is slightly more sophisticated. Limehaus come to the rescue again with this Navy Floral Jacquard Suit, with satin lapels and a damask inspiration – complete with matching trousers.
Jeff Banks is no stranger to the more elaborate – and this silky smooth number is proof positive of his flair for florals. Inspired by one of his neckties, this Navy Floral Jacquard Blazer is a real trendsetter. Detailed and intricate, this suit jacket catches the light – and the eye – with effortless style.
Paisleys & Patterns
One of last year's bigger sellers is back! This Navy and Burgundy Paisley Jacket is an instant winner, with a soft two-tone fabric that boasts a gentle sheen, black satin lapels and contrast pocket welts, with a slim fit and single button fastening.
Perhaps slightly more reserved – but no less stylish – Limehaus also present a Green Velvet Paisley Dinner Jacket for the man hoping to impress. With a plush velvet design, black satin lapels and a slim fit, this green velvet jacket defies the ordinary, in a bottle green colour scheme.
Vibrant Velvets
This is one fabric that's made a huge comeback. Velvet is a plush, eyecatching and rather luxurious option for any wardrobe – and something about it fits the festive period beyond perfectly.
No stranger to bright colours, velvet is a versatile way to add a retro flair to your wardrobe. Here's just a few examples:
Limehaus continue their love for the colourful with this Teal Velvet Dinner Jacket – a slim fit dinner jacket with a vibrant blue colour scheme, slim fit and black lapels that's screaming to be matched up with a bow tie and white shirt.
Racing Green present another match for any wardrobe, with their Black Velvet Dinner Jacket that adds a rich lustre to more traditional, tried and tested black tie wardrobes. Equally stylish is their Burgundy Velvet Blazer that captures the same style in a more opulent deep red.
One of the best things about party suiting is there are no rules and no restrictions.
There isn't a limit to suiting up when everybody is clamouring for attention – simply go with the flow and style yourself in a daring, unique and eyecatching wardrobe.
If you're still looking for ideas, why not check out our party wear section?