How To Style A Velvet Blazer For Men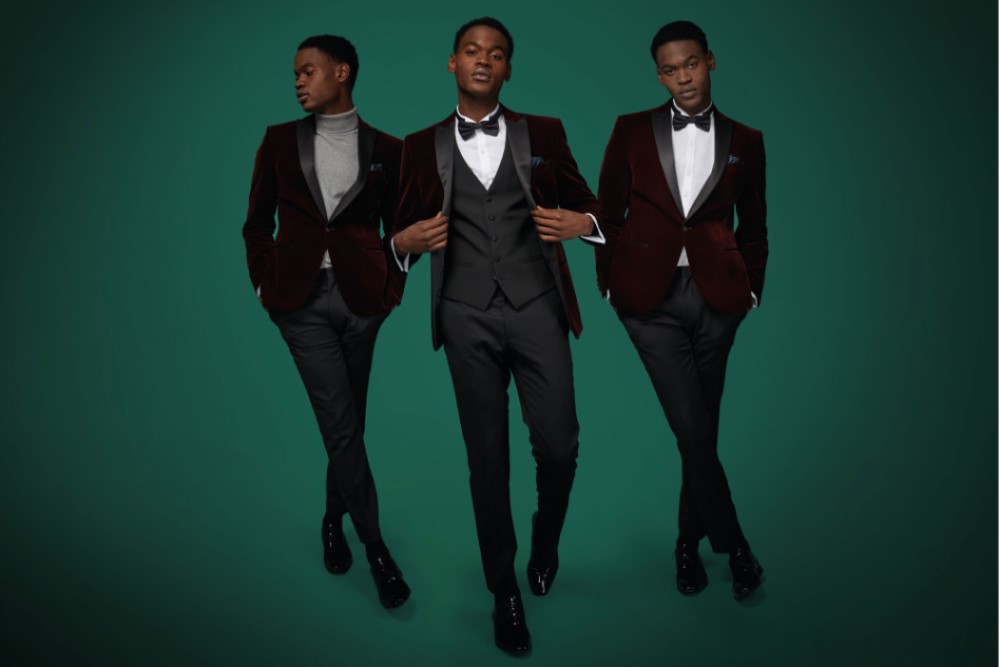 Often overlooked as a wardrobe essential, the velvet blazer can be worn for more than just your annual rotation of Christmas parties. Far from a one hit wonder to be dusted off in December, this underrated piece of tailoring comes in a wide variety of fits and fabrics suited to everything from your next dinner party to kitschy office style for the work week. Featuring heavily on red carpet events this year, the velvet suit jacket's popularity is on the rise as an effortless way to lend texture and a touch of luxury to almost any outfit.
How to style Velvet Blazers for Smart-Casual Moments
A velvet blazer might not be your first thought for your next smart-casual outing, but choose a more muted colourway (without shiny contrast lapels) and a velvet blazer can be the ideal layering piece, in place of your usual jacket or overshirt. Dinner parties, weekend trips and more are ideal for incorporating this underrated fabric into your everyday outfits.
For easy smart-casual styling, choose a colourway that works with your existing wardrobe. When it comes to the other elements of your outfit, try a button-down printed shirt with tones that match the velvet, and ditch the tie to keep things laidback. A good quality plain t-shirt is a solid base, too - choose a black or dark navy t-shirt to let the velvet really shine. For colder climes, go for a thicker velvet over a textured roll-neck knit in a neutral or matching colour.
With such a style statement up top, keep things balanced with plain, well-fitting trousers - black or indigo straight leg jeans are the perfect pairing. Step into crisp white trainers for summer, or polished Chelsea boots for winter, and you've nailed smart-casual style with a tactile twist.
How to style Velvet Blazers for Christmas Parties
The quintessential festive fabric, opulent velvet blazers are much-loved for Christmas gatherings. Their popularity is understandable, with a tufted texture and glossy contrast lapels adding a touch of luxury to a standard tuxedo silhouette.
As the festive cousin of the tuxedo, a velvet blazer is often paired with the standard white shirt and bow tie - and while this timeless combination isn't out of place at a Christmas party, we say take advantage of the season and try out winter-ready formal style by swapping the shirt and tie for a lightweight roll-neck. Sleek, elegant and with added warmth, a roll-neck is the perfect base layer for your velvet blazer. Stick with black to make a coloured blazer pop, or go all-out on the festivity with a burgundy roll-neck under a red velvet blazer and make a real impression.
Depending on the formality of the dress code, a velvet blazer can be paired with a range of trousers for a Christmas party. The most formal and popular are a pair of black tuxedo trousers - these are ideal as they go with any colour of velvet, and will pair perfectly with a standard black tuxedo jacket for future events. If the dress code is less formal, you could go for a pair of smart black jeans, or even black chinos - just make sure the fit is a slim, straight leg with a slight taper.
How to style Velvet Blazers as a wedding guest
Want to stand out from the rest of the guests at your next wedding? Shake things up and don a velvet blazer in place of your usual go-to suit. Velvet is an underrated choice for wedding guests and is especially suited to autumn and winter nuptials, lending cheerful elegance and warmth to your look.
Depending on the wedding's theme, you might stick with the classic white shirt and bow tie, but if given the opportunity we say put your own spin on things by skipping the tie and layering a printed shirt under your velvet blazer - keep it coordinated with a blue floral shirt under a navy velvet jacket, or offset a multi-tonal paisley shirt against burgundy or black velvet.
If the dress code and weather conditions allow, a pair of opulent loafers are the perfect match for a velvet blazer. Alternatively, polished black brogues or monk strap shoes offer the perfect level of understated style.
How to style Velvet Blazers for work
Can you wear a velvet blazer for work? Absolutely. For office style with added dimension, choose a velvet suit jacket for weekdays and not just special occasions.
To avoid looking over-dressed, pair with a plain white or pale blue shirt without a tie, leaving the top shirt button open for effortless elegance that doesn't look too formal. A velvet jacket for work is more versatile than you might think, with lightweight knitwear and plain crew-neck t-shirts both ideal for layering under velvet for a more unique take on workwear.
Team with denim, chinos or relaxed-fit wool trousers for workday comfort that keeps your look grounded.