What To Wear To The Christmas Party For Men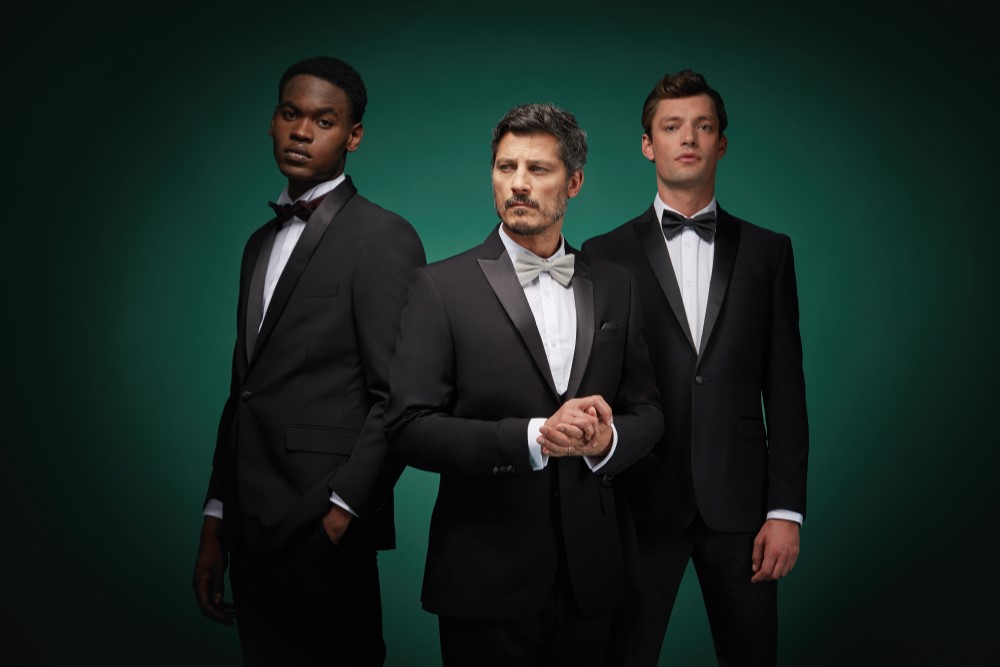 Party season is well on its way, and with it comes a flurry of dress codes to consider. Take the stress out of occasion dressing with our guide to building the perfect outfit for every kind of festive gathering - from the office get-together to those pub trips over the Christmas break.
The Black-Tie Christmas Do
If an invitation to a black-tie Christmas party has landed on your doorstep, get ready for a sophisticated festive gathering - the 'black-tie' dress code indicates you'll be needing a tuxedo, dress shirt and, crucially, a black bow tie.
Depending on the nature or theme of the specific event, you might be free to embrace a festive take on formal wear with a velvet blazer. Play it safe with black velvet, or embrace jewel tones and make an impression in seasonal red or navy blue.
Whether you're going for the traditional tux or opting for velvet, your choice of trousers for a black-tie remains as standard: black, slim, straight leg with a slight taper - and make sure the break is high enough as not to spill over your shoes.
While the traditional dress code might not have much room for manoeuvre, black-tie suiting still allows for touches of personality in your choice of pocket square and cufflinks. Choose cheerful colours and luxe fabrics like silk or velvet for the perfect balance of elegance and festivity.
The Office Christmas Party
For your work Christmas party, blend smart office dressing with festive flair and you can't go far wrong. If a dress code is set out, chances are it'll be along the lines of 'cocktail' - time to put a seasonal twist on the classic.
Cocktail dressing means ditching the waistcoat and loosening up just a little; you could opt for a tuxedo jacket, but swap the shirt and bow tie for an elegant roll-neck sweater. Pair a black tux jacket with a black roll neck, or a burgundy velvet jacket with a lightweight knitwear in a complementary colour. Jacquard dinner jackets are perfect for festivities too, with bold floral designs and more subtle versions offering a touch of suitable shimmer to your Christmas party look.
The shoe de rigueur for cocktail dressing tends to be the classic loafer - however, keeping in mind the weather of the season, you could pair your suit with a more sturdy lace up or monk strap shoe for perfect party style that works for wintery weather.
The Dinner Party
A pre-Christmas dinner party with friends or family is an occasion to relax into. Much less formal than your office Christmas party or black-tie event, but still with a sense of festive occasion, choose smart-casual classics that combine comfort with style.
An elegant merino wool jumper fits the bill perfectly; soft and insulating while being thin enough to layer over a shirt or t-shirt - pair a crew neck knit with a patterned shirt for cheerful dinner party dressing, or a v-neck jumper over a white t-shirt for relaxed yet smart winter layering. In a thicker construction, a textured roll-neck jumper is a quintessential must-have for the holidays, and is the perfect warmer layering piece if you'll be spending time outdoors.
Stick to the 'smart' side of smart-casual by incorporating a blazer into your dinner party ensemble, if the occasion calls for it. Crucially, choose something with a softer construction and rustic fabric to avoid looking over-dressed. A tweed suit jacket ticks all the boxes; heritage-inspired styling with a best-of-British appeal and rich colour palette, add it as the final layer over a shirt and knitwear for a versatile dinner party outfit that's adaptable to indoor and outdoor temperatures.
When it comes to smart-casual trousers, the chinojeans are an option here too, just make sure to choose dark denim.
Festive Pub Gathering
Pre-Christmas pub trips become a ritual each year, and 2022 will be no different with the World Cup scheduled for the festive season. Step out in cool, casual style with trending pieces that you'll be reaching for every winter.
Add layers to your look and you'll be just as comfortable in the beer garden as you are by the fireplace. With a casual t-shirt and dark jeans as a base, add a textured jumper, knitted polo or checked shirt over top and you'll be able to adjust your outfit to changeable temperatures. Pay homage to the season with fairisle knitwear - this iconic pattern is a Christmas stalwart and transforms your usual casual attire into the perfect practical festive look. Pick up a colour that will pair well with the rest of your usual wardrobe, and you've got a timeless winter staple that won't look out of place come January.
In the depths of December, the right outerwear is key, so make your third layer a practical yet stylish coat - wool overcoats are timeless and will pair perfectly with formal looks, too, or go for a classic mac to stay dry against the elements.
Finish your look with the perfect leather boots for style and practicality in equal measure. Tan leather is a returning winter trend that gives your look a touch of heritage appeal, and keeps you comfortable especially if you're walking to and from the pub during the depths of December!