What To Wear To An Autumn Wedding For Men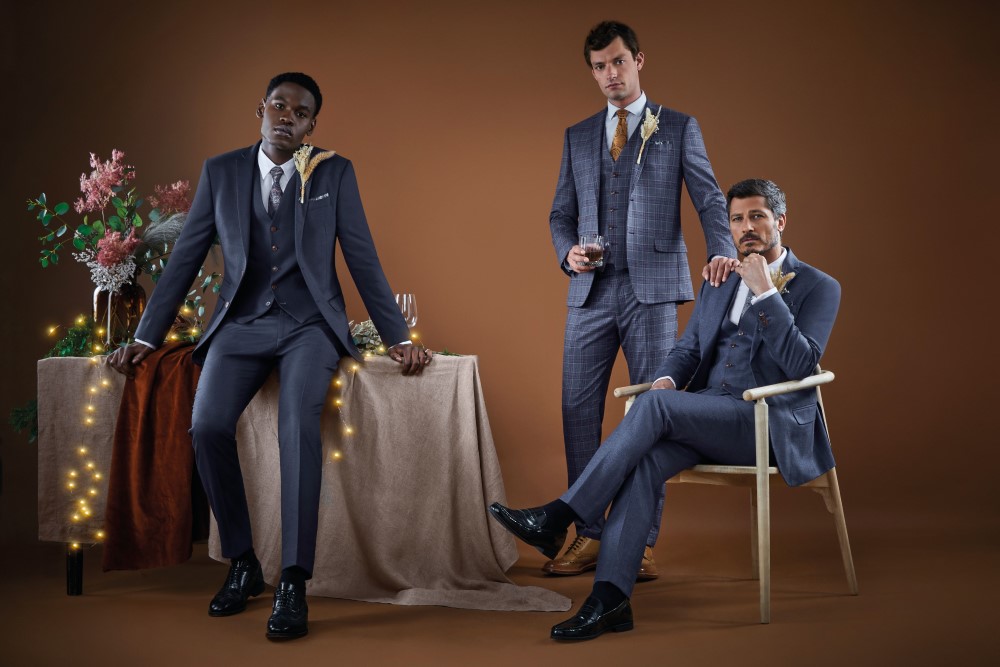 While summer is the most talked-about season when it comes to weddings, autumn is becoming just as popular for nuptials, with rustic barn weddings and cosy church ceremonies on the rise.
If an invitation to an autumn wedding has landed on your doorstep, you'll be glad to know all the usual dress codes still stand. However, now's your chance to inject a touch of personality and seasonal quirks into your wedding-guest style - think layering up in tweeds, checks, wool fabrics and rich colours. Here, we've broken down the key wedding dress codes with tips on incorporating a seasonal twist through your choice of suit, outerwear and accessories.
The Formal Dress Code
If the invitation says 'formal', it's time to go all-out, and stick closely to the dress code. For a look that's suited to unpredictable autumn climates, choose a mid-weight morning suit with tails for timelessness that you can reach for for years to come. Make sure to pair your suit with an elegant white dress shirt and glossy patent brogues to complete the requisite look for a formal wedding. If the specific dress code allows, you might be free to incorporate a seasonal nod to your personal style with autumnal accessories, like a jewel-toned tie, pocket square, or quirky cufflinks.
The Black-Tie Dress Code
Clean and classic, black-tie weddings call for a black tuxedo and white dress shirt, paired up with a black silk bow tie. A returning trend for autumn weddings, black-tie is a timeless option, and the darker colour scheme perfectly lends itself to the season. The tuxedo is endlessly popular for all kinds of formal events, so this style of suit is a worthwhile investment that will see you through all those party season events after the upcoming wedding.
Not forgetting the seasonal weather conditions, keep your black-tie ensemble looking sharp and stay warm with a smart black wool coat - a wardrobe essential that'll never go out of style. Loafers are the typical shoe choice for black-tie, but keep the season in mind - if it looks like rain then opt for some black lace-ups.
The Cocktail Dress Code
Toeing the line between black-tie and semi-formal, the cocktail dress code really gives you some room to show your personality while still looking sharp in a two or three-piece suit. The traditional cocktail dress code denotes your suit should be dark in colour, but check with the couple and you might find you have more freedom in your choice - if so, time to embrace an autumnal colour palette with rich burgundy or green, and don't forget about the power of navy blue as an autumnal colour, too, especially when it's part of a textured herringbone suit with smart heritage touches.
For a more subtle take on autumn-focused cocktail dressing, just offset a plain suit against a jewel-tone printed shirt for elegance with personality. When it comes to accessories, branch out with a kitschy knitted tie, and drape an overcoat across your shoulders for sophisticated style that keeps you warm.
The Smart-Casual Dress Code
A smart-casual dress code leaves room to embrace quintessential autumn formalwear. Think: rustic textures like corduroy, herringbone, tweed and velvet, rich colourways and jaunty accessories. A mid-weight suit in a checked wool-blend fabric encapsulates autumn suiting perfectly. Incorporate the matching waistcoat for a dapper country-gent look, or wear it your way with a contrasting waistcoat. For smart-casual comfort, forgo the crisp dress shirt and choose an Oxford shirt - its thicker, textured fabric offers warmth and style in equal measure.
If you'd prefer to skip the suit, mix-and-match a smart blazer and trousers; a statement checked suit jacket and chinos are a great option for a smart-casual autumn wedding. Bring your look to life with heritage-inspired accessories; baker boy hats and flat caps are the perfect seasonal finishing touch, and a velvet bow tie adds a touch of luxury to your look.