Tips every man needs to know about black tie
It's a sad fact that whenever a party season invite includes the phrase "dress code: black tie", a man's heart sinks. There's a common misconception that dressing up to the nines has to be difficult and cumbersome, when the reality is anything but.

By simply following a few guiding principles, you can easily take the stress out of the age-old question "what to wear for a black tie event?", meaning you can relax and enjoy your evening safe in the knowledge you look your best.
Classic
The classics are often the best, and this is definitely a fair argument when it comes to men's dinner suits. The classic black tie event is all about respecting tradition and not rocking the boat. This means that a black tux (or dinner suit) is one of the most timeless looks around, which never fails to make a man look his best.

However, this doesn't mean you have to completely forego personality in lieu of tradition. Even with a dinner jacket, the symbol of formalwear, you can have some fun and bring your personality out. Experiment with different fits from regular as in this Scott & Taylor notch lapel dinner suit , or something more tailored like Racing Green's dresswear suit. Trying out different kinds of lapels, such as this shawl-lapelled version of the Scott & Taylor suit is another great way to show your individuality
Daring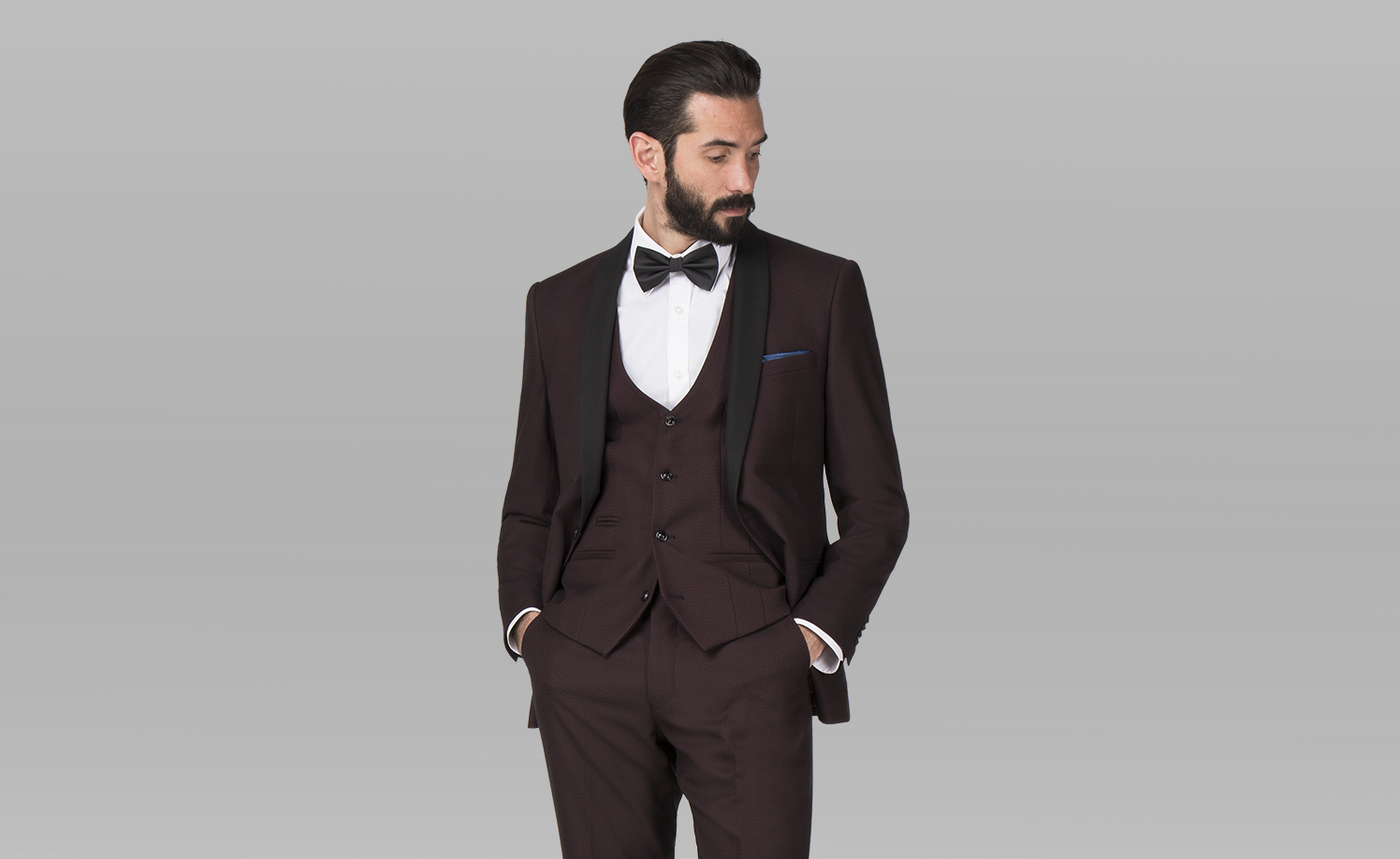 Remember - black tie doesn't have to mean black jacket. Go a step further in the style stakes by embellishing upon the black tie tradition with a jacket in a different shade. This Ted baker burgundy jacket is a great example of a formal yet individual dinner jacket, and would be perfectly at home at formal occasions, while this fetching navy dresswear jacket from Limehaus could be dressed down by removing the bowtie or pairing with jeans for a more informal occasion or wedding evening do.
Accessories
One of the best things about the black tie event is the chance to try out all those great menswear accessories that you usually don't get an excuse to wear. These little flourishes will help to set you apart from the other attendees, showing off your own personal style and individuality.

Pocket squares and cufflinks are a great entry-level way into the men's accessories game, while stylish sunglasses can also offer both protection from the winter sun, and a little touch of your personality to an outfit. Don't feel constrained by a bow tie either. While a pre-tied version has it's appeal, investing in a proper bow tie which you tie yourself means you can literally loosen up towards the end of an evening, undoing it as the party gets wilder.

Dress shoes can also feel a little limiting, and with the cold weather upon us, opting for something chunkier such as a brogue is a great way to break up your evening wear with a bit of ruggedness.

If even having read our stellar guide you're still not convinced by the tux, instead opt for a dinner jacket paired with black trousers, or simply add a bow tie to your black or navy suit. Start building your black tie look with the collection of black tie attire for men at Suit Direct.