What to wear with a tweed jacket?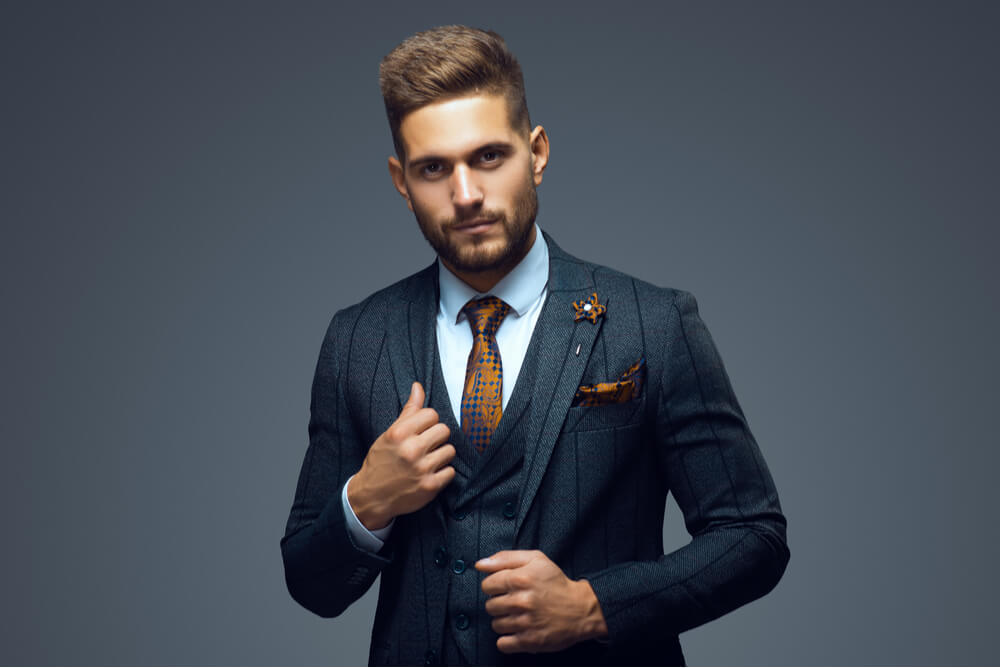 The tweed jacket has been a staple of men's formalwear for generations, though it is perhaps during the last 15 years that the style has enjoyed its most noticeable revival.
Tweed is a rough, woollen fabric that is generally woven with plain, twill or herringbone patterns.
The fabric has its roots in Scottish and Irish culture and was traditionally used to produce functional outerwear.
But it has since evolved to become firmly established as a major component of men's suiting.
Different colours and textures can be created through the weave of the yarn, making tweed a versatile fabric suited to a range of formal occasions, from weddings to race days.
In this guide, we'll explore the style in more depth and help you understand how you can create your own effective tweed outfit.
How to wear a tweed jacket?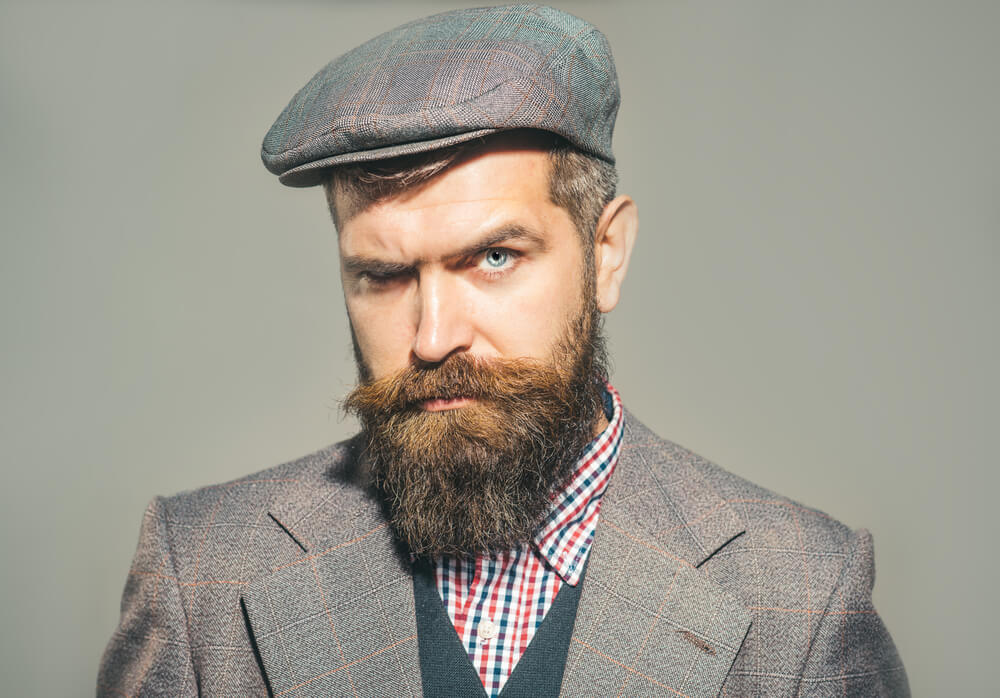 A tweed jacket or a tweed blazer can be combined with a range of other items to create looks and outfits to suit a range of occasions, from the ultra-formal to more relaxed environments.
And like any jacket, it's important that the fit is correct.
To make sure your tweed jacket fits right, start with the shoulders and work from there.
The shoulders are the hardest part of a men's suit to adjust, so when trying an item on this is the first place should check.
The seam of the jacket should rest naturally on your shoulders and not feel too tight or too loose.
You should ensure the collar rests neatly against your men's shirt, revealing some of its collar, while hugging the back of your neck without any obvious gaps.
Make sure the jacket doesn't pull while fastened and pay attention to sleeve length.
You should also look out for a 'V' silhouette from your shoulders to your waist; this is an indicator that your tweed jacket fits well.
What trousers to wear with a tweed jacket?
The versatility of the tweed jacket means there are many possibilities for trouser pairings.
You may choose to build a consistent look with a 3 piece tweed suit, featuring matching jacket, trouser and waistcoat, although tweed offers lots of options for mixing and matching.
Often, men add a plain wool or cotton trouser and jacket to a tweed waistcoat, but it can be just as effective to reverse that style.
A wool or cotton trouser can be the perfect complement to a tweed jacket and waistcoat - and help you craft a layered autumnal outfit.
Consider adding a dark blue trouser to a brown or beige tweet jacket and waistcoat, adding a dark blue tie and pocket square to create a look that would suit your next wedding appointment.
To create a more summery outfit, greys and lighter blues can also be combined.
How to wear a tweed jacket with jeans?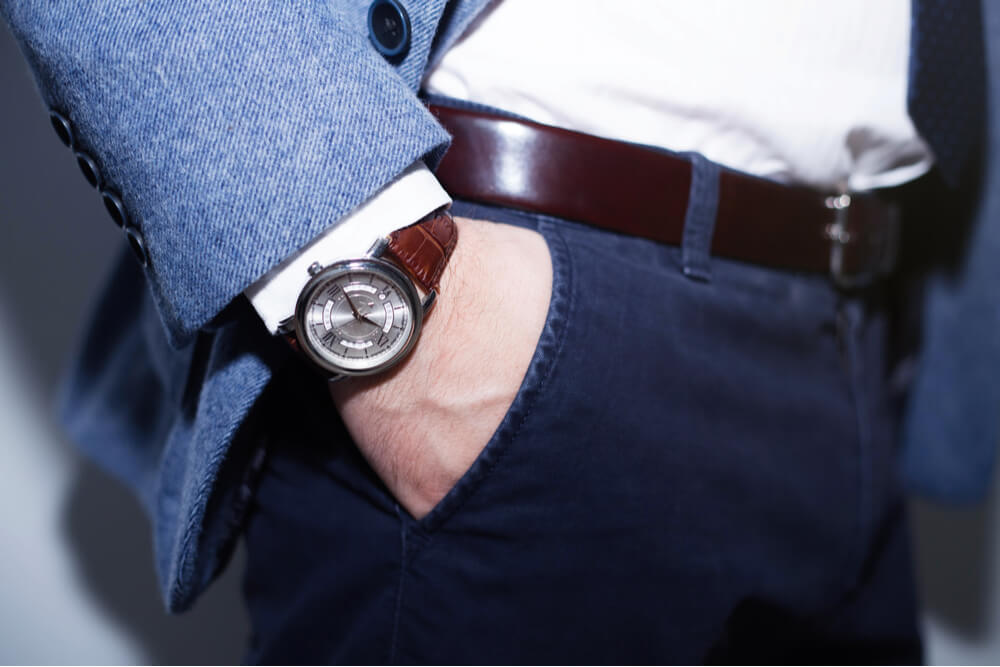 For less formal occasions, the tweed blazer or jacket can be paired with a denim men's trouser and brown shoe.
A skinny or slim fit trouser is better suited here as it will help create a more striking silhouette.
A baggier jean, such as a regular, relaxed or loose fit won't work as well, while you should also ensure that the length of the trouser is suitable.
The perfect men's jeans, when paired with a suit jacket, won't completely cover your ankle, so think carefully about your choice of sock, avoiding white, or any colour that may clash with your outfit.
It's also best to consider a darker or mid-point denim and, while stone washed styles are great for informal gatherings with friends, they generally shouldn't be paired with a jacket.
Black denim can also be worn, although this would better suit a black shoe.
What shirt to wear with a tweed jacket?
As is the case for any suit and jacket, the shirt you select should be comfortable and fit you properly.
The sleeve on a classic dress shirt should be neither tight nor billowy, while there should be no more than 10cm of give around the torso.
Sleeves can often be problematic, but one trick to avoid issues on the day is to check that the sleeve ends where your palm meets your wrist.
The tie is key here too as its colour will largely dictate the mood of your look.
A lighter blue tie with a grey tweed can help you achieve a classic, more summery wedding vibe, while reds, browns and darker greens will create something more autumnal.
Visually, much of a shirt's distinction when paired with a tweed suit is in the collar.
Straight point, spread and cutaway-style collars are perfect under a tweed jacket, while a button down collar may suit a more formal gathering.
Wingtips are best avoided if you're pairing with tweed, although you may experiment with other styles like a grandad collar if you're planning on going without a tie.
Where to buy a tweed jacket?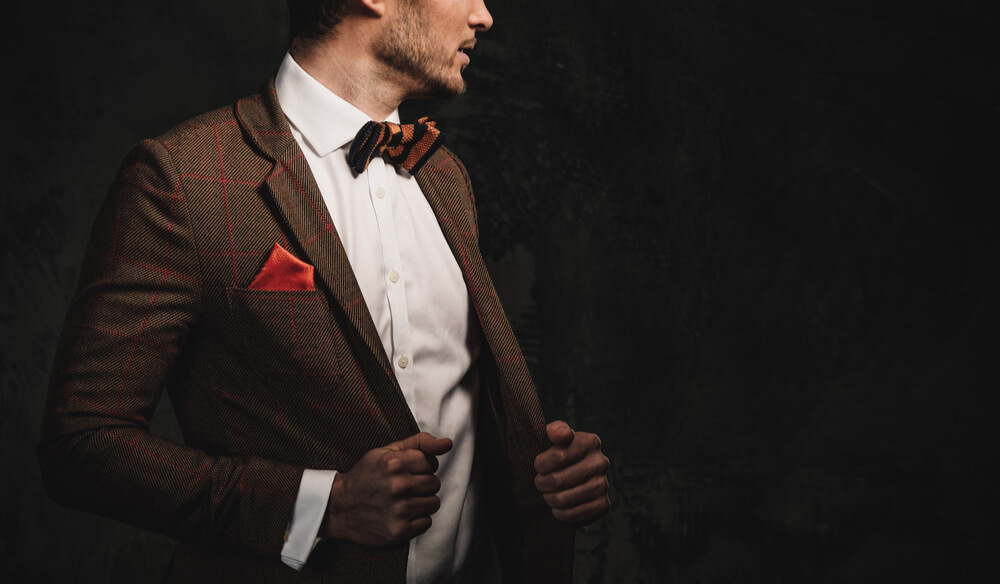 Suit Direct has an excellent range of tweed suits and jackets always in stock from some of the UK's leading designers, and in a range of sizes.
Whether shopping online or in store, it's important that you consider the style that will best suit you - and ensure you spend time measuring to ensure you get the right fit.
Prices can range from £30 for a wool-polyester mix and you'll often find that you'll pay more for jackets made with a higher percentage of wool.
A wool-polyester mix is also the more effective option for summer occasions, while a woollier 3 piece tweed suit will be much heavier and better suited to colder months.
Shopping in store will allow you try your jacket on and consult a staff member for advice.
But you can also enjoy a bespoke shopping experience online, with the flexibility of being able to browse the available styles and fits at your leisure.
Remember, a great tweed jacket is versatile enough to feature in a range of outfits and it has developed a reputation for timeless style.
If properly cared for, a tweed jacket can be a staple in your formal wardrobe for years to come.