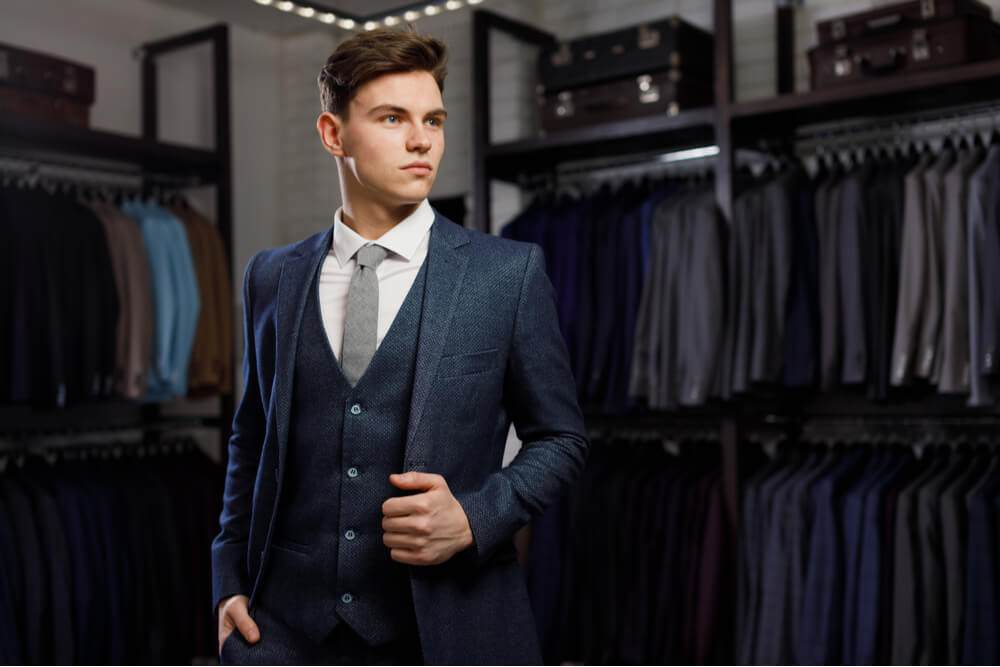 In men's suiting, so much is defined by formality and as the scene has evolved, the classic suit has become commonplace across a wider range of settings than ever before.
From ultra-formal events like balls to more casual get-togethers like office parties, there seems to be a suit for everything and everyone.
At the informal end of the scale you may often find suit jackets paired with jeans, t-shirts and even trainers.
But it's at the formal gatherings where you'd normally spot a lounge suit – although that hasn't always been the case.
What does lounge suit mean?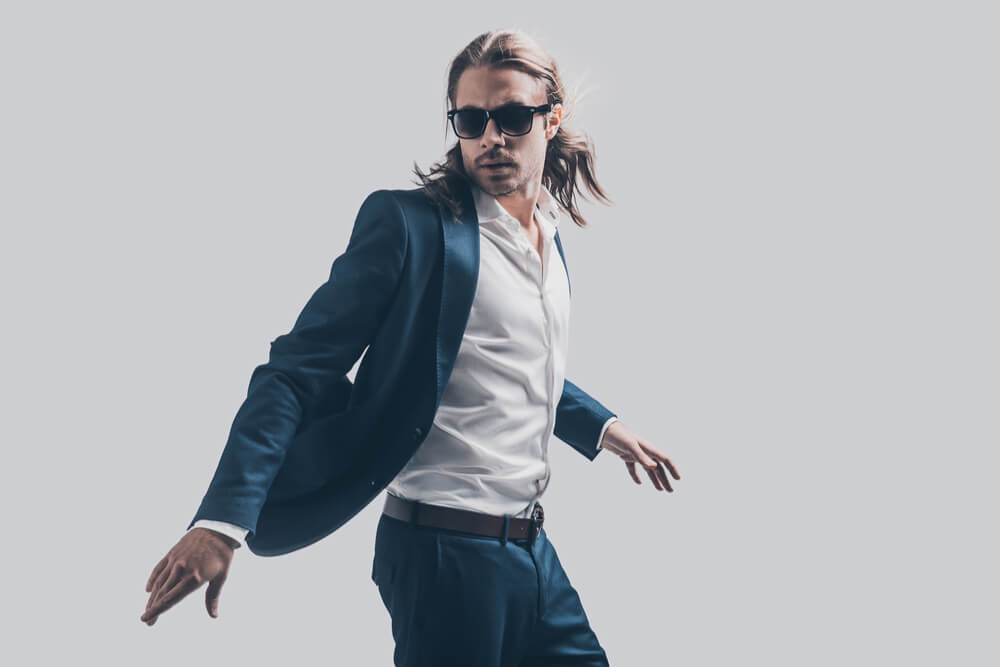 As with a range of items and styles in men's suiting, the terminology has evolved over generations.
Traditionally, a lounge suit was in fact seen as being at the informal side of the spectrum, worn by middle to upper class men who wished to retain a level of formality while relaxing – or 'lounging'.
It was distinct from and recognised as being less formal than the classic morning dress – or morning suit – that men would often wear for weddings.
Although for working class men, the lounge suit would usually be their best outfit.
With its roots in the 19th century, the lounge suit has been a major part of men's suiting for more than two centuries.
It remains a staple today and is often spotted as an invitation's required dress code.
But these days, the term has more commonly become associated with the classic men's suit, worn for business or pleasure, whether that's an important office meeting, wedding or christening.
Lounge suits come in a range of styles and formats, including 3 piece suit and double or single-breasted.
A lounge suit can also be made from a range of fabrics, from cotton to tweed, with patterns like pinstripe and check extremely common.
If you have a suit in your wardrobe that features a jacket and trouser then it can fairly be classed as a lounge suit in the modern age.
Where should you wear a lounge suit?
You may see the lounge suit appear in the dress code on your next invitation to an awards ceremony, wedding, ball-slash-dance or party.
Where once the lounge suit wasn't worn at a particular event, today it is the go-to option for a range of formal occasions, often doubling up as a wedding suit or a business suit.
What are the different styles of lounge suit?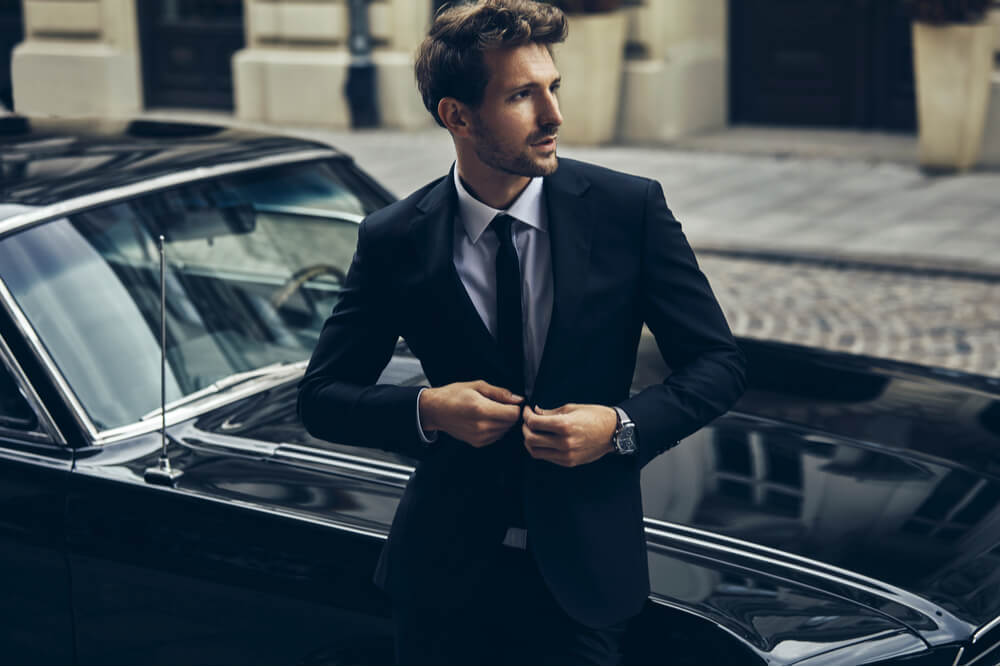 As the style has evolved, especially during recent decades, there have emerged no shortage of style options to select from.
Popular men's suiting patterns include pinstripe and check, and almost any colour imaginable can be expressed in your outfit.
A matching 3 piece suit can help you make a great impression, while mixing and matching lets you experiment with different colourways and materials.
The fit is important too as this can help create a more striking silhouette - or just ensure that you best complement your body type.
A traditional regular fit is looser fitting and often the most comfortable, which makes it great for longer outings and days where you may find yourself walking longer distances.
For something a little more form fitting, you may consider the tailored fit, which typically features a tapered waist and more definition around the shoulders to produce a stronger silhouette.
That extends through to the suit trouser, which would typically have a little less give than a regular fit trouser.
More modern fits include slim and skinny, which are naturally tighter fitting and can help accentuate a leaner frame.
As the rules of suiting become more relaxed, and as the lounge suit becomes defined in a much broader way, there are fewer restrictions on how you choose to present yourself, whether that's in terms of colour, fabric or fit.
Which lounge suit is best for the most formal occasion?
It can be tricky to hit the right level of formality for your next appointment.
Often, dress codes will insist on black tie and this is distinct from lounge suits as it requires me to wear a bow tie.
But the lounge suit is infinitely adaptable and it's easier than you think to create a stunning ultra-formal look, without going black tie.
A 3 piece lounge suit in black, brown or dark blue is a great starting point and you can add an extra layer of sophistication with a patterned tie and pocket square.
For a wedding, check and tweed are great options, but for events like awards ceremonies and balls, a plainer fabric is often better suited.
Lounge suit style examples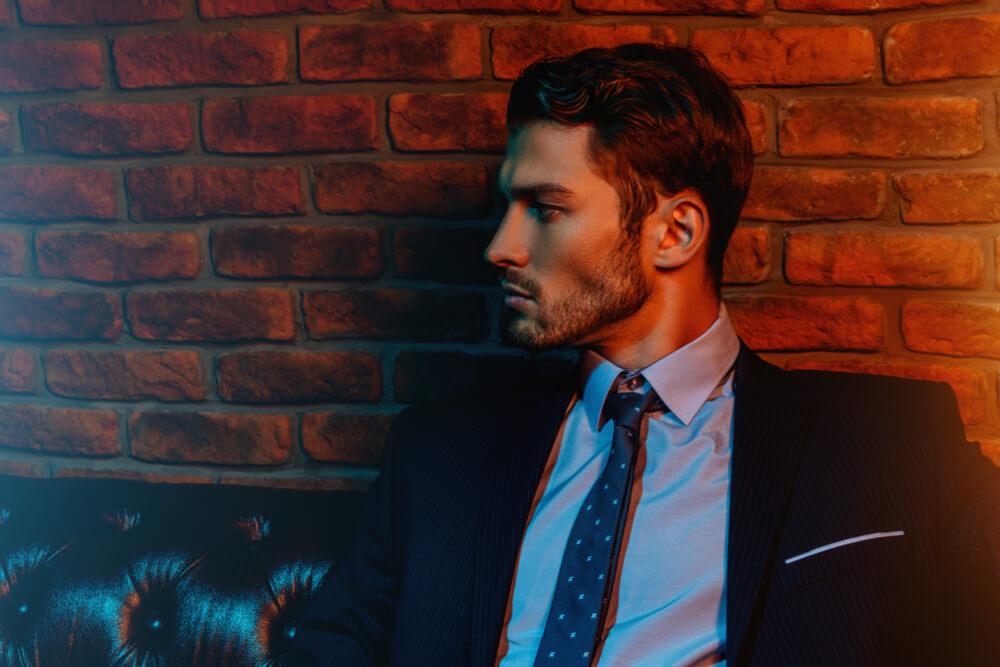 The adaptable nature of the lounge suit means you can experiment with colourways, fabrics and fits to create an outfit that's unique to you.
Men's suiting for weddings is typically more conservative, featuring swatches of navy to mid blues and greys, and much of the invention here is in the accessories.
A yellow or pink tie with a classic blue wedding suit helps you create a more summery look, while browns and darker reds are more autumnal.
A black tie paired with a lighter grey suit can help you strike a look that combines the classic and the contemporary, particularly when completed with a black shoe.
Other patterns, like the classic pinstripe, or the more on-trend tweed and check, are also great styles for weddings and are particularly good for mixing and matching.
A check waistcoat, when paired with a plain jacket and trouser, can add depth to your outfit, while a tweed trouser can add a playful dimension to a plain jacket and waistcoat.
Elsewhere, the modern British race day has become a much braver canvas for suiting expression.
Race-goers are increasingly turning to louder checks and more daring colour combinations to help them turn heads out on the paddock.
But you don't have to go all out to create the right impression.
Consider a lighter blue check in a jacket and trouser, paired with a waistcoat in green to create a versatile race day suit that you may complete with a brown, patterned tie.
For something a little more contemporary, a powder blue men's blazer provides the perfect complement to a cream or beige trouser.
But make sure you pay close attention to aspects like footwear too as this can often make or break an outfit, particularly if you're mixing and matching.