A Guide to the Best Men's Wedding Outfits for the Beach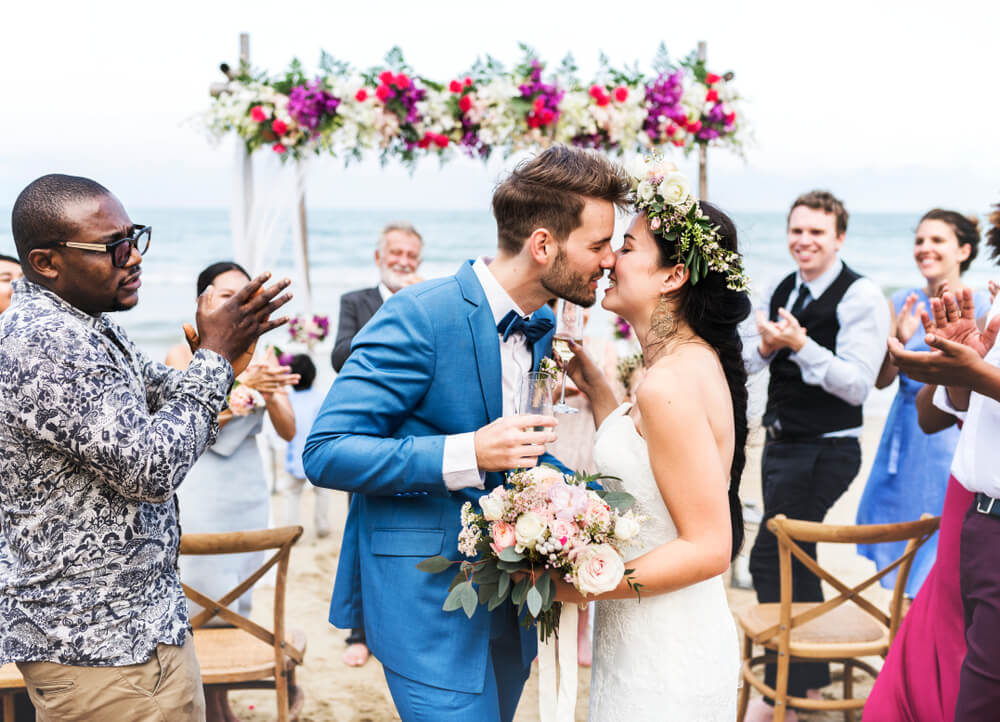 One of the great things about modern weddings is that they can take you anywhere, from a stately home, to a hotel, to a converted barn.
Another trend emerging is weddings overseas, as couples seek out warmer climes and picturesque locations for when they decide to tie the knot.
And as couples search for that perfect setting, to help them capture the perfect photograph, a growing number are opting for a beach wedding.
But when this kind of invitation slides through your letterbox, it's natural to have a couple of questions.
It's likely you have at least a couple of men's suits that are perfect for the church, but fewer men will feel properly equipped for a wedding date at the beach.
But worry not, our guide to beach weddings will ensure you hit the right level of formality, while staying comfortable and stylish.
What to wear to a beach wedding?
Regardless of your role on the day, it's easier than you might think to create the right look for a beach wedding.
We'll discuss the specifics in more detail, but there are some basic starting points that can help guide your process for assembling the items you'll need.
The first thing to bear in mind is material, and in warmer conditions it's naturally better to opt for a linen suit and fabrics like cotton instead of thicker wool, while polyester and nylon are best avoided all together.
You need not sacrifice formality by making this switch, and the classic suit trouser, waistcoat and suit jacket are all applicable items for a beach wedding, though it's rare you'll see all three together.
As is polite for any wedding, check with the bride and groom about any particular theme they had in mind and don't be afraid to ask specific questions, such as whether or not a tie is necessary.
Remember as well that dressing a little more casual does not mean you should be complacent about detail, so consider colours and accessories the same way you would when pulling together more traditional wedding suits.
What does the groom wear to a beach wedding?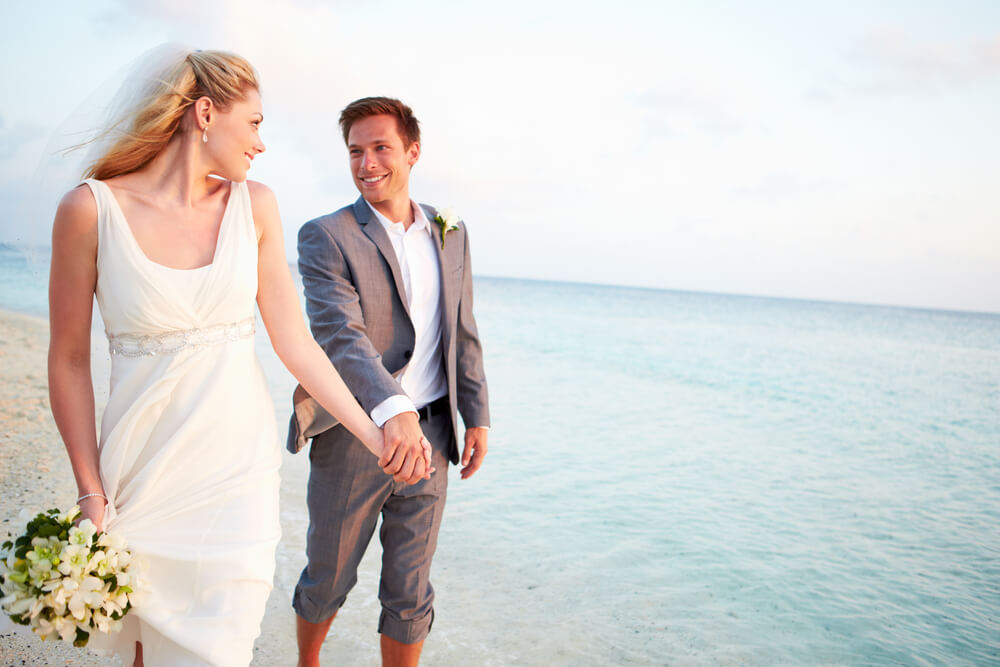 As the groom, many of the rules we've discussed still apply, but it's also your responsibility, alongside your partner, to dictate a theme for your guests to follow.
The theme doesn't have to be strict and it doesn't necessarily mean you making demands of your guests, but many will look to you for guidance to inform their own choices.
So, our advice is to expect questions, as this will be a new experience for a lot of people and the last thing they'll want is to stick out like a sore thumb on your photographs!
In terms of pulling together your own outfit, we recommend opting for lighter colours, including plenty of whites and beiges.
To help dial up the formality, consider adding a waistcoat.
This will help you achieve a traditional wedding suit look while enabling you to remain cool and comfortable.
Try a beige waistcoat and trouser, with white open collar shirt and brown belt for a beach wedding style that's practical yet attractive.
What to wear to a beach wedding as a guest?
One of the challenges of hosting a wedding on a beach is taking an event that is typically very formal into a setting renowned for its informality.
As a guest, it can feel like a bit of a balancing act, which is why it's important to chat to the happy couple ahead of their big day to get an idea of what they'll be wearing.
If you're lucky enough to have been selected as the best man, or one of the groomsmen, then opening a dialogue with the groom is especially important.
Just as it is at the church, or closer to home, it's traditional for the best man's outfit to complement the groom.
Of course, tradition doesn't count for as much as it used to, but you shouldn't assume that the couple's choice of a less traditional setting means they aren't interested in co-ordinated dress.
In addition to the colours suggested above, consider khaki and tan swatches, while retaining a staple of white.
What shoes to wear to a beach wedding?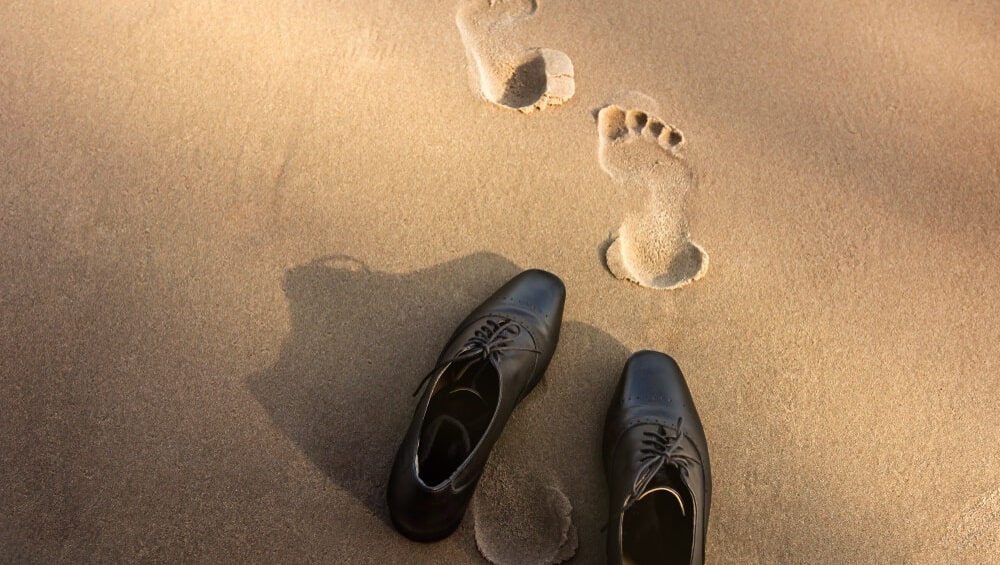 Footwear is certainly another important consideration for beach weddings, and keeping cool and comfortable is undoubtedly high on the agenda.
Perforated leather offers some relief from the heat while helping you stay sharp from head to toe, while the classic loafer also offers a little breathability without sacrificing much formality.
Deck shoes, pumps and even trainers may also enter into your consideration, but trainers in particular should be worn if they are a clear match with the rest of your outfit.
And while it's important that you feel comfortable on your feet all day, pulling on a pair of running shoes purely for practical reason can ruin an outfit – and even come across as being disrespectful to the occasion.
In terms of colour, white remains a central staple, while a darker brown can complement a beige or khaki outfit.
How to have a cheap wedding on the beach?
As well as providing an exotic escape for the couple and their guests, beach weddings are becoming an increasingly popular option because they are remarkably cheap to stage.
Of course, the expense of whisking guests overseas, booking flights and hotels can be considerable, but there's naturally much less in the way of room hire and you can create the perfect setting with just a few rows of chairs.
With the crash of the waves behind you and the sun beaming down, it's no surprise that the beach wedding is becoming a more common fixture on the social calendar for many.
If you're considering a beach wedding then be sure to settle on a location that strikes the right balance between being exotic, while also being within financial reach for your guests.
If you have your hearts set on a far-off distant land then consider inviting a smaller number of guests to fly out and then hold a bigger party' for your wider circle of friends and family when you return home.
Of course, if you do choose to travel thousands of miles to tie the knot then you can recoup some of the cost by staying there for your honeymoon – just be sure to send the in-laws home once the wedding party's over!