Understanding the difference between a tuxedo and a suit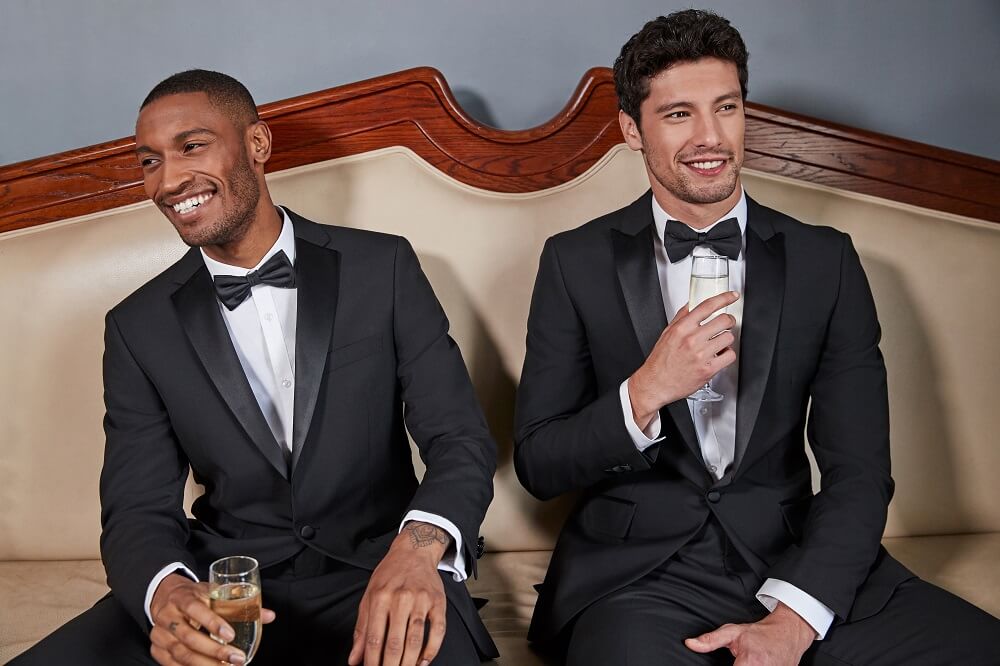 Depending on the formality of the occasion, the dress code may call for guests to wear a tuxedo.
This can prove troublesome for many as, while it's common for men to have a range of suits at their disposal, it's less common for guys to have multiple tuxedos on their rail to flick through - if any at all.
And understanding the key differences between a suit and a tuxedo can also be problematic, especially when you consider specific items like dinner jackets, shirts and suit trousers.
In this guide, we'll help you understand the key differences between these two formal menswear staples, including where to pick up the right tux and how to best accessorise.
What is a tuxedo?
Traditionally speaking, there are several subtle distinctions that help you identify a tuxedo.

The jacket of a tuxedo will typically feature a shawl lapel that is often in contrast to the rest of the fabric, sometimes finished in satin or displaying a pattern.
On a suit jacket, you'll mostly find that the lapel is the same fabric, colour and texture as the rest of the item.
That difference runs through to the trouser, too.
In a tuxedo, the classic trouser features a satin stripe down the outside of each leg, as opposed to the closed hem you'd ordinarily find as part of a normal suit.
You can often also tell a tuxedo by the shirt, which may be ribbed and feature a winged collar when worn under a traditional tux.
You'll usually see a bowtie on a tuxedo too, and, though they are also increasingly worn as part of a standard men's suit, bow ties worn with a tux are usually a little more embellished, featuring a bright colour or pattern.
But the distinctions that once made a tuxedo easily recognisable are being challenged and influenced by international culture, as we'll discuss in the next section.
What is the difference between a tuxedo and a suit?
As is often the case in men's fashion, much of the distinction between a tuxedo and a suit is just in the name, and the definition itself can vary depending on where you are in the world.
On these shores, you may be familiar with terms like 'dinner jacket', whereas in the USA these would be described as tuxedos.
And unsurprisingly, it's the Americanised term that is becoming increasingly common in the UK, so when somebody talks about a tuxedo, it's likely they're referring to a dinner jacket - or vice versa, depending on what you're used to.
Confused? There's no need to be.
Once you overcome the trans-Atlantic nuances, you'll soon discover that the lines between a formal dinner suit and tuxedo are becoming increasingly blurred - and much less restrictive.
Whether it's a prom, a ball or awards dinner, you'll discover that finding the correct level of formality isn't as much of a challenge as it once was.
Where to buy a tuxedo
It's easier than ever to fit the bill with the right tuxedo, with a range of options available in store or online.
For occasions like proms, many men choose to hire their tuxedo but, as is the case throughout formalwear, it's often wiser to make an investment in an item that you'll own, whether it's a prom suit or otherwise.
If you're unsure where to start then there are no shortage of suiting style guides available online, while many web retailers will help you assemble a complete look with just a few clicks.
Going in store will allow you to try items on before you make a purchase, but it's just as easy to take your own measurements and then browse at your convenience from your phone or laptop.
It's also easier than ever before to have your tuxedo or any kind of black tie suit altered, although we recommend ensuring that your outfit is a close fit at the shoulders, as this is the hardest area to fix up if there are any issues.
You should also make sure to look out for men's suits sales, especially when autumn arrives.
How to wear a bow tie with a tux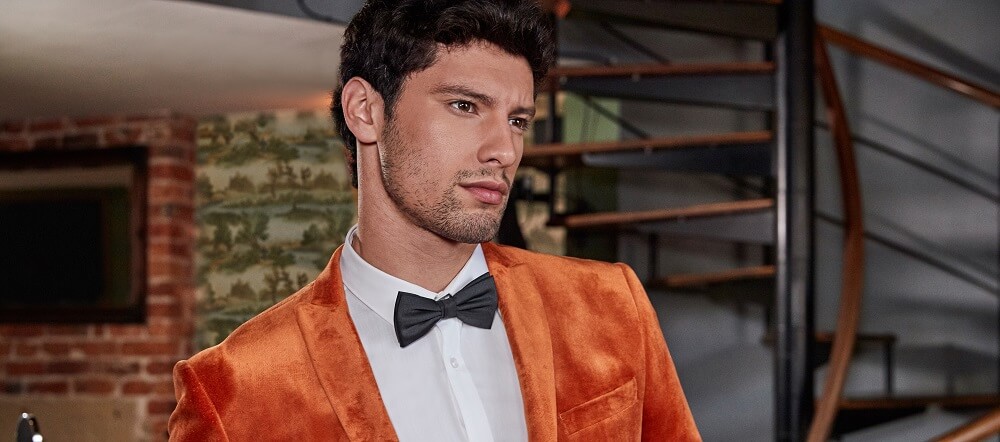 As we have already discussed, the classic tuxedo is typically equipped with a wing-collared shirt and bow tie.
And though bow ties are now an increasingly common sight with normal suits too, especially on a 3 piece suit, the tuxedo offers an opportunity to experiment with more eye-catching patterns and materials.
The classic tuxedo usually demands a black bow tie, but if the occasion permits then you may also experiment with colours like red, white or burgundy, while a contrast button shirt can add further interest through a greater length alongside a bow tie.
There are two main types of bow tie to choose from; if you're a beginner, or even if it's because you know you'll be dressing alone, we recommend pre-tied.
These are no less impactful than the traditional self-tie equivalent, but if you're feeling adventurous, or just relish an authentic experience, consider opting for the latter.
What shoes to wear with a tuxedo
As is the case for the bow tie, the overwhelming option for achieving a classic, clean look is a black suit shoe.
But not all black men's smart shoes are alike and there are in fact four distinct styles acknowledged as traditional companions to the quintessential tuxedo.
The first and most common type of formal shoe to accompany a tux is the laced Oxford, though the Slipper or Venetian Loafer may also be considered.
But if you're really out to make an impression then consider the Opera Pump.
Sometimes known as a Court Shoe, this pump is typically crafted from velvet or patent leather and usually features a silk bow atop.
For something equally daring, but a little more contemporary, consider a classic Oxford shoe in lavender.
How to fold a pocket square / handkerchief for a tux
Much like the classic suit, you can add colour and personality to your outfit with the addition of a pocket square or handkerchief.
When it comes to tuxedos, there are a couple of traditional rules to observe if you're striving for authenticity.
If you're attending a formal event with a black-tie dress code then the general etiquette is to wear a white pocket square in a traditional 'flat' or 'puff' fold.
However, as rules relax and the tuxedo follows the rest of men's suiting in becoming a canvas for expression, a dash of colour is usually acceptable.
If you're attending with a companion then consider complementing their outfit with your choice of hue, while also taking into account the overall theme and setting of the event.
We hope this guide has helped you understand the traditional distinctions between the classic suit and tuxedo.
As styles evolve, so too will those differences but a classic tuxedo, featuring timeless elements like contrast lapels and satin stripe on the trouser, remains a worthy investment.
Enjoyed reading? You might also like these: