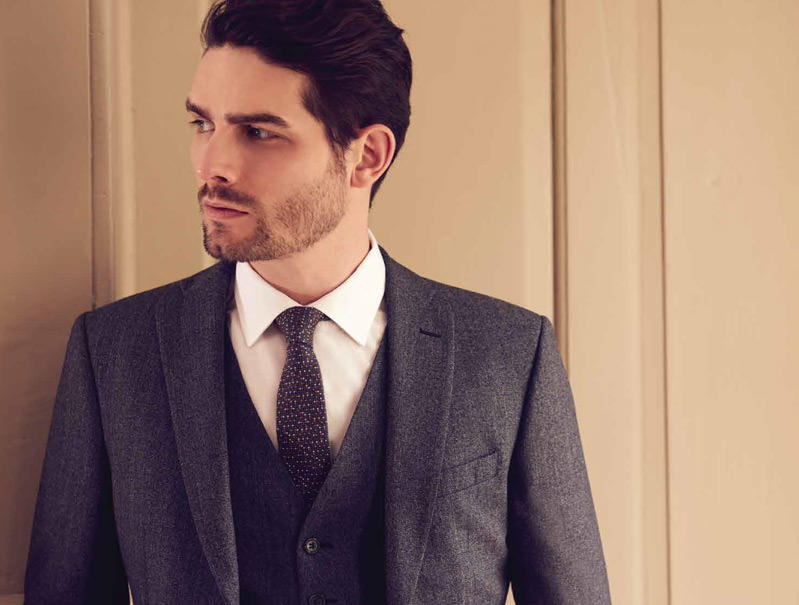 Just because most men don't have to wear a suit to work any more doesn't mean that the power of formal shoes, shirt, trousers, jacket and a tie is a thing of the past.

If anything, it's liberated the suit from the clutches of the corporate world and allowed us to get creative. With this in mind, we've outlined the four key looks for wearing a suit so you can dress to impress, whatever the occasion.
The Classic
You know what they say - if it ain't broke, don't fix it. If you've got a big meeting or interview at a formal office coming up, nothing beats the traditional, empowering look and feeling of a classic, well fitted suit.

First things first, your shirt and jacket should balance. A solid button up shirt will always pair well with a subtly patterned or textured suit, such as a pinstripe or herringbone, whilst more colourful or patterned shirts should only be worn with the simplest of suits.

Likewise, your tie shouldn't draw any unnecessary attention to itself. Keep it classic with an understated silk tie and remember that the width of your tie needs to match that of your lapel.

Trousers should rest on your suit shoes with a quarter or half break, that's no less than half an inch and no more than two inches of fabric slightly creased about your ankle. It'll show that you know how to wear a classic suit properly.

You don't mess with the classic, so the key to personalising the look is in the accessories. Try some designer cufflinks, a contrasting pocket square and a belt that matches the colour of your smart shoes to add another layer of sartorial sophistication, or complete the look with a leather bag, an umbrella or overcoat to set the classic style off with momentum and authority.

Where to wear: You don't mess with the Classic. This sophisticated style will do you proud in formal office environments, corporate interviews and at more traditional weddings.
The Adventurous
Bring a sense of style with you wherever you go, whether you want to bring some creativity to the office, you're enjoying a day at the races or just partying the night away.

The adventurous look is all about being noticed, so don't be afraid of bold choices and contrasting combinations. Now's the time to wear a printed shirt or a striking blazer, think Tweed or Donegal, and to bring out a knitted tie to add a refreshing, contemporary element whilst still keeping the look smart.

Wearing trousers with a shorter leg or turned up hems will show off those statement socks and, depending on where you're going, let you make the most of your footwear. Go stylish with a bold, bright brogue or keep it casual with some clean new trainers; a striking pair of Converse can add some eye catching alternative personality to the Adventurous look.

Where to wear: Be prepared for anything. The Adventurous will instantly add some character to parties, dinner dates, unconventional weddings and wherever the night takes you afterwards.
The Relaxed
Feeling comfortable and looking sharp don't always have to be mutually exclusive, dressing down can still be dressing up.

Reach that relaxed yet refined style by combining well fitting men's clothes and carefully layering neutral tones like grey, tan and sand. The soft texture of slim fit knitwear is a great way to take the sharp edges off a more formal suit whilst still accentuating your body's natural contour.

Try wearing a knitted, crew neck sweater over a button down shirt with some neutral slim chinos or match a roll neck with some fitted, rinse washed jeans. Subtle combinations of different fabrics, textures and colours like these can look effortless yet extremely smart.

More formal footwear will most likely look out of place in the relaxed look, so consider a clean, minimal pair of trainers instead. They'll show people you've put time and consideration into your outfit but not gone overboard.

Where to wear: Casual doesn't have to mean careless. The Relaxed look is perfect for dress down Fridays at the office, having friends over for dinner or even heading out on a first date.
The Party Animal
Sometimes going all in is the only way to do it. The classic tux or mixer jacket coupled with black trousers, black shoes and a refined bow tie will make you feel right at home at the most formal event or dinner party. If the dress code is more flexible however, it's time to make things exciting.

Personalise your style and stand out with bold fabrics like velvet and silk to instantly reinvigorate the traditional tuxedo or dinner jacket. Now's also the chance to introduce colour into the equation so try breaking away from the standard white shirt or stand out with a strikingly different dinner jacket.

Although party dress wear will always be about classic, sleek style, parties are supposed to be fun and memorable so add some personal touches to your dinner suit and stand out from the crowd.

Where to wear: Make a scene. The Party Animal is in his element at dinner parties, wedding receptions and formal gatherings whether you're upping the style stakes or pushing the dress code boundaries. Rock on.