Spring/Summer 19: A Groom's style guide for Wedding Suits
Spring and Summer; bright evenings, holidays abroad… and wedding season are all synonymous with the warmer months.

If you ask them about the classic groom's wedding outfit, people can be predictable. A three piece wedding suit or tuxedo is still the standard Groom's wedding suit option – which, in summer, has obvious problems. Heavy three pieces and dinner suits can be uncomfortable, warm and restrictive. Who wants to see the Groom mopping his brow during a wedding photoshoot? That's not to mention the groomsmen; it's important that everybody at a summer wedding is comfortable when suited and booted.

So, with wedding season just around the corner, the Suit Direct team have created a list of our top groom's suit tips, to help you stay cool and looking sharp this spring/summer. These wedding suit tips are perfect for everything from beach weddings to summer receptions and garden parties.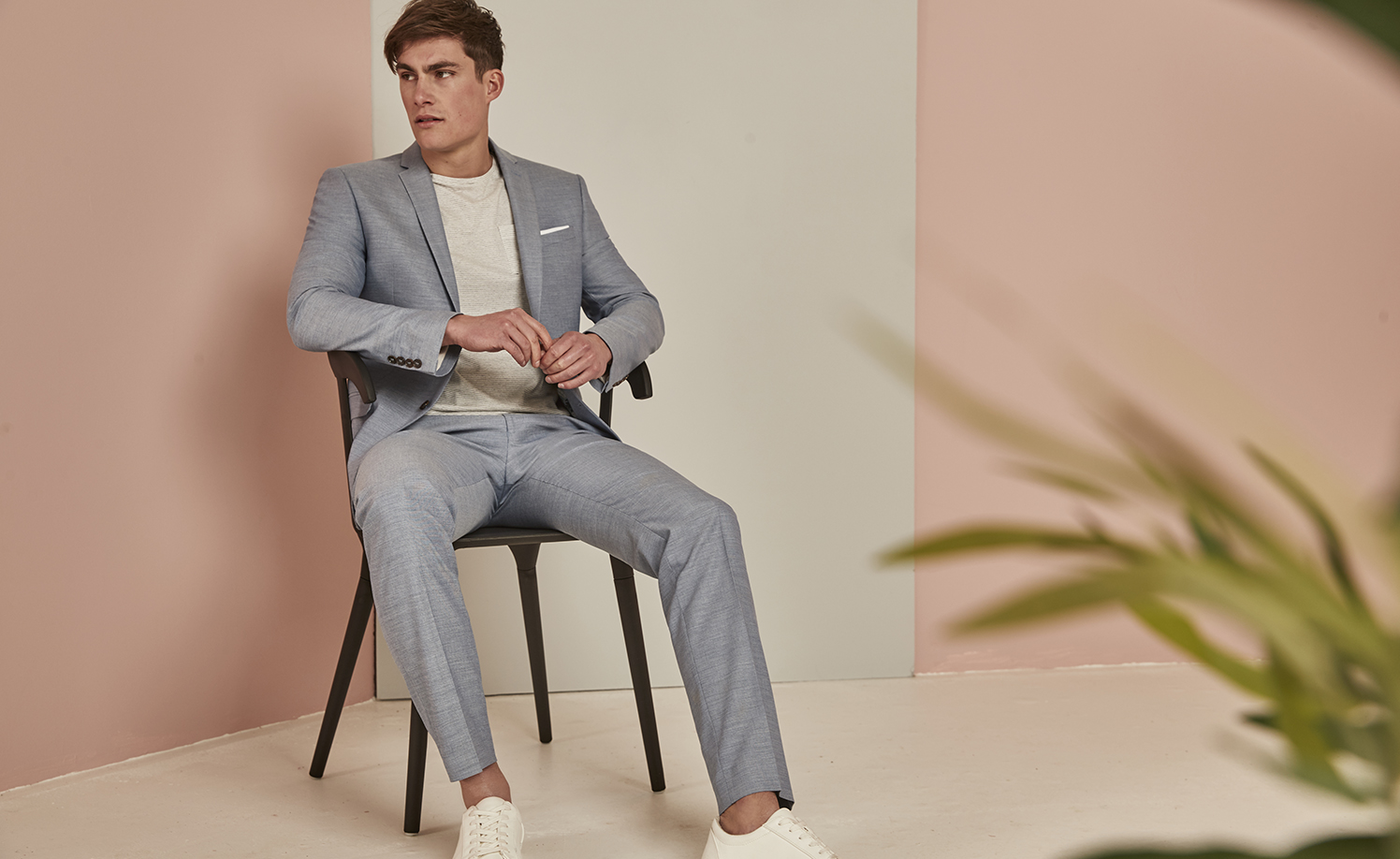 1. Suit material
Traditional suit materials aren't optimised for warm weather. The standard fabrics for formal menswear - think wool, tweed, flannel, herringbone etc. – are built with colder weather in mind, and aren't going to make much of a statement at beach weddings if you're overheating.
So, instead, focus on linen wedding suits. Moisture resistant, this is an ideal fabric for Beach wedding wear. This lightweight men's suit fabric is breathable and comfortable, making the ideal wedding look for guys that will suit most beach wedding destinations.
A great alternative is the men's cotton suit. This versatile fabric is the definition of comfort, lightweight, breathable and comfortable. Both materials will make your men's wedding day attire a comfortable beach wedding suit with a comfortable, stylish flair and a variety of versatile patterns to suit any occasion.
2. Cool colours
To beat the sun and rising temperatures on your big day, we recommend choosing cool colours that are light and fresh. Instead of the usual blacks and navys, look towards sand, stone and blues. Men's blue wedding suits are always popular during the warmer months, and Summer weddings in 2019 look set to be no different. Blue wedding suits are a perfect suit choice for the groom and his groomsmen, as they give a smart, sophisticated look with a slightly lighter, less suffocating colour scheme. Blue is utterly versatile, too - ideal for the groom to make a choice for his wedding suit that suits him. Try trademark blue checks for a trendier, Peaky Blinders wedding look that's sure to impress.
3. The importance of a good fit
The next master stroke is probably somewhat obvious to the more seasoned suit wearer. For a groom to be comfortable on their wedding day, they need a well-fitting suit that's tailored to their individual measurements and body shape. This is essential in keeping it breathable and ensuring it allows movement - especially during the hotter summer months. No groom wants an overly loose or tight suit for their big wedding day.

The groom has many different tailored wedding suit options. Here's a quick run down:
Grooms are expected to be the trendsetter at any wedding – so the suit jacket can provide an extra flair, too. For a unique, vintage feel, try a double breasted suit - ideal to achieve a Gatsby wedding suit for him. Long tail jackets are an enduring way to add a traditional style, too, along with the standard single breasted blazer for him.
4. Shoes
Men's wedding suit shoes are a key aspect to a perfect groom's outfit; but sophistication is a must. You have to make sure you wear the right style with an appropriate colour. Dark brown and black men's brogues are a classic, traditional colour choice to go with an enormous range of Groom's Suit to shoe combinations. To keep the heat at bay and maintain comfort, we'd also recommend utilising insoles to keep your feet cool!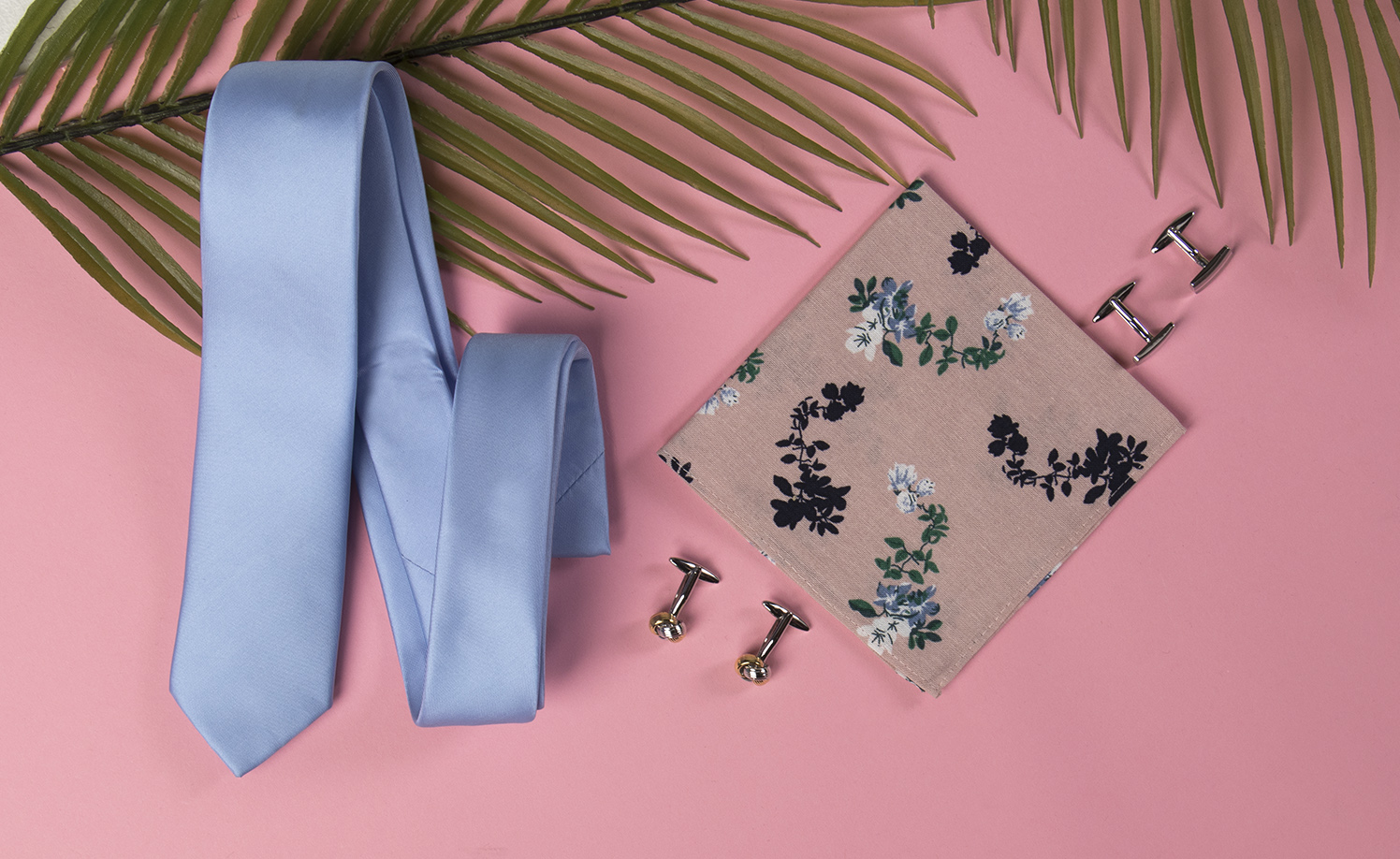 5. Accessories
If you're seeking a creative accent for your groom's suit, accessorising is key to make a statement that's bound to turn heads. Most weddings have a themed colour - such as the table décor, and the bride's flowers for example – and a perfect statement for a Summer Wedding is to match it, with accessories such as a pocket square, tie, bow tie or cuff links. Just remember that clean lines are important – don't over accessorise to try and match your colour profile; these can leave a sleek suit looking cluttered and unwieldly. Try a single accessory, or a hint of the scheme embedded in the wedding suit's check for a more versatile, clean and distinguished profile.

So, if you want to upgrade your summer groom style and keep your cool, keep these tips in mind. Our style guide will help perfect your summer wedding wear with summer wedding suits for grooms and the groomsmen. Simply remember - pay attention and keep things well coordinated. Everything from the fit, colour and material, all the way through to footwear and accessories.
Ready to shop? Browse Suit Direct now:
Wedding Suits
-
Shoes & Boots
-
Linen Suits
-
Mens Linen Trousers
-
Lightweight Suits
-
Men's Ties
---