What to wear to an interview - for men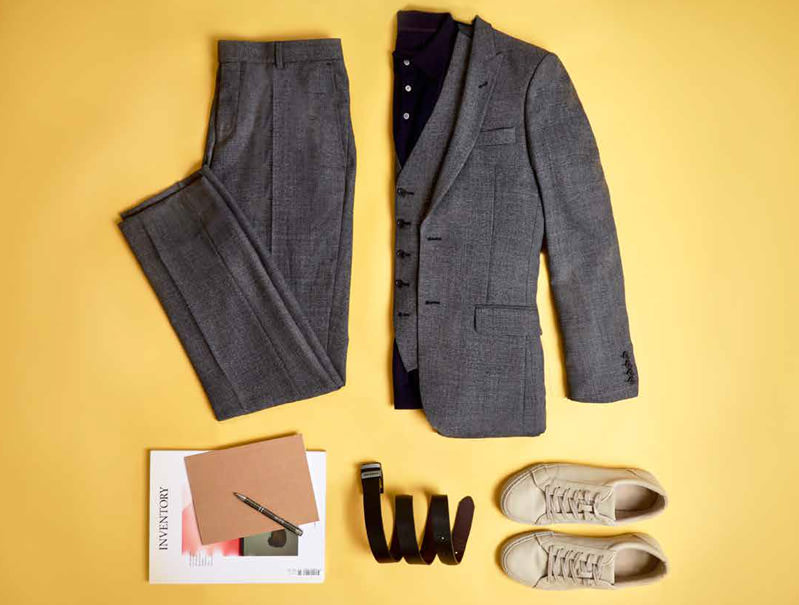 Got an interview for your dream job coming up? Unfortunately, the days of arriving at the office and being welcomed to the team within ten minutes are long gone, no matter how perfect you are for the position.

Nowadays, securing yourself an interview is only half the battle. It's more than likely going to be the first time you meet your potential employers in person, so you want to make sure you stand out from the competition. If your outfit makes the right first impression, then the great interview that follows it is bound to seal the deal.

We know that a job interview can be the foot in the door you've been waiting for, so we've put together four looks for men that take the stress out of deciding what to wear to an interview, whether you're at the start of an exciting creative career or you're aiming for the upper echelons of the business world.


The Graduate
Going for an interview fresh from university? You've got qualifications you can be proud of, so dressing confidently is key. Try starting with a classic tailored shirt and don't be afraid to go for a check or gingham pattern; the days of harsh, white school shirts should be a distant memory by now. Match your shirt with a pair of smart shoes to give your outfit that all-important confidence and character without being overly formal, something with a monk strap for example.

Your interviewers are bound to ask what makes you the right man for the job, so your outfit should be as approachable as it is refined. A pair of men's chinos and a blazer is the perfect blend of smart-casual, but make sure that your blazer doesn't clash with your shirt as that's one way you don't want to dazzle your interviewers.
The Intern
Interning is often the first step to a long and rewarding career, so dressing to impress right from the start is important. There's a long way to go though, so stay safe and build your interview outfit around a neat, slim fit suit suitwhich will let you carry some youthful dynamism and energy into the interview. Try keeping your suit neutral - we're thinking grey, navy or even black - as this makes it much easier to embellish and individualise your look with an understated knitted tie, bold shoes or even a stylish bag.

The life of an intern can be a difficult one, with each day at work bringing with it new responsibilities to learn about and new people to learn from, but wearing the right suit to the interview will show your potential employer that you're ready to handle everything the job can throw at you.
The Creative
If you're going for a position in the creative industries, your job interview outfit needs to reflect your artistic inspirations as well as your own individual style, so don't be afraid to be adventurous with your interview suit choices. Experiment with the striking textures and colour combinations that fabrics like Donegal tweed can offer in a suit for men. Alternatively, for a less formal look, try pairing a powerful jacket with some slim fit chinos, corduroys or dark stonewashed jeans and swapping out your more formal shoes for a pair of clean, minimal trainers.

Remember that attention to detail is everything in creative professions so make sure that each element of your interview outfit holds up your signature style. For one final little flourish, wear your trouser leg on the shorter side so you can show off those statement socks. They'll notice, trust us.
The Executive
Having made it this far up the ladder, you'll almost certainly know that a job interview of this caliber calls for nothing other than the holy trinity of suit, shirt and tie. Start your executive interview look with something dependable like a solid white or pale blue shirt as this will always pair well with a statement men's suit, whether you prefer a classic, sophisticated pinstripe or a more contemporary, textured two piece.

Experimenting with what to wear to an interview is always risky, especially at the executive level. Whatever you do, you should never let you tie do the talking; it should always be complementary to the rest of the suit, whether it's an elegant silk design or knitted for a modern, matt finish. Instead, take advantage of your accessories: an overcoat or bag can give you an empowering sense of gravitas as you enter the room, whilst the subtle addition of a pocket square might just be the little dash of colour and finesse that sets you apart from your peers.