How to wear casual blazers with jeans for men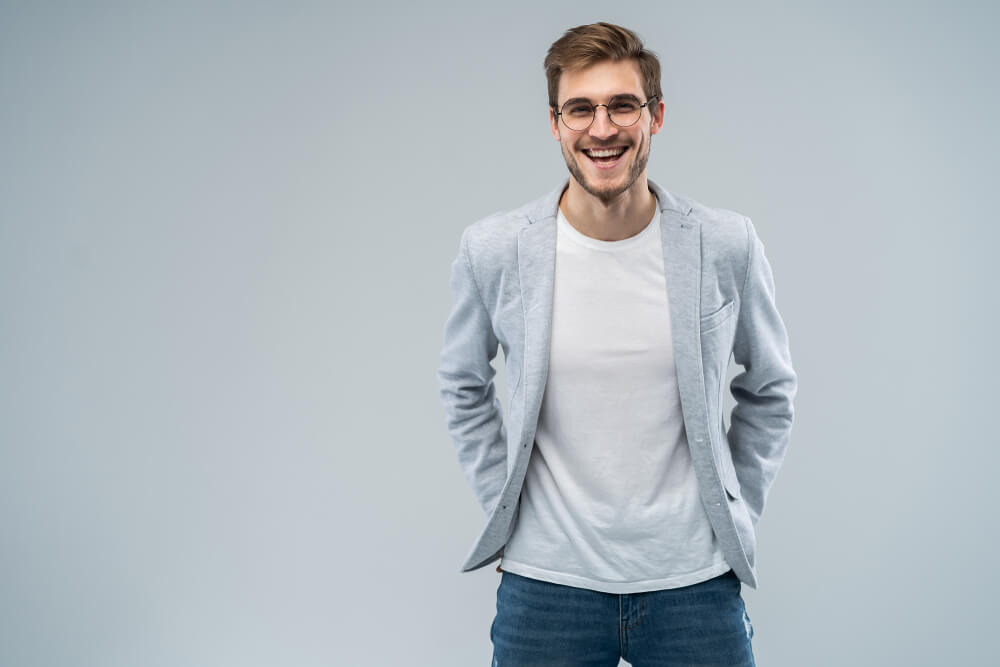 A blazer is a classic item in any man's wardrobe and can be worn for a myriad of occasions. It does not have to be formal and can be dressed up or down with ease.
For a casual look, opting for a blazer and jeans is a go-to style staple for the modern man. From a relaxed Friday meeting to a chilled-out lunch date, we are breaking down how to wear casual blazers with jeans for men.
To get it right there are a number of things to think about, from colour, pattern and texture, to occasion, weather and styling, so check out our top tips for rocking casual blazers every day of the week.
Starting from the bottom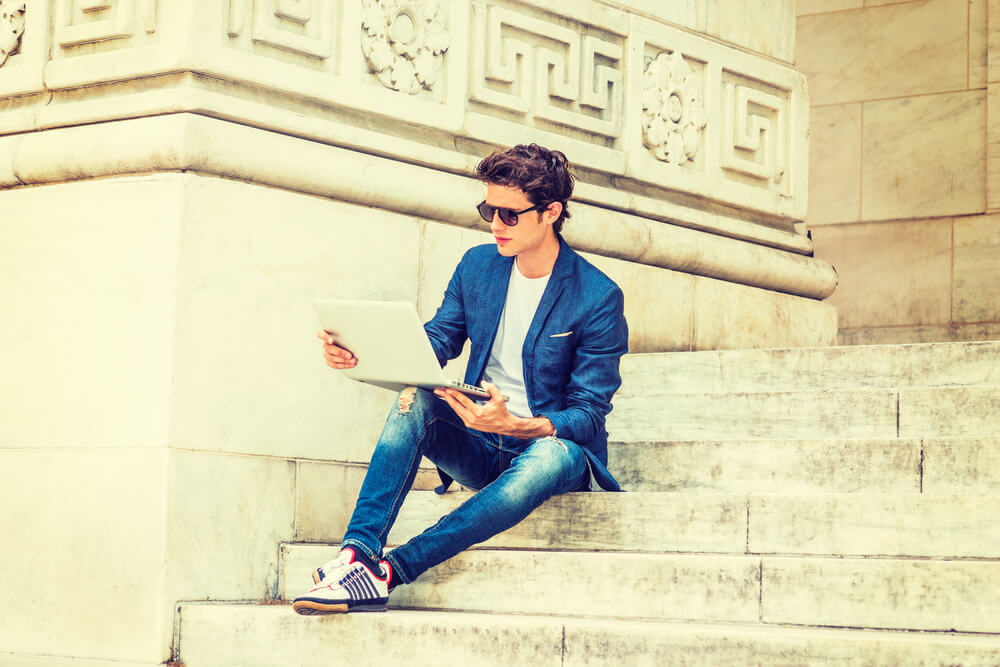 The key to ensuring that a blazer and jeans translates into a casual environment is all about the styling.
It is a well-known fact that it can be notoriously tricky to find the perfect pair of jeans that fit right and feel good, so we recommend that you start by picking out your favourite pair. Check out our suit size guide if you are struggling to find the best fit.
Blue denim jeans work great with a blazer and really help to emulate a casual, effortless vibe.
Ripped or distressed jeans are a good option for a casual look as they instantly exude a chilled, tousled look which can then be refined with the addition of a casual blazer and few choice accessories.
T-shirt or not to shirt?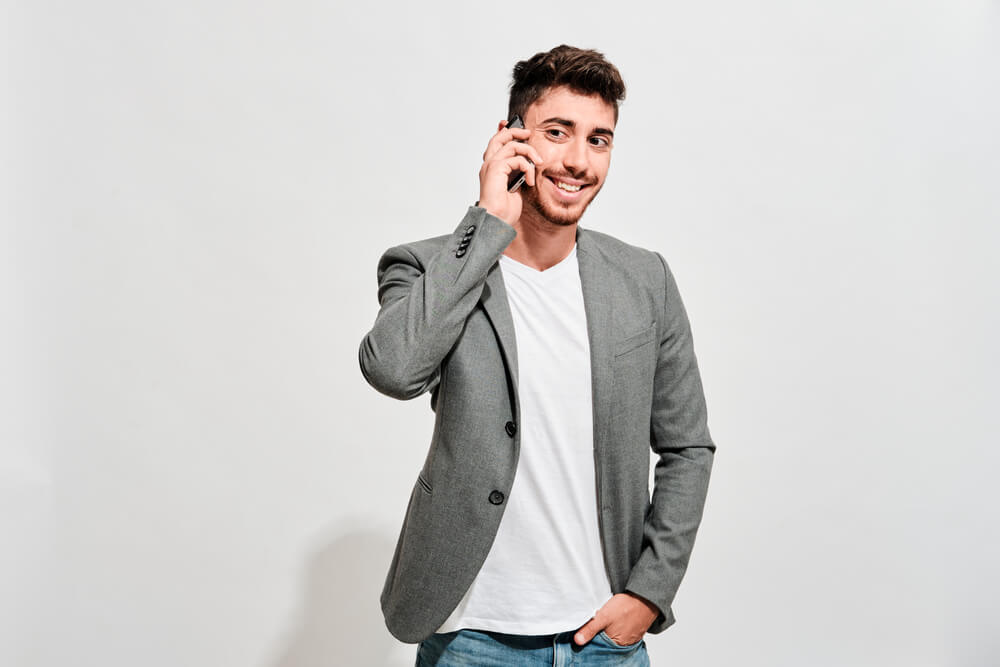 When styling a casual blazer with jeans, what you wear underneath the blazer has a huge impact on the overall look.
Avoid formal shirts and waistcoats and opt instead for a simple t-shirt, short sleeve shirt or men's V neck jumper to ensure you keep the look fresh and casual.
Check out our top picks:
Fabric of life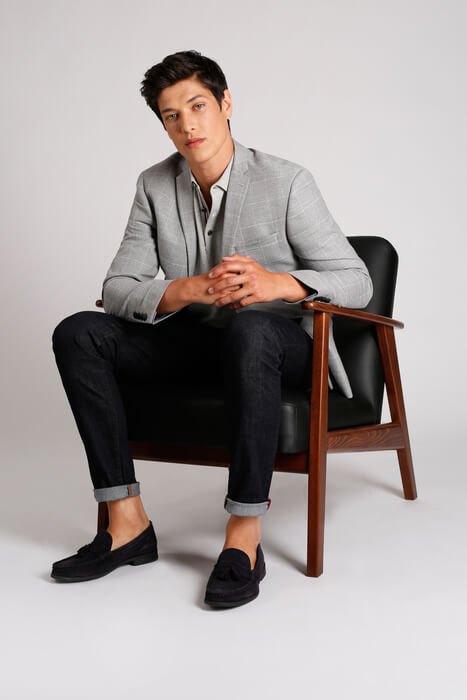 Your choice of fabric for your blazer is crucial when putting together an effortless casual look.
Linen works especially well for the summer and instantly gives a beachy, relaxed feel to your outfit.
If you want something a bit more adventurous, select a check blazer or a velvet blazer. This is a fantastic way to add some interest to your look while the jeans keep you grounded and casual. This is also a great technique for breaking up block colours like black jeans and a white T-shirt.
If you are after a chilled-out weekend afternoon vibe, why not try a tweed blazer? This is a terrific option for those who want to keep it classy and casual, perfect for a laid-back country pub lunch!
Here are our top five casual blazers:
Stay away from traditional suiting fabrics that have a shine to the material or are too tailored as this will instantly make the look more formal. A more relaxed, unstructured fit of blazer is ideal when rocking a casual look.
Finishing touches
Accessories are the key to any look and casual blazers and jeans are no exception. Whether you favour a funky pop of colour with a pocket square or prefer to add some opulence to your outfit with jewellery, accessories are vital part of any fashionable man's wardrobe.
Even when styling a casual look, accessories can ensure your outfit is sleek and fashionable, even for casual occasions like a quick coffee run!
Here are some of our favourite pieces:
Do not forget, these items make perfect men's gifts and can be worn multiple times for many different occasions. Having good, versatile accessories like belts and hats are a must for any man and are the perfect finishing touch to any outfit, whether casual or dressed up.
If the shoe fits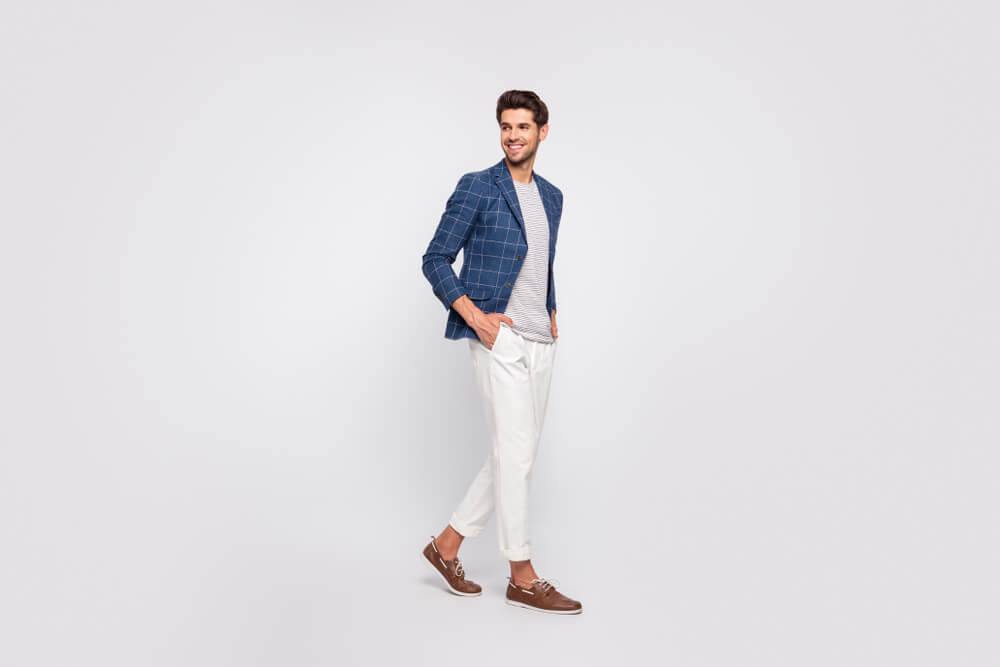 A major factor in ensuring a cool casual look is to select the right pair of shoes.
If you really want to keep it casual, go for a trainer or a canvas shoe. If you are wanting a smarter casual look, a brogue or dessert boot would work really well!
An all-white trainer is a classic option and will suit any combination of jeans and blazers.
When selecting brogues or boots, a tan option is perfect for a casual look. Alternatively, pick out key colours and tones from the rest of your outfit (such as belt colour or tones within a tweed or tartan blazer) and use this to inform you choice of shoe colour.
Avoid formal and patent dress shoes. While every man should own a pair for weddings, christening and formal occasions, this style of shoe is too dressy for a casual, jeans-based look.
Styling a casual blazer and jeans does not have to be difficult, just stick to your own personal style and we are sure you will look great, no matter the occasion. If you are on the hunt for some more outfit inspiration, check out our top casual looks or head to Instagram to see how our wonderful customers are styling their casual blazers.