Men's tuxedo styles for a black tie wedding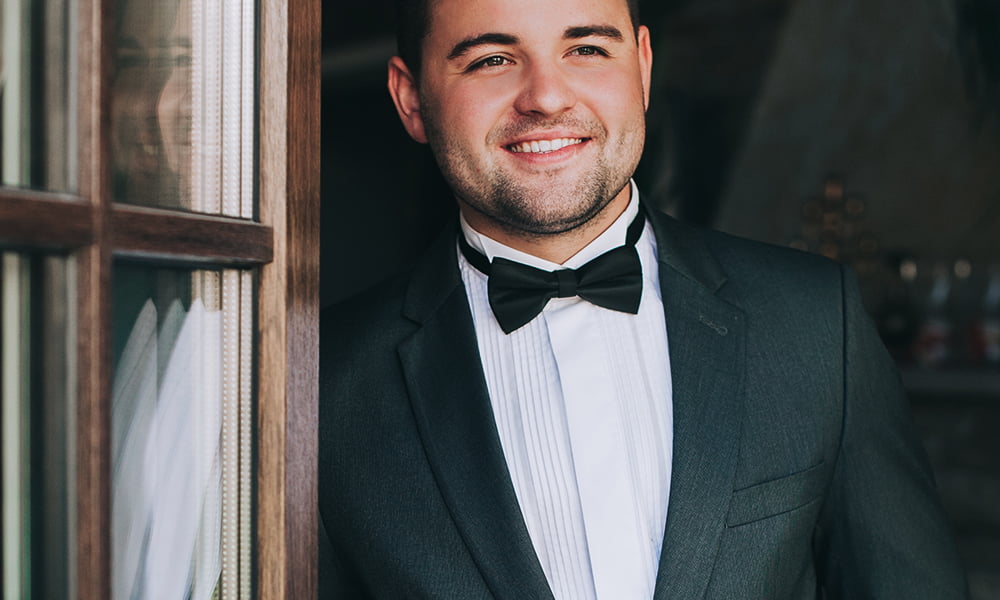 Suiting up for your next wedding appointment sometimes requires a little preparation.

There's usually a dress code adhere to, a theme to think about and even the time of year to take into consideration.

If you're attending with a partner, then you may also be thinking about how your outfit can best complement your companion's.

Dress codes for most weddings dictate lounge suits for men, but sometimes the formality is dialled up even further and black tie is the order of the day.

In this guide, we'll discuss how to get the black tie style spot on - and help you create the right impression.


What is black tie?

A black die dress code generally dictates that men are to wear a bow tie and tuxedo suit.

The suit is often black but, as we'll discover, that isn't your only option.

And like many dress codes, there's plenty of scope for expression - and no shortage of opportunities for you to create your own look.


Jacket

Like any suit, it's crucial that the jacket fits correctly.

It's most important that the shoulders sit correctly as this is the most difficult part to have adjusted at a later date.

Sleeve, torso and length should also be considered.

Once you have a fit you are happy with then you can consider the detailing that will help you create your own style.

For black tie occasions, you may experiment with different lapel varieties.

A peak, notch and shawl lapel will each help you strike a different impression.

The shawl lapel suits a slimmer fit, while peak and notch are best if you're aiming to create a more traditional look.

For something a little more elaborate, you may consider a contrast lapel in either satin or velvet, or even a patterned jacket.


Trouser

Satin and velvet contrast can also be factored into the trouser.

Many traditional tuxedo trouser styles include a stripe of about a centimetre's width that runs down the outside of the leg.

In terms of fit, a black tie trouser is traditionally looser fitting than a lounge suit trouser, though slim fit remains an acceptable option for more slender frames.


Colour

Black is naturally the first colour you think of for this style, but it need not totally limit you.

A midnight blue or navy suit is perfectly acceptable for black tie occasions, including weddings, while burgundy is another more adventurous option.

For something even more elaborate, consider a tuxedo or dinner suit that features a pattern; a subtle floral design in your jacket and trouser can help you turn heads.


Shirt, shoes and accessories

Where shirts are concerned, look no further than crisp white.

Add a little interest with contrast buttons in black and pay close attention to the style of collar.

A wing or cutaway collar is perfect for a bowtie, which is usually black, but could also add a splash of colour in a burgundy or darker blue.

You can help keep things traditional in your accessorising, too, by adding a cummerbund, while suit shoes should be black, laced and shined.


Enjoyed reading? You might also like these:
Back to Blog