Prince Harry: The Duke of Sussex's best suits for any occasion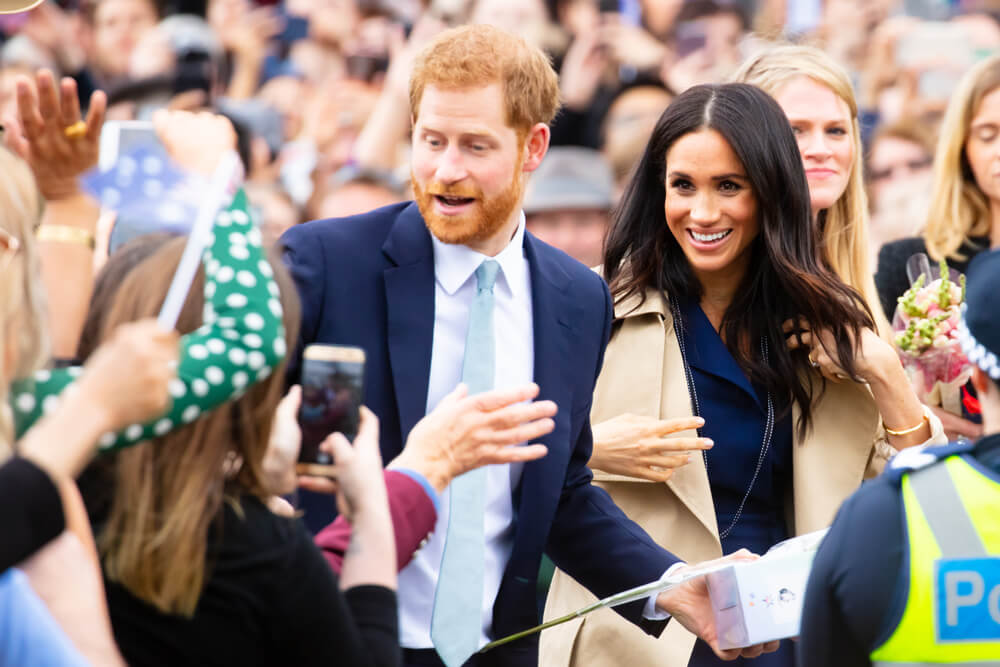 As one of the most photographed people of 2021, nobody could begrudge Prince Harry taking a little time in ensuring he's looking his best while attending appointments and making appearances.
Harry and his wife, Meghan Markle, announced in January last year that they would be stepping back from their roles as senior members of the Royal Family.
But despite no longer occupying their official positions, the pair remain a mainstay of entertainment media.
Their recent interview with Oprah Winfrey was watched by a peak of 12.4m people in the UK alone, equating to an incredible 54% of the total TV viewing audience at that time.
And with so many pairs of eyes on him, Harry's suiting selections are the subject of intense scrutiny.
Harry's look
The 36-year-old, who has twice featured on the cover of GQ Magazine, has proven himself a snappy formal dresser.
Though rarely noted as a particularly elaborate dresser, Harry succeeds in finding the right level of formality for a broad range of appointments.
Typically, Harry will create a simple jacket-trouser combination, with three-piece suits rarely spotted, while suit accessories like cravats and pocket squares are not often a part of his outfit.
This level of minimalism has helped to ensure that Harry's looks stand the test of time, although he has also shown that he is not afraid to switch up his selection when the occasion calls for it, and in keeping with changing trends.
In this article, we will showcase some of the Prince's classic formal looks – spotted everywhere from the Cathedral steps to the red carpet.
Warner Bros. Studios – 26 April 2013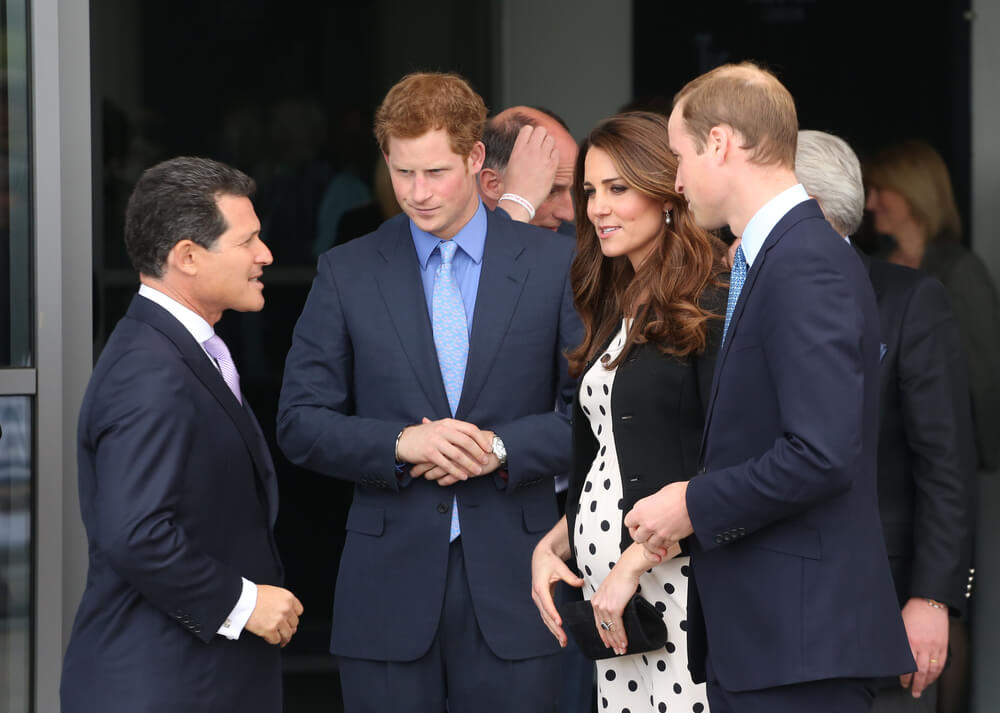 A fresh-faced Harry visited the Warner Bros Studios in the company of brother William and his wife, Kate Middleton, just under a decade ago.
Harry paired a sky-blue shirt with a speckled silver-blue tie in a broad Windsor knot, which would not look out of place in a traditional wedding suit.
The look was completed with a single-breasted navy jacket featuring a broad lapel, accessorised with a silver timepiece.
Although this look has aged somewhat during the eight years that have followed, its simplicity and conservative colour combination helped Harry create a look well suited to the setting.
St Paul's Cathedral – 10 June 2016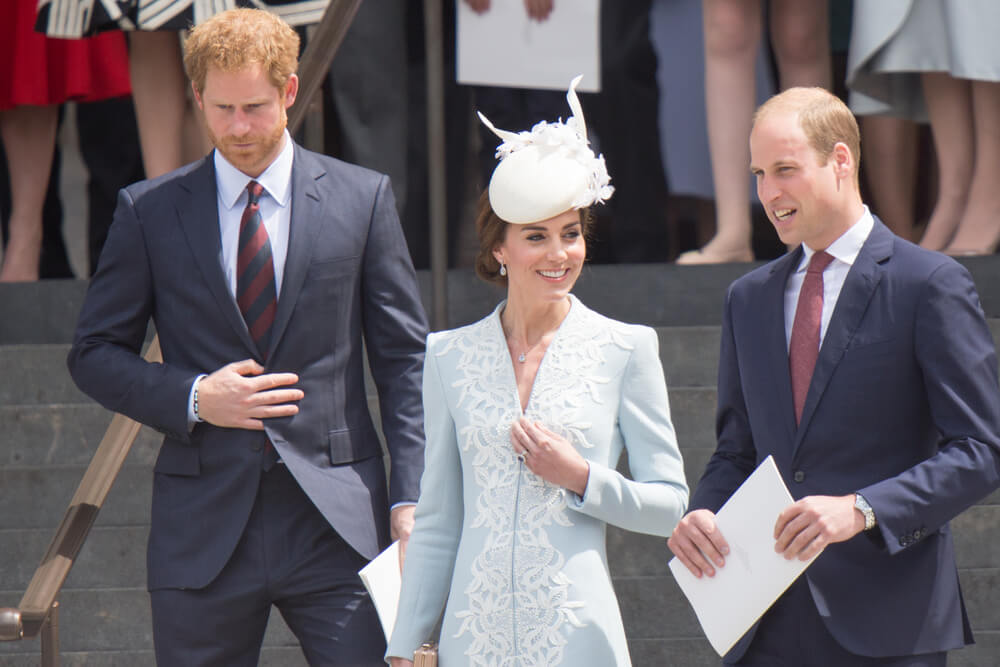 Fast-forward three years and Harry has reinvented his look somewhat, now sporting a stubble beard and longer, more unkempt hair.
Harry is again in the company of brother William and his partner Kate for this appointment at St Paul's Cathedral.
Harry's look for this appointment reflects evolving suiting trends, with a skinnier Windsor knot and skinnier lapel helping the Prince achieve a slimmer aesthetic.
His jacket, in a charcoal-blue, and tie, in maroon and navy, complements his brother's look, while the diagonal stripes on the tie add a dynamic element.
The look, layered over a classic white shirt, has a modern feel while remaining understated.
Leeds – 6 July 2017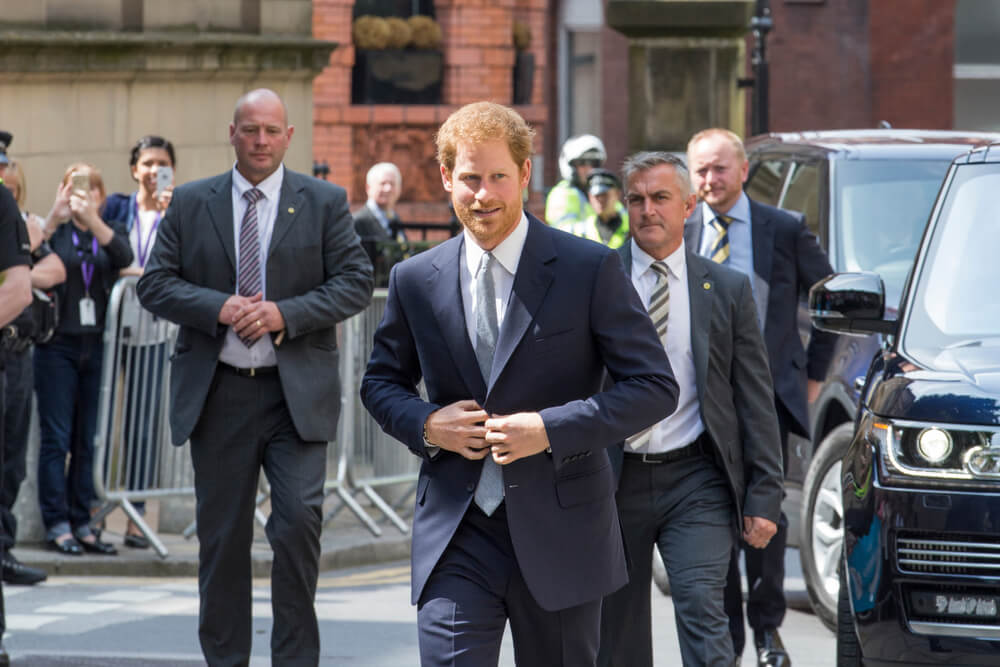 Harry's busy schedule continued in July 2017 with visit to Leeds, the home of Suit Direct, where he was snapped making his way from his vehicle to his latest appointment.
The young prince, still sporting the stubble, again plumped for a navy suit.
This shade has definitely been a favourite throughout his public life, helping him achieve a level of understated formality, and deliver a look that's versatile enough to grace all kinds of occasions.
Harry returned to a broader lapel for this appointment, and a single-breasted jacket, while a grey-green tie and white shirt completed the look.
In keeping with developing suiting trends, Harry plumped for a skinnier fit trouser.
University Tech Park, Bognor Regis – 3 October 2018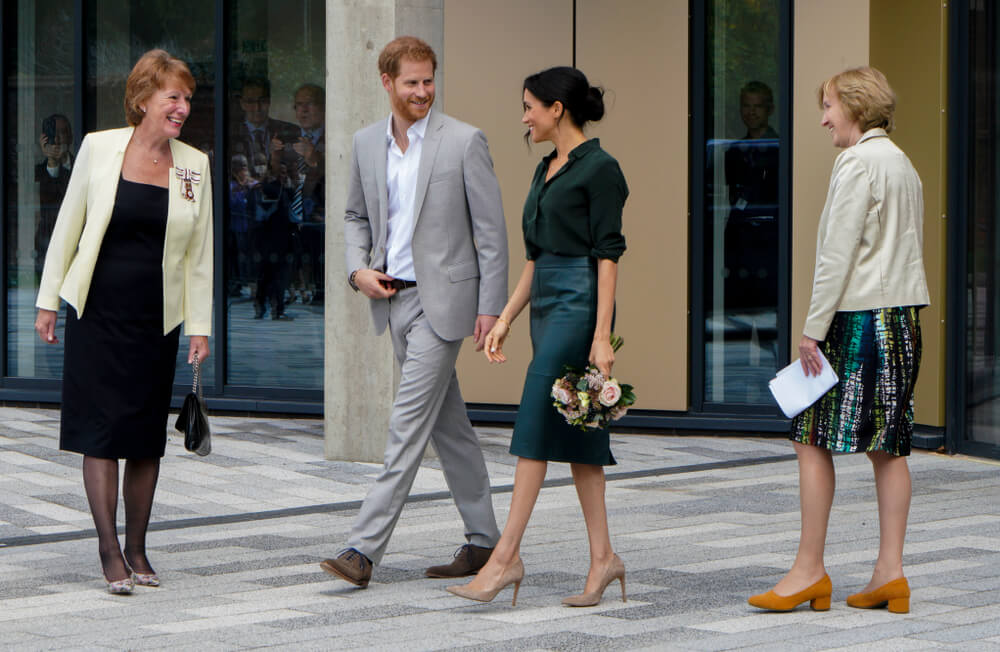 In the company of new wife Meghan, Harry dressed down for this appearance at the opening of a new University facility in West Sussex.
Harry showed his ability to strike a balance between formal and informal by buttoning down under a grey suit.
The open-collar look is a great option for indoor appointments, while the light grey creates a more relaxed aesthetic and can often be utilised as part of a business suit.
Harry completed his look with a brown shoe and belt, which delivered an attractive contrast as he passed photographers outside the new building.
Canada House, London – 11 March 2019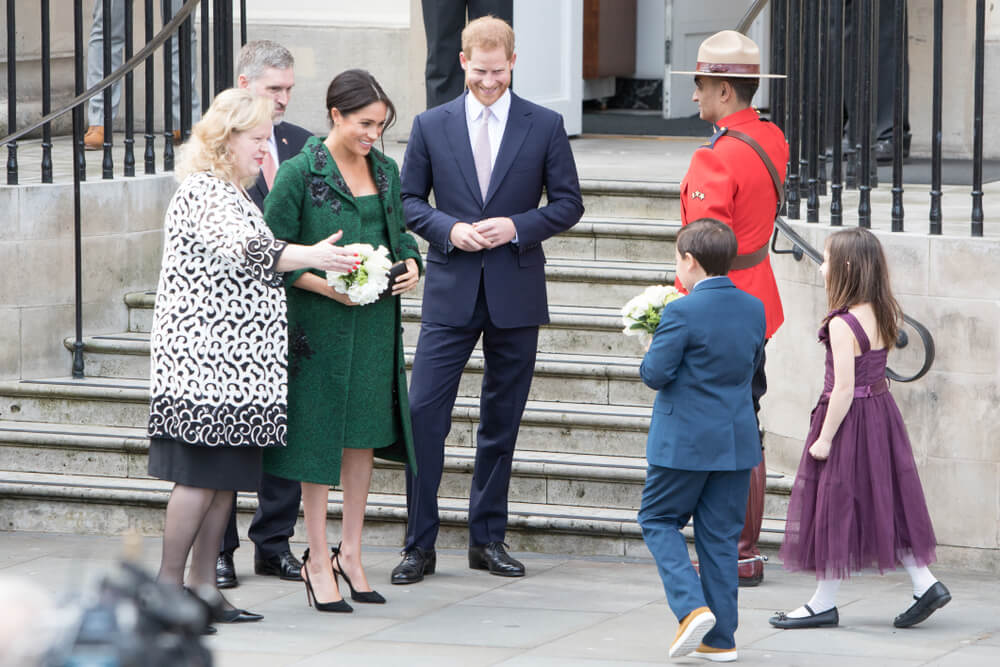 The maturing Prince returned to his staple of dark blue for an appointment at Canada House in the company of wife Meghan just over two years ago.
Harry wore a slim fit jacket, featuring a classic broader lapel, and light pink-grey tie to create a timeless look.
The Prince completed the outfit with a classic black shoe, offering a formal alternative to brown, which is also typically paired with a blue trouser and jacket.
Harry's look achieves a slim silhouette, in keeping with more recent suiting trends, while the choice of colour perfectly complements Meghan's bottle green dress and coat.
Lion King Premiere – 14 July 2019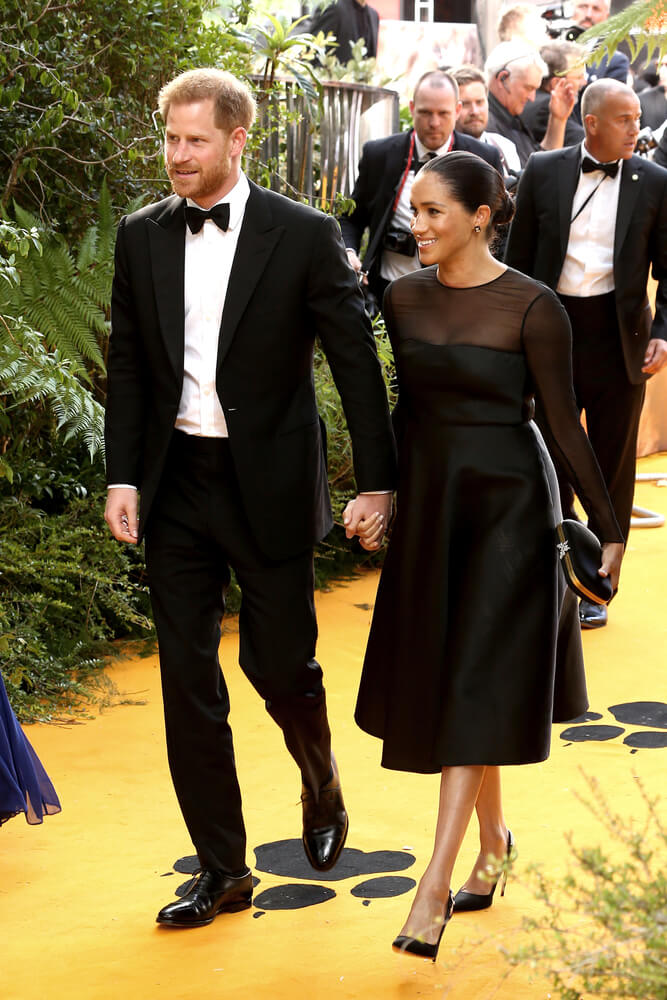 The final suit on our list was worn by Harry for the European premiere of The Lion King at the Odeon Luxe in London.
As is the expectation for glamorous affairs of this nature, Harry wore a classic dinner suit tuxedo in black, with matching trouser and shoe.
Completing the look with a black bowtie, Harry opted for a traditional spread collar, as opposed to the wing tip that often accommodate a bowtie.
Harry's crisp white shirt is the perfect companion to the outfit, which breaks the trend of slimmer silhouettes, as dinner jacket suits traditionally hang looser.
The look perfectly matches Meghan's outfit, also in black, with the only splash of colour to be noted in the gold-coloured zip on the Duchess's clutch.
About Suit Direct
Suit Direct is a part of the Baird Group, which has been a holder of the Royal Warrant for more than 25 years.
With a heritage in suiting stretching back to 1894, Baird crafts provides sharply tailored suits, colourful shirts and beautiful ties for an audience that is appreciative of traditional English elegance, but which seeks to combine that with a contemporary feel for design.
Enjoyed reading? You might also like these: